Tetouan Guide
T
etouan, Morocco,  dates back over 2,300 years, with ancient Berber, Roman, and Arab influence. In more recent centuries, Spanish influence contributed to the diverse cultural mix of languages, cuisine, architecture, and culture that characterizes Tetouan. The city offers a well-preserved ancient medina, good food, and fantastic beaches, all with a less-touristy, laid-back atmosphere.
What to Do in Tetouan
Medina
---
Tetouan has a very well preserved old city, with strong Spanish architectural influence. This makes it an interesting contrast to the medinas of other Moroccan cities, which have strong French and Arab influences in the buildings. Tetouan is not a major tourist destination, so you can enjoy a relatively calm stroll through the medina, though you'll still have plenty of opportunities to buy clothes, snacks, and souvenirs.
As you walk through the narrow streets, keep an eye out for the market (souk) district, replete with tiny stands selling food, ceramics, jewelry, metalwork, and textiles.




New City (Ville Nouvelle)
A pleasant contrast to the ancient charm of the medina, the New City has wide boulevards lined with white Spanish-style buildings, plaza, and cafés. It's a nice part of the city for having breakfast or afternoon coffee.
Tetouan Center of Modern Art
Located in a lovely Andalusian building, the Tetouan Center of Modern Art houses Moroccan, Spanish, and Andalusian art from the 1950's to the present. Plan on a 1-2 hour visit. Closed Sunday and Monday. Located on Avenue Al Massira.
Archeological Museum
The Tetouan Archeological Museum is worth the 1-hour visit for anyone interested in history and ancient cultures. It houses a Roman mosaic and ancient artifacts from Morocco including coins, pottery, and bronze.
Ethnography Museum
This museum presents exhibits on Moroccan culture, including clothing, customs, decoration, and more. It is a pleasant 1 hour visit, and you can look out across the city from the roof top terrace after seeing the exhibits. Located in a restored 18th century palace on Avenue Skala Bab El Oukla.
Day Trip to Chefchaouen
Just 40 miles/66km from Tetouan is the UNESCO World Heritage City of Chefchaouen. Famous for its ancient medina painted almost entirely in sky blue and white, it is undoubtedly one of the most photogenic travel sites in the world. It's one of the most charming as well – narrow, winding streets, tiny houses, and cozy cafés make for a lovely day or weekend trip. It's a great area for hiking, too, and a 15-minute walk brings you to a viewpoint overlooking the whole city.
Beaches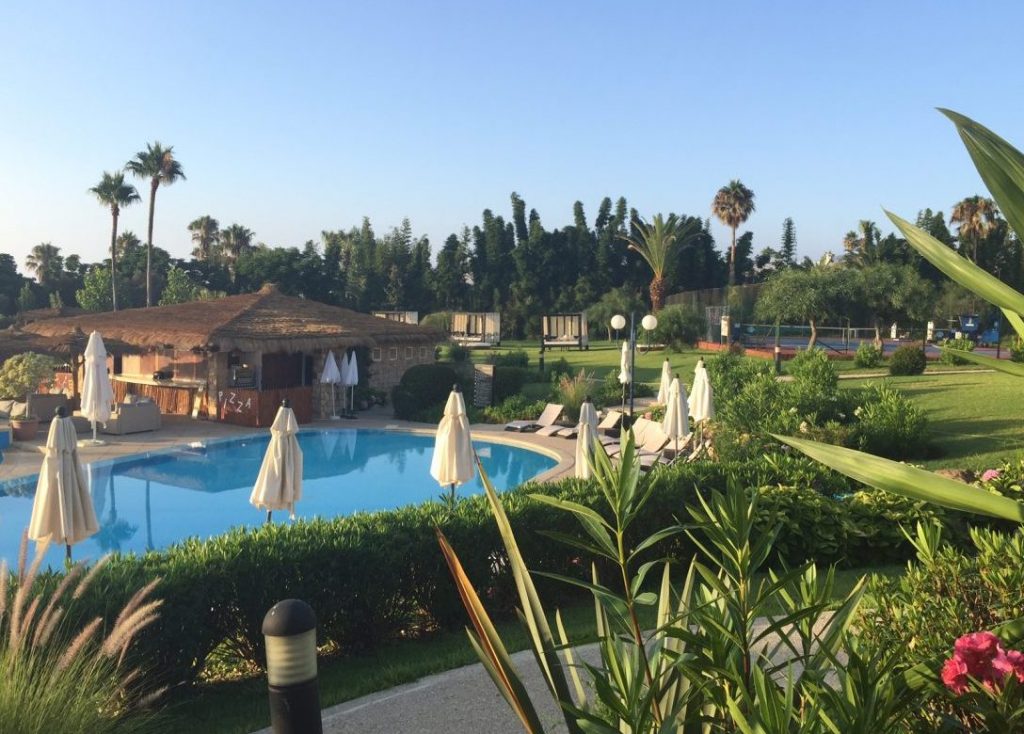 Tetouan is very close to some of Morocco's best Mediterranean beaches. If you are there in the summer, make a point to spend the day at Martil, Cabo Negro, Ricon, Marina Smir, or Kabila. With a mild year-round climate, the beautiful beaches are worth a visit even in the winter to enjoy the beautiful coastline.
Check out : The best Beach Resorts 
Where to Eat
Blanco Riad Restaurant
Set in a lovely riad with traditional decorations and natural light flooding in from the garden, Blanco Riad serves excellent upscale modern Moroccan food. On their website, Blanco Riad states that, "The quality of local products take an absolute role. Cannelloni stuffed with eggplant and seafood on olive paste and honey, goat tagine with caramelized figs and baked potatoes or seafood bastilla are some of the secrets of the menu."
They offer breakfast, lunch, dinner and snacks during the day. Located at 25 Rue Zawiya Kadiria.
Info and full menu at here
Olas
Located on the waterfront, Olas serves typical Moroccan and Spanish food including seafood, pasta, paella, and more, for reasonable prices. Breakfast is available in the mornings. Service is friendly, and the restaurant offers great views across the water. Located on Av Lala Nuzha-Corniche, M'Diq Plage.
Frutello
A cute café with modern décor, Frutello offers delicious ice cream, pastries, baklava, shakes, and smoothies. It's perfect for a quick snack stop while touring the city.
Located in Avenue Mohamed Benaboud Shopping Center.
Al Barakate
This bakery-café is a great place for breakfast, a quick lunch, or a mid-morning pastry. Located at 286 Avenue Thami Ouazzani.
Birjiss
A good place for quick meals of Moroccan, Middle-Eastern, and fast food, including pizza, burgers, tagines, bastilla, salads, and shwarma. Clean and reasonably priced. Located at 36 Avenue Mohamed Daoued.
Where to Stay
---
Riad El Reducto
This charming riad is richly decorated with tile work, carved wood, and carpets. Service is prompt and friendly, and the attached restaurant serves tasty Moroccan food, including breakfast, lunch, and dinner. You can also enjoy pre-dinner drinks on the rooftop terrace, which offers great views of the city. Riad El  Reducto  is located close to the Royal Palace and the Medina, at Zankat Zawya 38.
Blanco Riad Hotel
Blanco Riad hotel combines the style and rich history of Morocco with modern service and comforts. Rooms are spacious and beautifully decorated, with a good supply of hot water and free Wifi. Spa services are available as well. Blanco Riad Hotel is located in the medina not far from the Royal Palace, at 25 Rue Zawiya Kadiria.
Club Med Yasmina
Located outside the center of Tetouan, Club Med Yasmina is an all-inclusive luxury resort. Rooms are large and comfortably furnished in a modern style, and the two on-site restaurants offer a range of international dishes and Moroccan specialties. Club Med Yasmina offers many fun activities, such as horseback riding, golf, tennis, pilates, sailing, kayaking, and kids' club. Located at B.P. 27 Cabo Negro Mdiq Tetouan. More info at https://www.clubmed.co.uk/r/Yasmina/y
Hotel Al Mandari
Hotel Al Mandari is an upscale hotel offering great service and amenities, clean, spacious rooms, and delicious food in the attached restaurant. Centrally located next to the Institut Français and reasonably priced. Located at 108 Avenue Moulay Abbas.
Hotel Tamuda
Hotel Tamuda is a good option if you want to stay outside of the city center within walking distance of Kabila Beach. Good service, clean and comfortable rooms, great ocean views, and a wide range of amenities, including two pools, a restaurant, café, and parking, make Hotel Tamuda an enjoyable and relaxing place to stay. Located at Route de Sebta, km. 13, B.P. 696, M'diq.
Getting to and Around Tetouan
---
If you are coming from abroad, you can fly into Tetouan with a stopover at one of the major airports in Casablanca, Marrakesh, or Tangier. However, it will likely be cheaper to fly to Tangier and take a bus or grand taxi (large, shared taxis that operate on fixed routes like buses) to Tetouan. Tangier is just 1 hour away, and buses and grand taxis run frequently all day.
Many airlines fly from Europe to Tangier, including Iberia, Royal Air Maroc, Ryanair, Air Arabia, and EasyJet. Tetouan is also easy to reach by bus from other large Moroccan cities like Rabat and Casablanca. See more info at http://www.ctm.ma/en/, the website of the largest bus company.
Many hotels, restaurants, cafés, and tourist attractions in the city are within easy walking distance of each other. If you need to go a bit farther, take a Petit Taxi. These small yellow sedans are very cheap and can take you anywhere within city limits.
Ask about the price before starting, and make sure that the meter is turned on. If you need to go outside of the central city area, such as to Chefchaouen or one of the many beaches near Tetouan, take a Grand Taxi. Most Grand Taxis are located at the bottom of Rue Moulay Abbas, which runs along the park. Ask your hotel staff for more information on specific Grand Taxi pick-up points.
When to Go
---
Tetouan has a typical Mediterranean climate, with hot, dry summers and mild, rainy winters. Summer is the most popular time to visit, so you will find hotels, restaurants, and beaches busier from June to September.
July and August are particularly hot, but usually not unbearably so. If you want to enjoy the beaches, go during these summer months. If you aren't interested in swimming and don't mind cool weather, you may enjoy the winter months.
From November to March, it can be chilly and rainy, but less busy. To avoid either extreme, go in the spring or fall. April, May, and October can be great times to visit. Temperatures are moderate, rain is less likely, and Tetouan won't be as busy.