Moroccan Sahara Desert
The Sahara Desert is a vast, harsh, unique, often barren and occasionally vibrant part of the earth. It covers 30% of the African continent, stretching across an area as large as the United States. While it receives between 0 and 25mm of rainfall per year, some small regions are fed by underground rivers that support lush palm groves and supply drinking water for humans and wildlife.
Traveling in the Moroccan Sahara desert is a special experience that lets you see the natural beauty of an extreme landscape, and how humans have survived and flourished there. There are many fun activities available from cities and towns throughout the region. Here are our top suggestions!



Where to Go
Zagora
This popular desert city is a great starting place for expeditions, quad trips, and camel riding. With a population of around 30,000, it is offers enough in the way of accommodation and food to make it a comfortable base for day trips.
Zagora is located in the beautiful Draa Valley, at the foot of Zagora Mountain. The city also includes a famous sign proclaiming "52 days to Timbuktu."
Ouarzazate
Ouarzazate has a fascinating mix of ancient and modern. It has a well-preserved Kasbah with UNESCO World Heritage Status and striking examples of earthen architecture.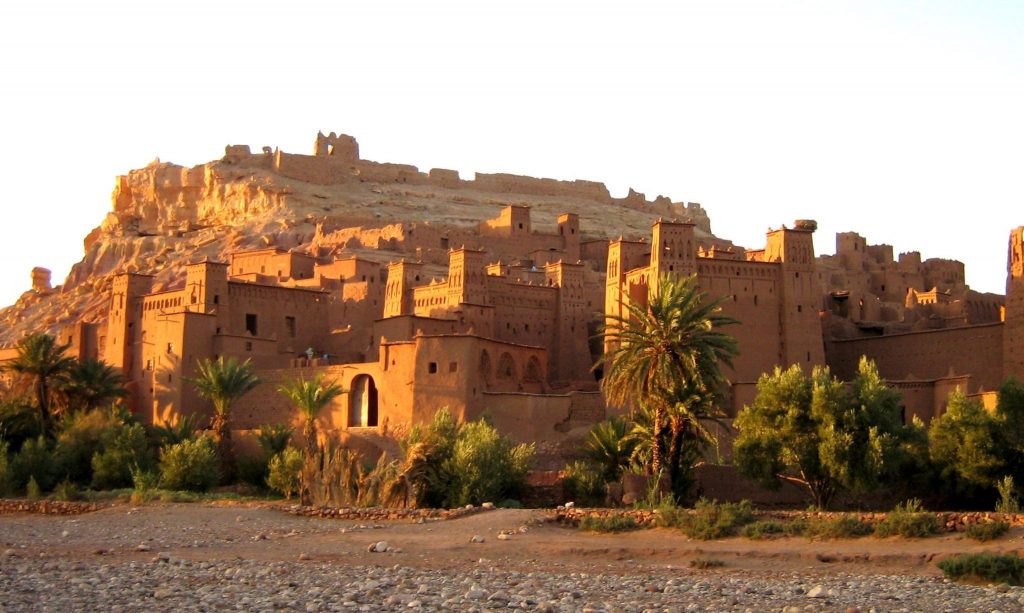 It's also home to a huge studio complex – Gladiator, Kingdom of Heaven, Prisoners of the Sun, Days of Glory, The Hills Have Eyes, The Mummy, Alexander, Queen of the Desert, Lawrence of Arabia, The Last Temptation of Christ, Babel, and many more major films have been filmed here.
In this small city, you can visit two movie studios and head out on a wide range of desert excursions. There are a few dozen hotels to choose from, mostly quite inexpensive, and plenty of restaurants serving good Moroccan and European food
Merzouga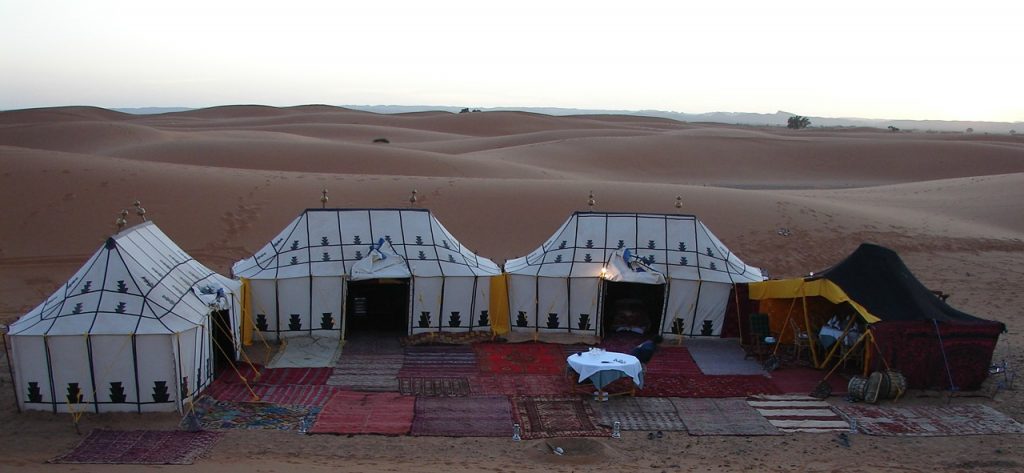 Merzouga is a small town not far from the Algerian border, and its proximity to several interesting sights makes it a great place to visit. The town is near the gateway to Erg Chebbi, a huge stretch of sand dunes that begins just north of the town.
It's also close to Dayet Srji, a salty lake that attracts a wide range of migratory birds such as flamingos, plovers, falcons, warblers, and nightjars. From Merzouga, you can take day and overnight camel trips, 4×4 excursions, and even an annual meditation, dance, and yoga retreat. Though the town is small, there are plenty of hotels and a few restaurants to choose from, as well as daily buses to Marrakech, Fez, and Ouarzazate.



Erfoud
This small oasis town, located in the Drâa-Tafilalet region, is a convenient base for exploring the Ziz Valley, and offers both cultural and natural history. In the town itself, you can walk through the old market and see the ksar (an ancient fortified city), the Royal Palace, and the old Jewish Cemetery.
Venture out of the city on camel or 4×4 to see nearby villages, dunes, palm groves, and more. This area is also famous for fossils – visit the marble workshops on the edge of town to see some! Make sure to try some dates as well, since Erfoud is the date palm capital of Morocco.
Tata
This town of 15,000 is another option as a base for excursions. Located in the southeast near the border with Algeria, it's also close to the Anti-Atlas mountain range. It's very small so hotel options are decent but limited. The town functioned as an oasis rest stop on trade routes from West Africa for centuries, and its name roughly means 'take a break' in the local language.
It's close to the stunning Aguinan oasis, where a ribbon of green water and an explosion of palm trees slice through the yellow sand of the desert. There is very little to do in the town itself, but note the interesting architecture of the houses and enjoy the market.
What to do
Ride a Camel
Few travel experiences compare to that of riding a camel through the shifting dunes of the Sahara desert. Let their sure, swaying gait carry you back in time to when camels were an essential mode of transportation in this region. While large and sometimes intimidating at first, camels tend to be calm and docile, and their adaptations including wide, flat feet, long eyelashes, and a protective coat of thick hair let them carry you comfortably through the sand.
If you just want to know what it's like, you can take a ride for a few minutes. You can also find hour-long, overnight, and even multi-day trips by camel. Morocco is one of the few places you can experience this type of adventure, so don't miss out!



Visit Traditional Villages
Remote locations tend to preserve cultures, making the Sahara an incredible opportunity to see how Berber people have created culture, cuisine, art, architecture, and agriculture in this unyielding environment. Some day and overnight excursions include visits to traditional villages, where you may be able to visit families, enjoy home cooking, and see how daily life unfolds.
Stargazing
With such low population density – you're on the edge of some of the largest swaths of uninhabited land in the world – the Moroccan Sahara offers pristine night skies perfect for seeing stars, planets, shooting stars, constellations, and the Milky Way. For the best views, join an overnight excursion out into the dunes, where you will have no light pollution at all.
Many desert towns are small enough, though, that just walking to the edge of the town will provide wonderful viewing. You will be stunned to see how many stars have been hidden from you by big-city lights! The effect is truly magical. If you don't mind a little technology intruding on your adventure, download a free stargazing app to help you spot interesting celestial bodies.
Sand surfing
Have fun sliding down the dunes on a sand board! There are many tour organizers that offer this fun activity. It's not too hard to get the hang of, and will come easily to you if you enjoy surfing, skateboarding, or snowboarding.
Ride Quads
Renting quads and zooming across the desert with a local guide is a great way to experience the Sahara hands-on. It's a lot of fun to swerve over and around sand dunes, passing by villages or palm groves, or simply reaching a more remote area of the desert.
.