Discover Ouarzazate,
Also known as the Door of the Desert, Ouarzazate is the capital of the Ouarzazate province in central Morocco.  This town in the middle of the dusty desert is framed by the Atlas Mountains and surrounded by historic Kasbahs and palm tree-lined village oases.  Ouarzazate is commonly known as the Door of the Desert, as it leads you to extravagant desert wonders and exciting day trips.
Though small in comparison to the big Moroccan cities like Tangier and Marrakech, Ouarzazate is the largest town in the Moroccan Sahara.
Where to Stay
---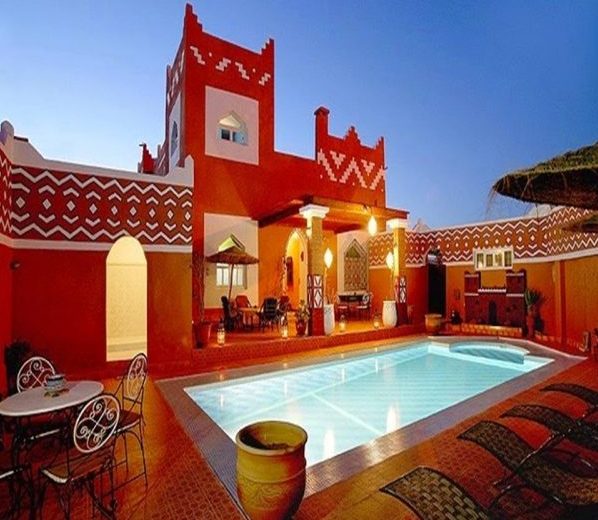 Within Ouarzazate slowly rising as a name in the travel world, the town is beginning to offer more variety in accommodation choices.  You can find mid-priced hostels, hotels, and bed and breakfasts like Dar Chamaa and Hotel Nadia.  Riads are a popular option in Morocco, as they offer visitors a chance to immerse themselves in traditional Moroccan lifestyle.  These homes-turned-accommodation are comfortable, tranquil, and pleasing to the eye with traditional decor.  Try Le Petit Riad or Riad Ouarzazate for an authentic Moroccan experience.
What to Do
---
For most visitors to Ouarzazate, it is what is near the town that matters most.  The town has things to see, of course, but the main activities lie outside the city walls.

This picturesque town is located in the midst sprawling desert, and for many movie producers it is the ideal location for exotic locales.  Big movies like Kingdom of Heaven, Cleopatra, and Gladiator have shot on site in Ouarzazate at Atlas Studios.  You can take a studio tour where you can see the set pieces used in the movies and exciting behind the scenes tidbits about production.The town is sprawling, but there is really one main street with hotels and a variety of souks.  Spend some time taking in the culture and get in some relaxing shopping.  As this village is not as popular of a tourist destination, you will find the shop owners are not as pushy, and the streets are less chaotic.
Ouarzazate is within the Draa Valley, a varied landscape of dry desert, lush oases, and high mountains.  What was once an important and vital trade route is now home to many traditional Berber villages.  Day trips can be organized where you can tour by camel or in terrain vehicles.
Within the oases of the Draa Valley, Kasbah Taourirt Castle looks like a giant sand castle has sprung up out of the desert. It is a beautiful, expansive Kasbah where you can tour endless stairways, hidden rooms, and stunning courtyards.
Journey to Zagora, a little village within the Draa Valley. It is a popular activity to book a day trip from Ouarzazate and take a camel trek to Zagora. See Kasbahs, snack on fresh dates, and marvel at picturesque sunsets and scenery in the endless desert.
Oasis of Fint is a perfect half-day trip out of Ouarzazate. Located 10 kilometers south, this literal oasis is a stunning garden amidst the dry desert. Four traditional villages still call this beautiful place home, and as a visitor you can partake in nightly entertainment shows, and may even be asked to join a family in enjoying a round of mint tea.
The Ksar of Ait-Ben-Haddou is a UNESCO World Heritage Site where you can marvel at ancient architectural works built into the slopes. The site includes a mosque, courtyards, living areas, and ramparts all made from earthen architecture that continues to stun visitors.
What to Eat
---
Along the main street near the souks there are many cost-friendly options. This is the best place to go for finding a delicious, quick, and authentic Moroccan meal. Le Kasbah D'Sable is a popular dinner option, a mixture of French and Moroccan cuisines.
Getting Around
---
Within the main parts of the city, it is easy to walk around to your next destination. Petit taxis, coloured red, charge a flat rate and are the best way to get around in the extreme heat or if you're trying to travel across town. Grand taxis, coloured beige, can take you to surrounding cities and Kasbahs that are near Ouarzazate. Always ensure you check the price beforehand so that you are not charged the extra "tourist fees" when you try to depart at your destination.
If you are planning frequent trips outside of Ouarzazate, the nearby airport offers car rental options as well. This is a pricier but convenient way to travel around the area.
Best Time to Visit
---
The best time to visit Ouarzazate is in the spring and fall months; April, May, September, and October. The summer months, June, July, and August, are blisteringly hot. It is best to avoid these months if you are not used to extreme desert heat. A popular time to visit Ouarzazate is during the Christmas season, when the snow-capped Atlas Mountains frame the sunny desert landscape. December is usually the coldest month of the year.
Travel to Ouarzazate and you'll find forgotten desert beauty and traditional Moroccan lifestyle. It is a trip that will be forever remembered as unique, thrilling, and packed with excitement.