A Guide to Ifrane
F
requently called the Switzerland of Morocco, Ifrane is one of the country's best kept secrets. This is one of the most beautiful places in Morocco and perfect for those who enjoy an active holiday or spectacular scenery. Ifrane was built by the French in the 1930's and became a popular hill station to escape the heat of
Fes
or
Meknes
. After independence the Moroccans moved to Ifrane and the town is now a popular year round destination.
Things to Do
---
Ifrane is full of activities and things to see.
The Town Center
Exploring the town centre in Ifrane is a must do. One of the first things that comes to mind is that it looks very unlike other Moroccan towns with unique buildings and architecture. This is down to the French legacy. You'll also find the lake and park as well as the iconic lion in the centre of town. The origin of this lion is unclear but it is a popular selfie stop. There are lots of young people around as the Al Akhawayn University is nearby.
Souk
Ifrane has a great souk that is open every day. You'll see lots of everyday items as well as traditional Berber crafts from the Atlas Mountains.
Cedre Gouraud Forest
Just outside Ifrane lies the Cedre Gouraud Forest which has some beautiful walking trails and is a beautiful place to spend a day. It is also suited to mountain biking making it a popular place for visitors to the area.
You may even spot a few Barbary apes or wild boar here. Just south of Ifrane the cedar forests have a trail leading to the scenic Vallee des Roches where there is an interesting limestone rocky outcrop.
Source Vitel
Just a short taxi ride from Ifrane are the delightful waterfalls at Source Vitel. These are in the forests surrounding Ifrane and make an excellent and scenic tour.
Michlifen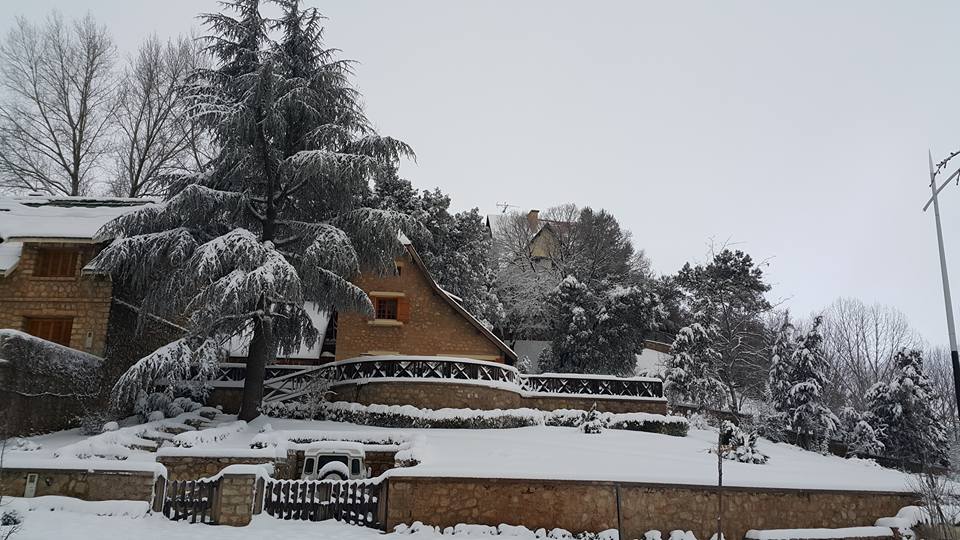 When it snows in Ifrane the sleds on Michlifen Hill are a fun way to pass the time here. There is a small ski resort around the Michlifen area which has cross country and a few downhill runs. And in summer the hills make great trekking routes around this beautiful town.
Places to Stay
---
Ifrane has a number of good places to stay and spend a few days enjoying the scenery.
Michlifen Ifrane Suites and Spa
This hotel is ideal for those wanting an active holiday. It is known for its swimming pool and spa but has a good restaurant too. And the suites are luxurious and a great place to chill out.
Auberge Tourtite
This is a Berber run hotel with a relaxing atmosphere and good restaurant. It also has a fitness centre. The hotel is ideal for a short break or active holiday.
Gite Dayet Aoua
For a self-catering holiday staying in a gite is a popular option in Ifrane. The Gite Dayet Aoua is basic but located near a lake with beautiful walks nearby.
Ifrane Palace
Located on  Rue Bir Anzarane Boulevard My Abdellah, the Ifrane Palace Hotel has a pool, comfortable rooms, and is within easy reach of the town centre.
Places to Eat
---
Whilst some of the hotels have restaurants, Ifrane has lots of great places to dine out and get to know the Berber cuisine.
Auberge Berbere
Located on Route Ifrane_Azrou the Auberge Berbere serves Moroccan, French and Berber cuisine. It is good quality and a very welcoming place to eat.
Café de Paix
Café de Paix is right in the centre of Ifrane and serves Mediterranean and Moroccan food. It is a friendly place to enjoy a meal. The coffee is also highly recommended.
Le Chamonix
Le Chamonix is renowned for its location and great food. It is definitely a restaurant with a view and is popular for lunch. This restaurant on Avenue Hassan II serves Moroccan and international food.