S
ituated in Northern Morocco, Meknes is a grand imperial city with an exciting modern atmosphere. Overlooked by many tourists that travel to Morocco, this imperial city makes for a relaxing, laidback look at vibrant Moroccan culture and lifestyle. It is also one of the more budget-friendly cities in Morocco.
Meknes was declared a UNESCO World Heritage Site for its pristine preservation of 17th century Islamic and European architecture. Well-known for its astonishing royal palace and historical sites, Meknes is also home to amazing restaurants, fun nightlife, a beautiful medina and more. It is certainly a place worth visiting on a trip to Morocco.
What to Do
---
The medina, or old town, is the most popular place to visit in Meknes.  Surrounded by the original walls from the 17th century, the beautiful area is a bustling, exciting shopping centre.  Explore the souks, traverse the winding streets, and revel in the low prices of goods while you shop the wonderful handmade goods offered here.
Within the medina is the Museum of Moroccan Art.  The building, Dar Jamai, was once a lavish Moroccan home built in 1882 before being converted to the museum in 1920.  You will see beautiful traditional artwork, wood and metal carving, and a peaceful, colourful garden.
Place Hedim is the main square in the medina, right in front of Bab al-Mansour.  The square is the perfect place to sit down and relax at a cafe while people-watching.
In the heart of Meknes lies the imposing and beautiful gates of Bab al-Mansour. This impressive structure is the gateway between the medina and the Imperial City.  Built during Sultan Moulay Ismail's reign, the gate is filled with intricate details worth a second look while passing between these two areas of Meknes.
Sultan Moulay Ismail reigned during the 17th century and made Meknes the imperial capital.  Though the capital has now been transferred to Marrakech, the Sultan holds great honour in Meknes with the Mausoleum of Moulay Ismail located in the Imperial City.  It is lavishly decorated with intricate detail.  Though the mosque itself is only open to Muslims, you can walk around the outer complex and get a great view of the interior from the entrance.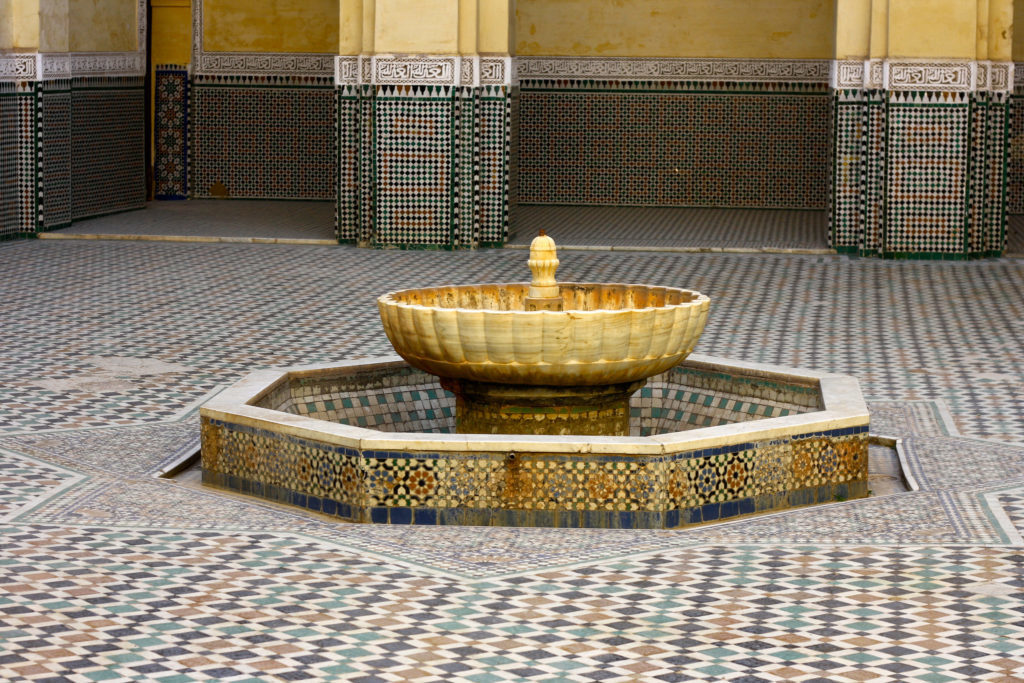 Next to the mausoleum you will find the Sultan's palace, Dar el-Kebir.  The ruins of this palace are just one of the many interesting and original buildings to explore in the Imperial City.
Take a trip out of the city and visit the nearby Roman ruins of Volubilis. This vast site of Roman architecture, with its crumbling stone and standing pillars atop the rolling hills, is an impressive look at imagining the luxury of a rich Roman lifestyle. it is a great way to spend half a day outside the city walls.
Where to Stay
---
Meknes has a great mix of western accommodations like classy hotels and resorts along with more traditional accommodations. If you want to experience Moroccan culture and immerse yourself, a riad is the best choice. These lovely homes, like those at Riad Anne de Meknes, Riad Safir, and Riad Idrissi, are converted to bed and breakfast type accommodations, making it a peaceful retreat from the bustling city with many including breakfast. There are also hostels and camping sites for budget travelers.
Riad Yacout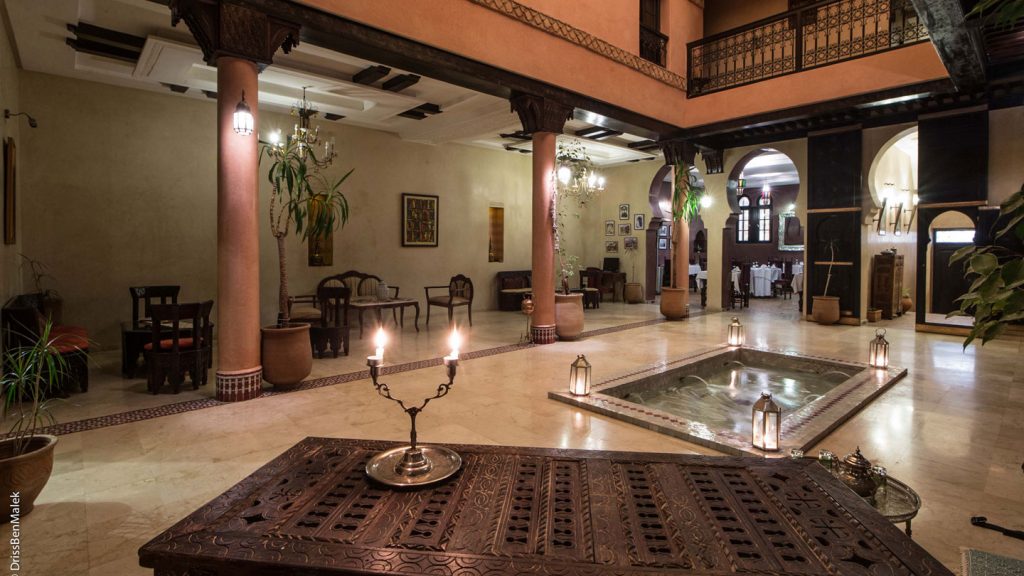 This beautiful riad offers a mix of tradition and luxury. It is beautifully decorated and rooms are clean and comfortable. Amenities include a small pool, hammam (Moroccan steam bath), rooftop terrace, and restaurant. Prices are in the mid-upper range for Morocco, but reasonable for the quality.
22 Place Lalla Aouda, Meknes, Morocco
Riad Palais Didi
This lovely riad is located conveniently just outside the medina. Very clean, spacious rooms, friendly staff, and a great historical atmosphere make for a wonderful stay. You can have meals served on the rooftop terrace.
7 Dar Lakbira, Meknes
Riad Felloussia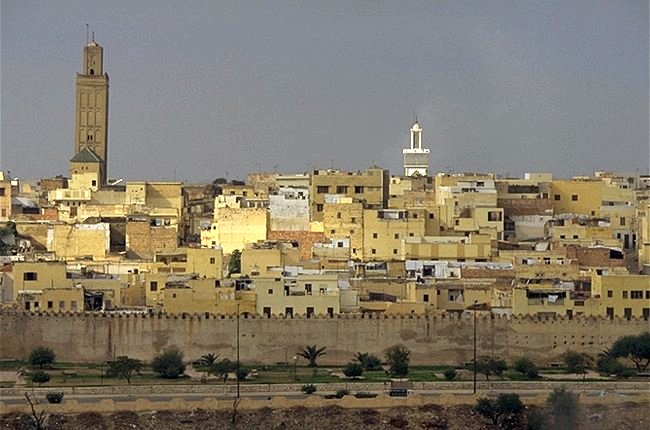 Riad Felloussia is one of the best budget options in Meknes. With a 9.8/10 rating on Hostelworld, you can be assured of a good stay. Free Wi-Fi, free breakfast, a beautiful building, and a perfect location right next to the main square in the medina are some of the perks. The garden courtyard and rooftop terrace add extra charm.
23 Derb Hammam Jdid, Bab Aissi
Hotel Tafilalet & Spa
This upscale hotel has is situated on the top of a hill and has great views overlooking the city. Rooms are large and nicely decorated, service is good. Restaurant on the top floor offers breakfast (included), lunch, and dinner.
4 Angle Abdelmoulen Mouahidi Ouakaat Zellaka, Meknes
What to Eat
---
The new city, villa nouvelle, offers the best and most diverse eating in Meknes.  Walk along Rue Antsirape or Rue Ghana for a wide mix of great Moroccan eats.  You'll find the national dish of tagine, couscous dishes, stews and experimental fusion dishes for the adventurous eater.
Riad Yacout
Riad Yacout has received excellent reviews for its upscale Moroccan food – assorted small appetizer plates, tajines, cous cous, salads, and more. The setting is lovely and the service is warm and professional. Riad Yacout offers breakfast, lunch, and dinner, so it's a great option any time of the day. A bit on the pricey side for Morocco.
22 Place Lalla Aouda, Meknes
Restaurant YA HALA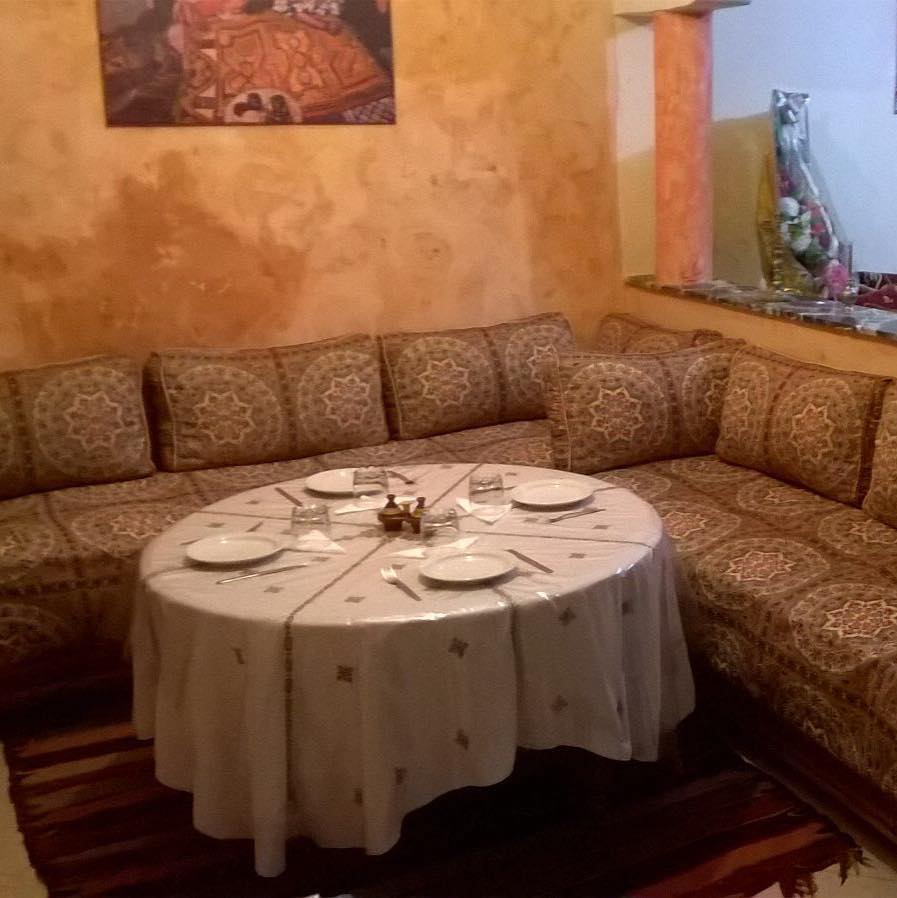 A great option if you want traditional Moroccan food, YA HALA has high quality food served in a comfortable, relaxed atmosphere. On the menu are tajines, pastilla, eggplant dip, cous cous, and other classics, and plenty of vegetarian options. Everything is cooked so order, so allow ample time for your delicious meal.
10 Sidi Amar Bouaouada Sebaghine, Meknes
Aicha
One of the cutest, coziest restaurants in Meknes, Aicha serves fresh, classic Moroccan dishes including harira, tajines, cous cous and sweet mint tea. Service is warm and friendly.
14 Rue Kababine | Kabisouk, Ville Ancienne, Meknes
Meknes Covered Market
For an authentic gustatory experience, wander through the Meknes market hall. Colorful piles of fresh fruits and vegetables, jars of olives and preserved lemons, crates of dates from across the Middle East, and trays of sweets are displayed at stands throughout the building. Everything is fresh and cheap. Located just behind the cafés and restaurants along Place el-Hedim. Open 8:30am-10pm.
Bistrot Art & Le Wine Bar
If you want an alternative to Moroccan food, try the upscale French bistro-style menu at Bistrot Art & Le Wine Bar. Dishes include filet de boeuf, fish, and French appetizers, as well as desserts and Moroccan wines. The highlight of this restaurant is the view – it is situated on a hill and look out over Meknes.
Hotel Transatlantique | Rue El Meriniyine, Meknes
Restaurant Gambrinus
An interesting option in Meknes is Restaurant Gambrinus, originally founded by an immigrant from the former Czechoslovakia. Now popular with locals, it serves classic dishes like grilled lamb and rabbit tajine.
Zankat Omar ibn Ass
Getting Around
---
For getting back and forth over longer distances, petit taxis painted blue are the main mode of transportation. There is also a cheap and reliable bus system, but it is usually quite crowded and designed for locals rather than tourists.
The medina and the new city are both small and easy to get around on foot.  This is also a great way for you to explore the little corners and winding alleys of the streets, "getting lost" and discovering new and exciting parts of Meknes you may not have seen otherwise.
Best Time to Visit
---
Meknes is beautiful year round, and receives nice seasonal temperatures throughout the year.  For visitors to the city, the best times to visit Meknes are in the spring and fall months, April through June, September, and October.  The weather is warm and mild, and the city is never too full of tourists.  Temperatures peak in the summer months, and there is little rainfall making the heat it unpleasant for some.
If you are looking for a relaxed, authentic piece of Morocco you will find it in Meknes.  A perfect combination of modern touches and historical wonders, this city will give you a true appreciation for Moroccan lifestyle and traditional culture.