T
he heart of culture and the spirit of Morocco, Fez is a city filled with splendor and wonder combined over thousands of years.  The picturesque streets transport travelers into a Morocco not commonly seen—a Morocco with a truly authentic landscape and beauty.
The city of Fez is over 1,200 years old, and its unique history and architecture have earned it the designation of UNESCO World Heritage City. Indeed, walking through the old city district of Fez feels like stepping back in time. Labyrinthine streets wind between buildings constructed centuries ago, leading you past shops selling spices, leather goods, pottery painted in hues of green, yellow, and blue, detailed metalwork, and local delicacies – meats, fresh produce, olives, and pastries.
The low doorways of homes tucked into tiny alley ways open into the large courtyards of the traditional riads, some of which have been converted into upscale spa hotels offering every modern amenity. Intricate mosaics cover the interior and exterior of ancient schools and mosques, contrasting with the rough brown stone walls.



Donkeys plod along avenues too narrow for cars and too uneven for carts, laden with everything from tanks of propane to tanned leather to cases of soda. Brilliant swaths of woven cloth and glittering lamps hung outside tiny shops stand out in the shade of the narrow streets.
While much has changed in the centuries since Fez was founded, the city still clings tightly to tradition. Visit Fez and immerse yourself in the magical intensity of Morocco's ancient past and the luxury of its modern hospitality.
Things to do in Fez
---
1- Fes el-Bali
The oldest part of the city houses the UNESCO World Heritage Site of the wonderfully preserved medina.  Divided by a river, the one side plays host to historic buildings, monuments, and the bustling souks.  The other side is home to twisting alleys and a more local side to Fes that may be seen as a bit rough-and-tumble.  A large area, it is well worth it to spend your time exploring the shops, the cafes, and the alleys of the Old City.
Every corner of Fes el-Bali greets you with charismatic traders, fruit sellers, silk makers, sculptors, and artisans.
2- Tanner's Quarters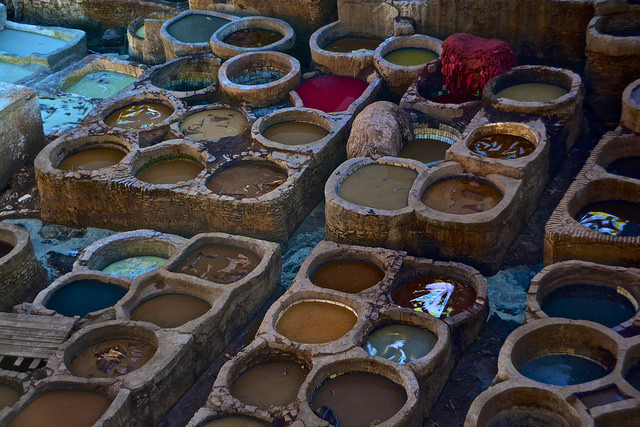 In the Old City, the one thousand-year-old Chouara tannery can't be missed on your visit to Fes, one of three major tanneries in the city.  Watch the full process of leather-making the traditional way—from the softening, dyeing, and drying stages. Above the tanneries on the surrounding terraces, you can get a birds-eye view of the multi-coloured stone vats.
If you want a more personal look, ask one of the tour guides at the leather shops to be brought down for a guided tour—but be warned, the smell from the vats can be so overpowering that the guides have fresh mint on hand to ward off the stench.
3- Mellah
Founded in the 16th century, the Jewish quarter was founded by the sultan at the time to offer protection to the Jewish community.  Enjoy the bustling shops at the heart of the area, and notice the difference in architecture in comparison to other areas of Fes.
The houses look out onto the streets, and wrought iron is a common feature on balconies.  Visit the Ibn Danan synagogue for a truly unique look into Jewish-style Moroccan architecture.
4- Fes el-Jedid
The "New City" of Fes was actually built in the 13th century, but is considered new in comparison.  Built out of necessity to house the grand buildings of the Merenids, this section of Fes contains the stunning Royal Palace.  The quieter New City holds a peaceful feel for visitors that may have just come out of the medina, and a visit to the Royal Palace and the mosques and medersas behind it offer a nice retreat.
5- Dar el Makhzen
Located in Fes el-Jedid, the Royal Palace is a wonderful sight to behold.  Although the interior is not open to the public, you can view the imposing entrance and exterior.  From the large brass doors to the finely carved cedar wood, the intricacy is unmatched.  The palace is surrounded by lemon trees, which can be plucked right from the branches and, interestingly enough, have cleaning properties for the brass doors and gates.
6- The Gates of Fes
The imposing Bab Chorfa and Bab Boujloud grant you entry into the old city of Fes.  Surrounding the old city, these gates have importance and meaning in the history of Fes.  It is well worth it to take a moment to visit the gates, as well as the fortresses and towers that once protected the city.
7- Quaraouiyine Mosque
There are over 300 mosques dotted throughout Fes, and this is one of the most beautiful.  What was once one of the most distinguished medieval universities is now a functioning mosque and one of the largest centres of prayer and worship in all of Morocco.  It can house more than 20,000 people, and the library contains a copy of a ninth century Qur'an.
While non-Muslims can't enter, the exterior is quite spectacular and nearby restaurants can get you a meal with a view.
8- Medersa Bou Inania
Built in the 14th century, it is one of the few religious buildings that those outside the Islamic faith may enter.  This stunning building has articulate carvings in the wood, immaculate arches, and impressive tilework that must be seen in person to be appreciated.
9- Jardin Jnan Sbil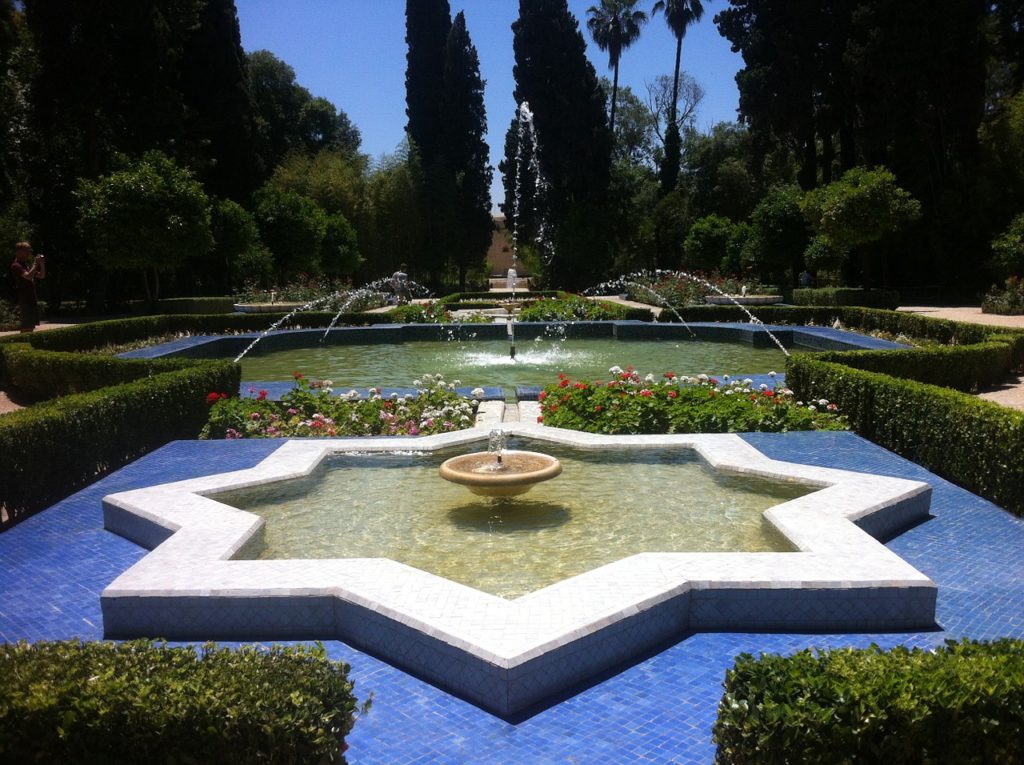 Tucked into the heat and intensity of Fez is a cool oasis filled with palm tress, fountains, and flowers. In fact, 'Jnan Sbil' roughly translates to 'garden escape' or 'garden refuge.' It is large and well-kept, making it a great option for a mid-day stroll. The garden is close to the Medina, and there are several cafés near the entrance. Located between Avenue Moulay Hassan and Avenue de l'Unesco.
10 – Cooking Class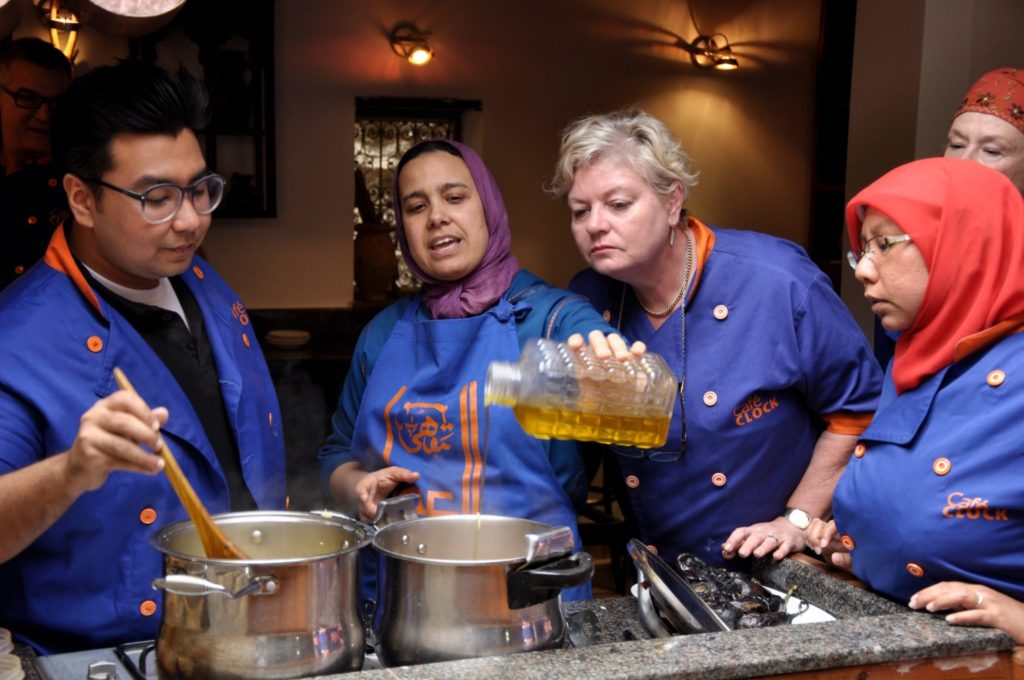 A must-do when visiting Fes is to try out a cooking class.  You will go with your chef to the medina to pick out fresh ingredients and spices that you will take back to the kitchen to prepare authentic Fassi cuisine.
Cafe Clock Cooking School in Fes provides a great experience in learning the art of Moroccan Cooking, The first thing in the course is a shopping tour of the local souk.  The class  provides firsthand experience in Moroccan cuisine and the knowledge of Moroccan spicing and flavors.
11- Golfing in Fes
The Fes Royal Golf Club is a top notch 18-hole course that works its way through decadent olive groves with the Atlas Mountains as the beautiful backdrop to the game.  One of the finest courses in all of Morocco, this is a luxurious resort and course in which to spend an afternoon or a full day.
You can probably spend a few days just wandering in the old city. Other options include a day trip to the Roman ruins Volubilis or the stunning blue city of Chefchaouen and taking day or overnight trips into the nearby Atlas Mountains or desert.
Where to Stay
---
Our top recommendation for accommodations in Fes are riads—classic-looking homes that have been transformed into bed-and-breakfast-style hotels.  The riads can be grand and luxurious or quaint and simple, whatever your preference and budget.
1- Palais Sheherazade & Spa
If you are looking for the ultimate luxury riad experience in Fez, Palais Sheherazade & Spa is one of the best options. Rooms surround a courtyard with a large pool and lush greenery. Every suite is ornately decorated and immaculately clean. The name "Palace Sheherazade & Spa" certainly applies: the hotel offers a truly decadent, spacious, palatial feel.
The service matches the surroundings with exceptional attention to detail. During your stay, relax with a soak in the Jacuzzi, a visit to the hammam, or a long massage, and enjoy the Moroccan breakfast each morning.
2- Dar Hafsa
Dar Hafsa is a traditional riad – an ancient style of house built around a courtyard – that has been  converted into a beautiful guest house. Clean, comfortable, and well located in the medina, Dar Hafsa is nonetheless very affordable. The owner and his son are welcoming hosts and serve a delicious breakfast.
3- Spa Riad Dar Bensouda
SpAffordable luxury – a pool, hammam and massage spa, beautiful terrace and ornate building, delicious breakfast, and excellent service. Rooms are clean and spacious, and staff can help you get around the medina. Lunch and dinner available as well at Riad Dar Bensouda.
4- Riad Layalina Fes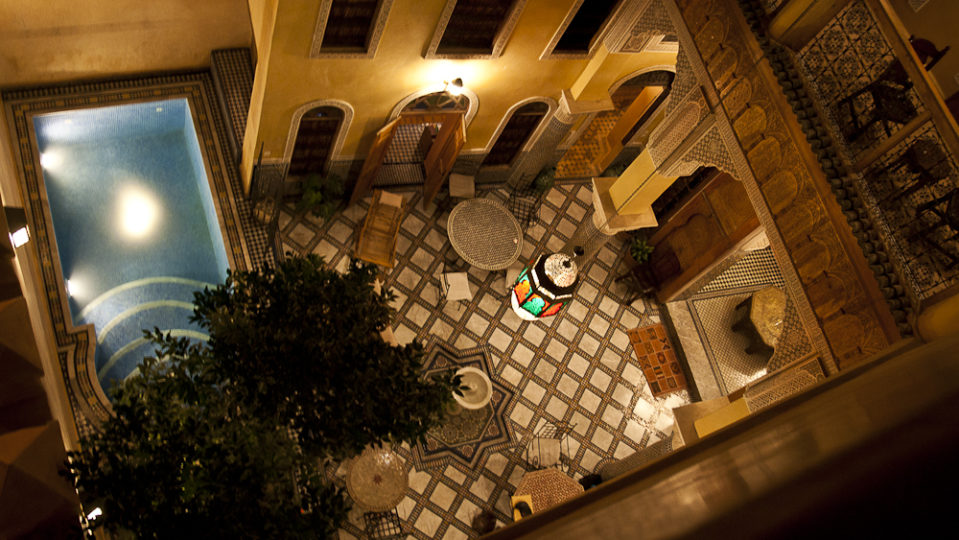 Riad Layalina is located just outside the medina, and offers luxurious amenities including private parking,  a pool in the courtyard, outstanding decoration, a large (and delicious) Moroccan breakfast spread, and traditional dishes available for evening meals. It is elegant, comfortable, and reasonably priced. It is possible to rent the entire riad, which sleeps up to 19 people. Staff are friendly and extremely helpful.
For a complete guide to staying in a riad in Fes including the top picks for the best riads, check out our riad recommendations.
Where to Eat
---
As is the common theme in Fes to the relaxation and enjoyment of everyday life, the food resembles the city's passion and flair with its use of spices and fruits.  Similar to the traditional tagine, a must-try dish is the mrouzia.   This dish includes over 30 spices and is blended with lamb, honey, and almonds to create a scrumptious dish traditionally used in the "sacrifice feast".
The best place to experience pastille, a local delicacy, is in the Old City.  Fassi cuisine loves to combine sweet and savoury, and you'll see this in the pies, the stews, and the street food.
1- Restaurant Dar Hatim
This family-run restaurant serves impeccably prepared classic Moroccan cuisine in a beautifully decorated space. Highly recommended are the chicken pastilla, lamb tagine, eggplant dip, and cookies. The service is warm and friendly, and they will even send someone to pick you up if you arrange it ahead of time, since the restaurant is hard to find (ask your hotel for help arranging this).
2- Café Clock
Situated in an old restored riad with multiple maze-like floors and a rooftop terrace, the Clock Café is a popular hangout spot with locals and tourists alike. Its laidback atmosphere and eclectic international menu make it a great place to relax in this intense and tradition-bound city.
It's famous for its camel burger, but the lamb and mint burger, chicken sandwich, and varied vegetarian dishes come highly recommended as well. Café Clock also serves tea, coffee, breakfast, and desserts.
3- Maison Blanche
Maison Blanche is located bit outside of the city center, in an atmospheric setting with stone walls and soft lighting. A mixture of Moroccan and French cuisine, Maison Blanche offers dishes such as lamb roasted with dates and almonds, filet of beef, spiced Moroccan pigeon pie, roasted duck breast with caramelized fruits, and a variety of pasta and seafood dishes.
Expensive by Moroccan standards, but reasonable considering the high quality food and techniques employed. Good wine and dessert offerings.
+212 5356-22727
Getting To and Around Fez
---
Getting to Fez from Europe is relatively easy, as Royal Air Maroc, Ryanair, and Vueling offer flights from many major cities. If you are coming from a smaller city or North America, you will likely need to connect through Casablanca or a European airline hub like Barcelona. You may find that it is cheaper to buy two separate tickets, one to and from the States or Canada to Casablanca, and one to and from Casablanca to Fez. From the airport, you can ask for the bus to the city, which costs about 50¢ and takes 40 minutes. You can also take a taxi. There is a fixed price of 120 dirham – about $12. You can confirm with your hotel before arrival for updated rates, which should be agreed upon before leaving the airport.
Another option is taking the bus or train to Fez from Tangier, Casablanca, or Rabat. Bus tickets are best bought directly at the station, which will offer a wide range of times. They can usually be purchased the day of. Rail schedules can be found at http://www.oncf.ma/ and can be purchased online or at the station. These trips should not take more than 4-5 hours. You can also take the train from Marrakech, which takes 7.5 or more hours. Finally, you can take a grand taxi – a shared taxi that operates like a bus service and carries six passengers – from Casablanca to Fez for about $18. Check with your hotel in Casablanca or the airport information desk for exact departure points.
You will mostly get around Fez on foot, as the majority of the Old City is inaccessible to cars. The medina can be quite confusing and it is worth getting a guide. Do this through your hotel or the tourist office if possible to ensure fair prices and good quality guides. Do not accept 'free' help from strangers. If you do, they will expect payment and may hassle you if you refuse. The best tactic is to completely ignore them. Be particularly attentive about safety, theft, and scams – they are more common here than in other cities.
If you need to get somewhere a little farther away but still within the city, you can take a petit taxi. They are small red sedans that can take you anywhere you want. Short city rides usually don't cost more than 15-20 dirham ($1.50 – $2). Make sure the meter is running or ask about the price beforehand.
Fez Weather and Best Time to Visit
---
April, May, June, and October are pleasant times to visit, with warm days and cool nights. July, August, and September are the hottest months and can be uncomfortable unless you like the heat – day time highs are around 90˚F/32˚C or more. The winter months are cooler, and can be a nice time to visit if you don't mind chilly evenings. From November to March, day times highs are in the 61-68˚F/15-20˚C range, with nighttime lows around 45˚F/8˚C. Fez does not get much rain overall, but most of it falls between November and April with almost none from June to September.
From the early morning call of the daily ritual to ending the day with a hearty meal and everything in between—Fes is an inspiring Moroccan city that will inspire you with its history, culture, and romantic architecture.  The opportunities for discovery are endless, and Fes has something for every traveler.
Read More:    Day Trip from Fes