Dakhla
D
akhla is approximately 600 miles south of Magical
Marrakech
. However it's not the easiest place to get too. But it's most definitely worth the journey. If travelling within Morocco, a flight must be taken from Casablanca, either directly to Dakhla airport, or via
Agadir
.
This is every backpacker, fisherman, diver and surfers dream as it's quickly becoming the world's greatest wind and kite-board surfing destination. The Foum Labouir beach has been ranked one of the best in the world for surfing, just behind Hawaii Look at spending several days in Dakhla as there is so much to explore, but also to accommodate the 6-8 hour travel time.
Dakhla carries a spirit like no other. This sun-drenched, unspoilt and remote city makes your exploratory journey extremely worthwhile, with its 30 mile long spite of sand, which is nestled between the Ocean and the breathtaking 40 km lagoon.
Throw in the Sahara desert, a colorful medina, several souks and an abundance of local Tuareg culture and you are in bohemian heaven. With so much still left to be discovered, and with it not attracting the mass tourism as its brothers, Marrakech, Agadir, Casablanca and Rabat, you truly feel transported into a new way of life.
The pace in Dakhla is almost at a standstill, a meditative culture which values peace and tranquility and places importance on enjoying the simplicities in life. With a lot of emphasis placed on the array of watersports, there are fabulous camps willing to teach a novis, but also ripping waves for experts. The annual Dakhla festival brings together desert and sea, listen to and discover the cultures of the Saharan tribes, through nomad music, add competitive surfing, which see's a flock of international surfers race to the beach to catch some stellar waves!
If surfing isn't your thing, then perhaps the colourful medina and souks would be more fitting. With tradesmen selling everything from fruit to pashmina scarves. Beautiful leather goods adorn the stalls, while delicate pieces of jewelry add a little cultural sparkle to your bohemian experience.

The subtle whiff of spices encapsulates the authentic Arabic culture. Visit the medina at night and enjoy the Berber men and women entertain through storytelling and dancing, throw in a snake charmer and a few dancing monkeys and you have the real Dakhla experience. However you will find just as much buzz on the beach, with many people setting up rustic fires, while the subtle strumming of a guitar and singing ripples throughout the beach. Feel free to join the party, as everyone is so welcoming.
So with all the activities throughout the day and night, you may have forgotten to grab a bite to eat. Dakhla has some fabulous spots at amazing prices. If you are looking for a real dining experience, with sumptuous décor, then head over to La Maison du the Dakhla. A decorative fusion of Indian prints and colours, married with rustic handmade Arabic furniture. It also has a slight Parisian influence, with its use of candles and various lanterns dotted throughout to add to the ambience. Try the super fresh seabass which melts in the mouth, or opt for the incredible lamb shank on a bed of asparagus. There is something for everyone, but I highly recommend the fish as it is freshly caught each day.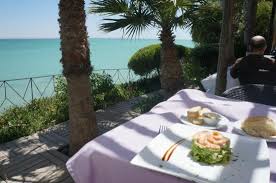 If you are looking for a breathtaking view while you chow down, then head over to Villa Dakhla which is nestled on the seafront. The views are unbeatable and the food certainly doesn't disappoint. For an adventurous diner, try the camel, which is spiced and cooked to perfection. If that is a little too adventurous for your tastes then any and all seafood options are fabulous. Top it off with a great bottle of French wine, while you soak in the lapping waves.
After all of that, it's probably time to get some beauty sleep. There are numerous surf camp accommodation options, with most of them having prime location on the beach. However they are very simple when it comes to amenities, so expect to simply sleep and shower. If you are looking for something a little more refined, but still within budget then consider Bab al Bahar hotel and spa.Set on its own private beach, with numerous amenities and a great service this is an inexpensive option to make your trip even more pleasurable.
For complete luxury then head down to Calipau Sah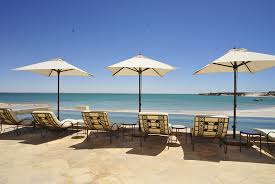 ara hotel, considered the best place to stay in Dakhla if you are looking for complete luxury, rest and relaxation.  This modern riad also has its own long stretch of private beach, but comes with a magnificent seawater pool, an incredible restaurant with some of the best seafood in the city, on hand watersport teachers and great views of the rest of Dakhla….a true nomad's land.