Visit Taroudant – The Walled Market Town
T
aroudant, is sometimes referred to as 'Little Marrakesh ,with golden brown walls and imposing gates, this elegant but small town offers a unique look at Moroccan and Berber cultures.  Located at the centre of the fertile Sous Valley, this town has always flourished economically and politically.  It was even the capital of Morocco for a short time during the sixteenth century.  Travelers love Taroudant for its laidback lifestyle, hospitable locals, and the nearby opportunities for exploring.
If you are visiting Morocco looking for a quieter, authentic site, Taroudant is a destination you don't want to miss:
What to Do
---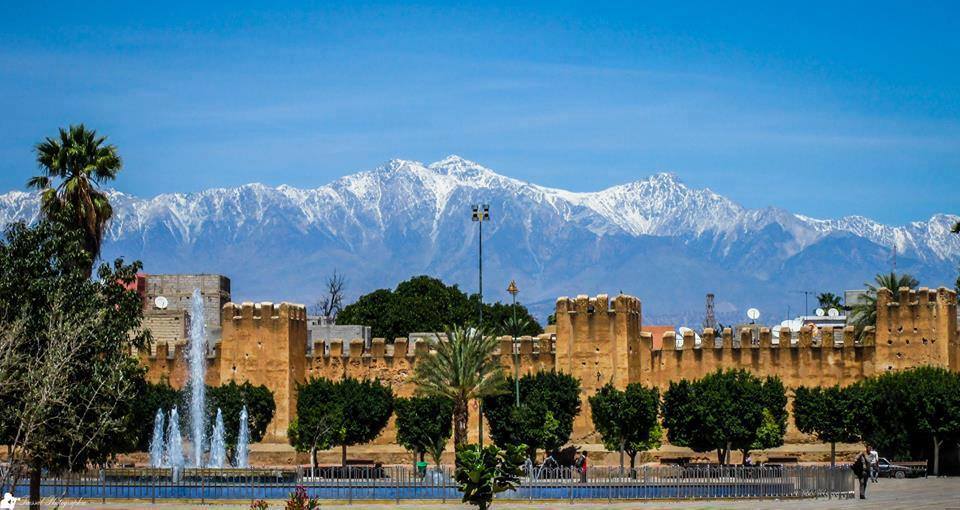 As Taroudant is a smaller town not dedicated to tourism, you will find as a visitor there is not much sightseeing to do.  However, those that do come here are excited about partaking in the culture and experiences offered here—this is where the town really shows off its livelihood and Berber culture.
To get a good sense of the town, take a carriage tour around the outer walls.  This horse drawn caleche lets you relax and marvel at the outer gates and square turrets surrounding Taroudant.  You can also explore the ramparts on foot, and visit each of the nine gates.  The oldest gate, Bab El Kasbah, overlooks the quaint gardens and a Kasbah in Taroudant.
Visit Taroudant's main square, Place Assarag, to experience a livelier, more social side of the town.  Oftentimes you will find performers such as snake charmers, artists, Gnaoua dancers, and fortune tellers around the square.  There is also a multitude of excellent Moroccan food vendors and cafes for you to enjoy some local cuisine while you sip on some mint tea.
Just off the main square you will find the souks along the paths.  For those that are not as experienced in haggling or shopping in Morocco generally, you will find the souks and shop owners here less intrusive and overwhelming than the big cities.  Look for leather items, kaftans and clothing or silver and antique jewelry that is often unique to this town and of a high quality.  It is a great place to pick up some treasures to remember your travels here.
As Taroudant is a market town, you can expect to find quality, handmade goods here.  One of the more well-known items they specialize in is leather.  You can visit small, local tanneries and understand the process that goes into making the leather goods.  As these tanneries are much smaller than the large productions found in Marrakesh or other cities, you may find the workers more apt to share with you what they do each day and explain to you the process, making this a great learning experience.
Many outdoor travelers love to use the quiet Taroudant as their home base for trekking up the Western High Atlas Mountains and more activities beyond the walled interior.  Savvy hikers may go alone, but there are also guided tour options for you to choose from.  Take a drive to the village of Tioute, only a half-hour drive, and you will find a gorgeous oasis pool to help you cool off in the heat.
Where to Stay
---
Your best choice for accommodation in Taroudant is the popular riad.  These Moroccan-style homes serve as a comfortable bed and breakfast type homestay with traditional décor and breakfasts.  Since the town is smaller, you can expect to find small riads that overlook the main square for surprisingly low prices—just don't expect luxury!  There are also some higher priced options such as Riad Tafilag or the Domaine Villa Talaa Resort that give you modern luxuries, pools, and more.
 What to Eat
---
There are not too many choices for restaurants in Taroudant, so eating at food stalls and riads is to be expected.  One popular spot for high quality food is the Riad Maryam—featuring French cuisine with Moroccan flair.  There are also many locations in Place Assarag that are perfect for spending an afternoon watching the performers in the square, drinking tea, and chatting about your day.
Getting Around
---
Only an hour from Agadir, Taroudant is very easy to access by bus or grand taxi.  Once you are in town, walking on foot is an easy choice.  It takes about an hour to walk the whole of the town, as it is not very large.  There are petite taxis for hire as well at common locations like the town's centre and the bus station.
Best Time to Visit
---
The best time to visit Taroudant is in the spring.  March through May have a warm, pleasant temperature with consistent weather.  This makes it a perfect time to visit.  The fall months are also nice, though there is also a lot of rain during this season.  Taroudant gets quite stifling in the hot summer months from July to September, with temperatures averaging over 30 Celsius.
Straying off the well-traversed path on your travels will lead you to Taroudant.  It is here you can experience authentic Morocco, friendly Berber culture, and unique souks all steeped in history.  Don't miss out on Taroudant on your next visit to Morocco.