Things to do in Meknes Morocco
Meknes is a mid-size city just one hour from Fez, offering much of the larger city's exotic mystique and winding Kasbah streets, but with less hassle. Good restaurants, nightlife, scenery, and historical sites can be enjoyed in relative calm, and often at lower prices.
What to Do
Meknes Medina
In the Medina, the old part of the city, you will find dozens of small shops selling everything from leather to spices to argan oil. As you walk through the medina, make sure you see Place el-Hedim, the large central square.
It's a great place for people watching, and there are many cafés and restaurants to choose from. Situated on one side is the Bab Mansour Gate, a huge, decorated gate completed in 1732.



Moulay Ismail Mausoleum
Moulay Ismail (1634-1727) was one of the great sultans of Morocco who ruled from his opulent palaces in Meknes. His final resting place is as just as decadent, with inlaid tile work, marble columns, molded plaster, carved wooden ceilings, and bubbling courtyard fountains.
It's one of the few religious monuments in the country that non-Muslims can enter, so it's a special opportunity to experience the hushed, reverent atmosphere of a sacred site. Open daily except Friday 9am-7pm.
Seri es-Souani
Located a mile and a half from the Mausoleum of Moulay, the ruins of the 17th century sultan's stables are still standing. Built to house over 10,000 horses, the massive structure was one of the finest works of the time. Note the ingenious natural air conditioning system, with ventilation windows and cooling underground water channels.
Dar Jamaï Museum
Housed in what was built as the palace of the wealthy and influential Jamaï family, this museum has a beautiful collection of traditional items including textiles – such as rugs and embroidered dresses – woodwork, jewelry, and ceramics.
The house wraps around the courtyard, which offers a shady respite underneath orange trees. Open Wednesday to Monday, 9am-12pm and 3-6:30pm.
Bou Inania Madrasa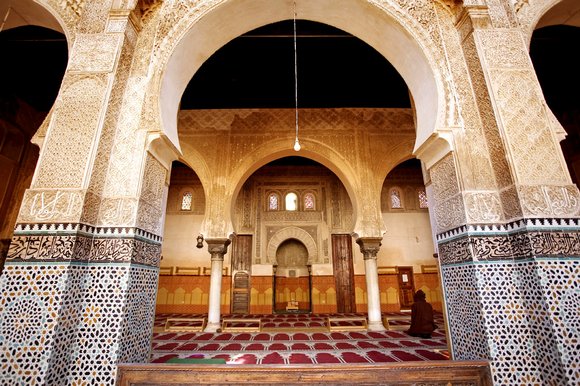 Built in 1358, this building housed a religious school and dormitories for students and teachers. Now, it is open to the public as a historical monument showcasing the beauty of traditional Moroccan design – colorful tile work, molded stucco, and carved wood. There are lovely views from the rooftop terrace. Open daily 10am-6pm.
Volubilis Day Trip
These carefully restored Roman ruins have been given a UNESCO World Heritage Site designation for the ancient history they preserve, including temples, stores, houses, and beautiful mosaics. The ruins are spread over a large area and offer great photo opportunities; the surrounding scenery is lovely as well. It is located about 2.5 miles from the town of Moulay Idriss, which is 18 miles from Meknes.



To get there, you can take the bus or grand taxi from Meknes (taxis leave from the Institut Français) and walk from Moulay Idriss to the site. You might be able to ask the driver to let you out close to Volubilis, so it's just a 0.5 mile walk. If you have a car, it's easy to drive directly. There are also organized day trips that provide round-trip transportation.
Getting to and Around Meknes
The train is one of the most comfortable ways to get around Morocco, and Meknes is well connected to major cities including Fez, Rabat, Casablanca, and Tangier. The train from Fez takes just 1 hour, from Rabat 2½, Casablanca 3½, Marrakech 6½, and Tangier 4. See www.oncf.ma for timetables. Meknes has two train stations; the more centrally located one is known as El-Emir Abdelkader.
Near the train station and by the Institut Français, you can catch grand taxis, large shared sedans operating like mini buses, to cities and towns within a 2-hour radius of Meknes. You can travel to Fez, Ifrane, and Moulay Ismail, the city closest to the Volubilis ruins, by grand taxi.
The bus is another option for getting to Meknes. There are routes to and from many other large cities, including Fez, Tangier, Casablanca, and Rabat. In Meknes, the main bus station is located west of the medina.
If you are staying in the medina, you can walk to most tourist attractions and many restaurants and cafés. If you need to go farther, catch a petit taxi, small sedans painted blue. They are usually very cheap, though double check that the meter is running or ask about the price beforehand.
When to Go
Weather in Meknes is similar to that in Fez. Spring and early summer (April-June) and early fall (September – October) are good times to visit weather wise, since days are warm but not too hot. Nights are pleasantly cool and can be chilly. July and August are the hottest months, with highs around 90˚F/32˚C or more.
If you prefer cool weather, the winter months are a better time to go. From November to March, day times highs are in the 61-68˚F/15-20˚C range, with nighttime lows around 45˚F/8˚C. The downside of the winter months is that there is a higher chance of rain than during the October-May period.