The Best Things to do in Morocco
Morocco is a large country, with incredible diversity in everything from its geography to its languages to its cultures. This it part of what makes it such a great vacation destination – there is something to do here for everyone. We've picked out some of the best activities  and things to do throughout Morocco to help you plan next Morocco vacation! Read on for more information about  hiking, beaches, horseback riding, desert treks, wildlife, and food.
Beaches
Morocco has almost 1,900 miles of coastline, including both Mediterranean and Atlantic shores. Both areas have great beaches – the Mediterranean cost alone has about 120! They tend to be a little bit warmer in the summer, and they are often calmer.
Al Hoceima has some ofthe best Mediterranean beaches, with clear blue water. There are also good swimming beaches outside Tangier, at Ashakar and Playa Blanca, and a little farther east at Cabo Negro Near Tetouan.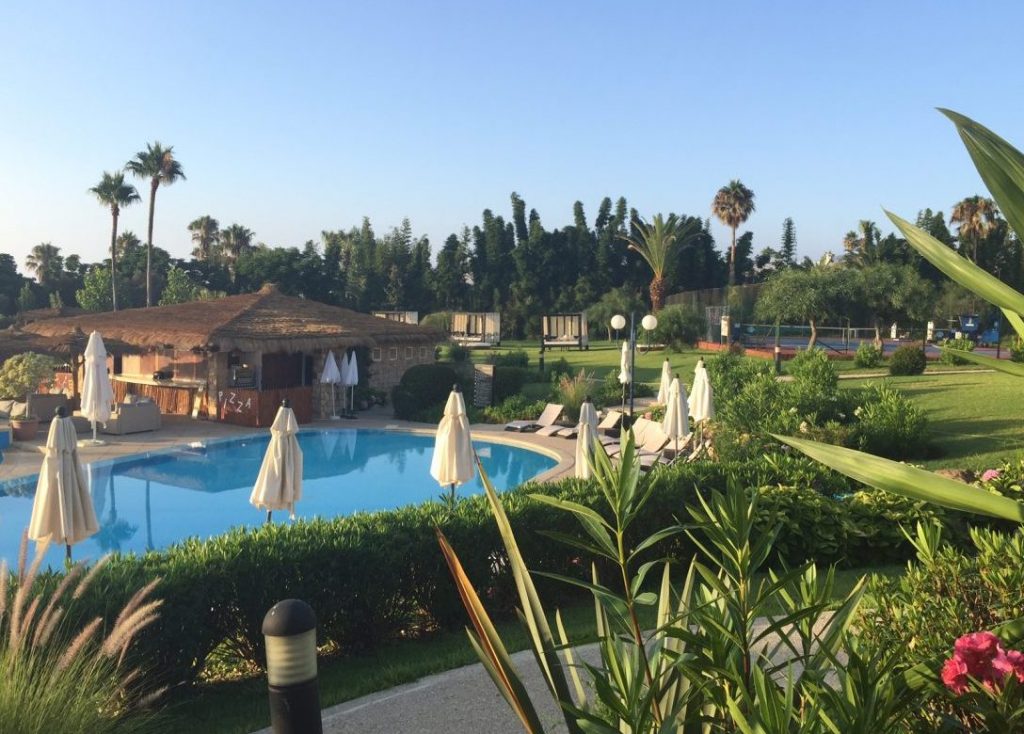 Head south along the Atlantic coast, and you'll eventually reach Essaouira, a laid-back fishing village that hosts an international music festival each summer. Its wide, flat beach is a top spot for swimming, surfing, windsurfing, and sunbathing. It has a cool old town, too, and a hip bohemian vibe.




Continue a few hours south and you'll arrive in Agadir, a large resort town with many luxury hotels and one of the best beaches in the country. The six-mile stretch of flat white sand is popular for all types of watersports, including surfing, windsurfing, and jet skiing.
Even further south is Legzira, equally beautiful and less touristy. It can be hard to find accommodation in this small town, but you can also stay in nearby Sidi Ifni. A final word of advice – if you're planning to go to a city on the coast in hopes of swimming, make sure you check about the water quality first!
Hiking
Hiking in Morocco's mountain ranges and foothills is the perfect way to immerse yourself in the natural beauty of North Africa. One of the most popular hiking destinations is the Rif Mountain chain, in the northern part of the country.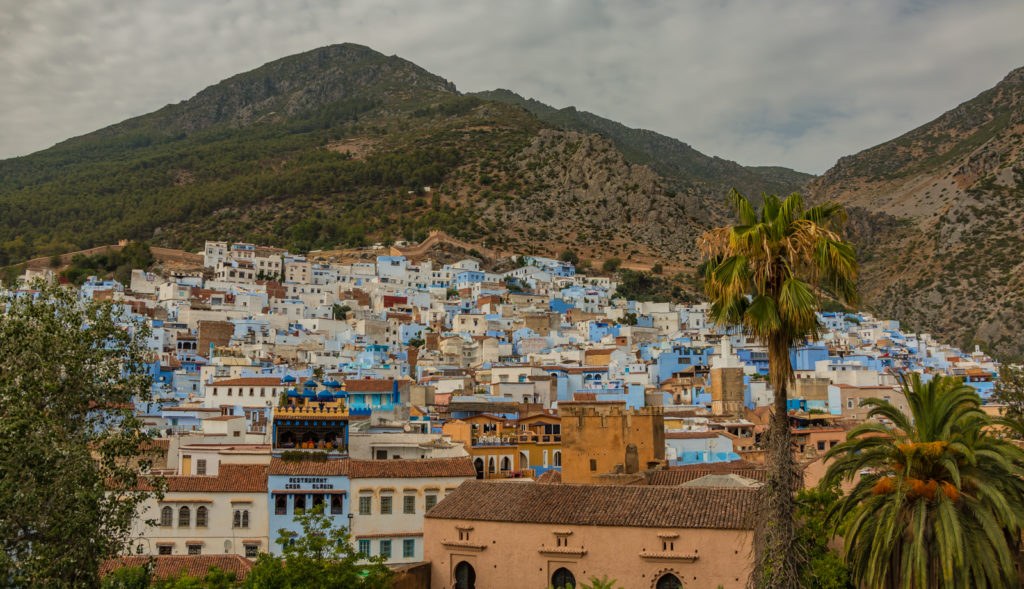 From the charming village of Chefchaouen, you can take easy half-day hikes along a river, full-day treks up to Jebel al-Kalaa, or multi-day trips to places like Talassemtane National Park.

Ouzoud Falls and Ourika village near Marrakech, and Paradise Valley near Agadir are good options if you want to take a day trip and hike near rivers and stunning waterfalls. They can all be reached by Grand Taxi, as well as with organized day trips.You'll get a chance to see small Berber villages in these areas, where you can stop for a snack.
If you're looking for something a bit more challenging – say, a mountain, Jebel Toubkal in the Central High Atlas may be just what you want. At over 4100 meters, it's a tough 2-3 day hike in the summer, and a climb requiring specialized gear in the winter. M'Goun is another high peak in the Central High Atlas good for experienced climbers, but surrounding it are beautiful valleys that offer less intense excursions.
Finally, the national parks we mention below are beautiful places for walking and hiking, especially if you enjoy observing wildlife.
Desert Treks
Morocco stretches along the western edge of the Sahara, so it's a perfect departure point for experiencing the world's largest desert. In Marrakech, you'll find dozens of reasonably-priced tour options that take you into the desert for a day or two, on camelback if you want! You can combine these trips with other features in the area, such as Ouarzazate, Dades gorge, and the Valley of Roses. You'll also find plenty of options for pre-booking tours online through sites like Viator.com.
Pro tip: if you like star gazing, don't miss spending a night camping in the desert. This rare chance to see the sky totally free of light pollution makes the stars absolutely stunning!
Culinary Tourism
Moroccan cuisine is undoubtedly one of the most delicious in the world. Major regional differences make it especially interesting if you like food and plan to visit several parts of the country. Most areas use lots of spices – cumin, saffron, lemon, ginger, black pepper, garlic – to  flavor legumes, vegetables, beef, chicken, lamb, or seafood, and sometimes camel or goat! Olives and olive oil, cultured butter, nuts, and dried fruit are used to add richness and sweetness.




There are a few dishes that are absolute must-try's. Tagine is a highly variable dish that consists of some combination of meat, chicken, fish, and vegetables, flavored with spices and sometimes nuts or dried fruit. The key is that it is always cooked in a clay pot with a
cone-shaped lid that helps seal in flavor and moisture, resulting in a perfectly-cooked meal with tender meat and veggies. Chicken tagine with lemon and olives, and lamb tagine with prunes and almond are common combinations.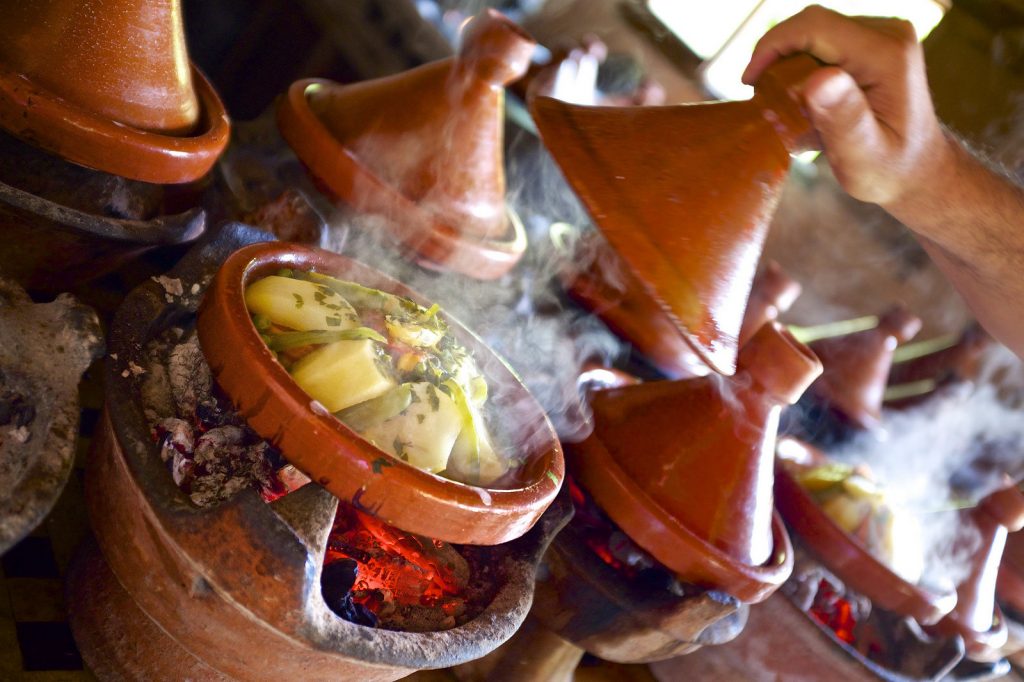 Couscous is another classic. This dish of steamed semolina and spiced stewed chicken, vegetables, or meat is served on Fridays in homes throughout the country. Many restaurants offer a Friday cous cous special as well. It usually comes with rich chicken broth and a sweet
sauce made from caramelized onions and raisins.
If you are in Marrakech or farther south, make sure you try tanjia. Tanjia is beef, mutton, or camel cooked for hours in a traditional oven in a clay pot. It's rich and fall-off-the-bone tender, and best eaten with piping hot mint tea.
Fabulous vegetarian options abound, too: savory stewed lentils and beans, eggplant dip, bisara (creamy fava bean soup), fresh salads, and vegetable tagines.
It's also fun to try the many types of bread, including hobz maklah, a grilled-baked yeast bread, harcha, a dense semolina bread that is reminiscent of cornbread, baghrir, a spongy crêpe, and rghaif, a rich, flaky griddle bread. All of them go well with butter, cheese, honey, jam,
and amlou.
If you're a fan of almond butter, you'll love amlou. Made with three of Morocco's most famous products, almonds, honey, and the oil from the nuts of the argan tree, it's a perfect breakfast treat. You can buy pure argan oil too, toasted for culinary use or untoasted for use on
skin and hair.
You can find very good – often the best – food at simple restaurants instead of expensive ones. Ask around and see what's popular. Keep an eye out for cheap, clean places that look busy and go there. You won't be disappointed in finding great food in your next vacation to morocco!
Birdwatching and Wildlife
Souss-Massa National Park is one of the world's best birding locations. Bordered by the Souss river to the north and the Massa river to the south, the park stretches 43km along the coast and includes a diverse range of habitats including shoreline, river, estuaries, forests, scrub, farmland, and near desert. The over 200 species that either live there year-round or passthrough during migration make it an essential stop in Morocco. Souss-Massa is also home to the endangered bald ibis. The entire world population of about 400 birds lives in the park.
Ifrane National Park is another wonderful place to hike, relax, and observe the flora and fauna. This area is home to Barbary macaque monkeys. The monkeys have become quite used to human visitors, so they may wander over to check you out – or to steal a snack! Close by is the Cèdre Gouraud forest, a protected area filled with towering cedar trees and more macaques.
Tangier is a prime spot to observe spring bird migrations, since it is located right next to the shortest crossing point over the Mediterranean. From March to May, birds that winter in Africa and summer in Europe flock to Tangier to cross near the strait of Gibraltar, so you can see hawks, eagles, and bee eaters flying in large groups. Rmilat and Slokia parks in Tangier, and the Jbel Mousa and Belyounesh areas, about an hour east, are great places to go.
Horseback Riding
Morocco has a tradition of horsemanship stretching back hundreds of years, and horses are still the best way to see some rural areas of the country. You can go on short rides and multi-day trips everywhere from the Atlas Mountains to the southern beaches to the Sahara.
In large, tourist-oriented cities like Marrakech, Agadir, and Essaouira, it's usually easy to book tours locally. To book ahead of time – and be able to read reviews of the tour operator, book online.
InTheSaddle.com and Viator.com are international tour aggregators; search those sites for horse tours in Morocco and multiple options will come up. You can also check out Ranche Diabat, based in Essaouira, or Hidden Trails tour company.