The Best Beach Resorts in Morocco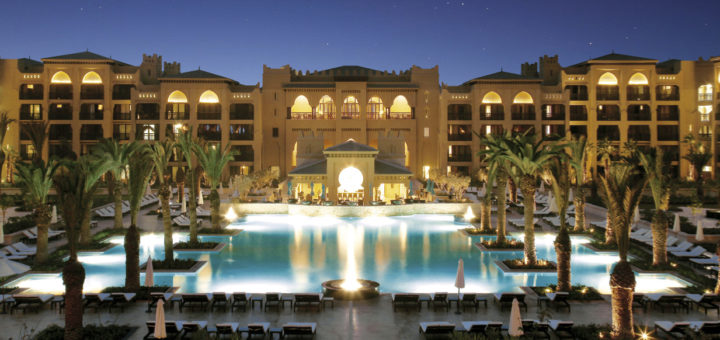 Swimsuit up and hit the surf when you book a beach resort in Morocco. Morocco is home to several lovely beach resorts, making it a perfect destination for sun worshippers and beach enthusiasts. After all, beach lovers and those who adore the sand understands the magnificence and hospitable atmosphere of beach resorts in Morocco.
Take a dip in the crystal clear ocean waters on your next vacation when you book an accommodation on the beach in Morocco. Enjoy an unforgettable experience in one of the stunning beach resorts in Morocco as you wake up to the salty air from your balcony and fall asleep to the sounds of crashing waves. A vacation in a waterfront hotel takes your trip up a notch.
If you are looking for a personalized beach getaway, here is a list of some of Morocco's finest beach resorts where you can soak up the sun and enjoy the gentle ocean breeze alongside great hospitality.
---
Mazagan Beach Golf Resort
Mazagan Beach and Golf Resort is a 5 star hotel offering state of the art amenities whilst ensuring guest enjoys maximum comfort and convenience. Located in El Jadida, Mazagan Beach Golf Resort is home to varieties of well equipped rooms and suites where you can spend a promising vacation in Morocco. Featuring a superb climate all year round, Mazagan Beach and Golf Resort covers 250 hectares which houses several restaurants and bars, a vibrant casino considered to be the largest in Morocco, magnificent spa, nightclub and countless number of sports and leisure facilities for your stay with friends, loved ones and even business associates.
The resort has 490 beautifully furnished rooms and suites of various sizes. Offering a panoramic view of the Atlantic Ocean, the rooms feature quality finishes, offering a comfy and hospitable atmosphere to guests. The resort is also popular for being one of the best family friendly hotels in Morocco as it caters to the needs of children and young adults including the Rush Club, which offers movie theatre, horse riding and several beach activities.
The Mazagan Spa featuring treatment rooms, beauty salon, traditional hamman and Jacuzzi areas is just perfect for adults looking to feel rejuvenated and refreshed. Other activities to explore include cooking classes, pilates lessons and several water sport activities such as kayaking, surfing and much more. The magnificent beach next to the resort is perfect for surfing. Experience the magic and wonders of Moroccan hospitality by staying in Mazagan Beach & Golf Resort
---
Iberostar Founty Beach Hotel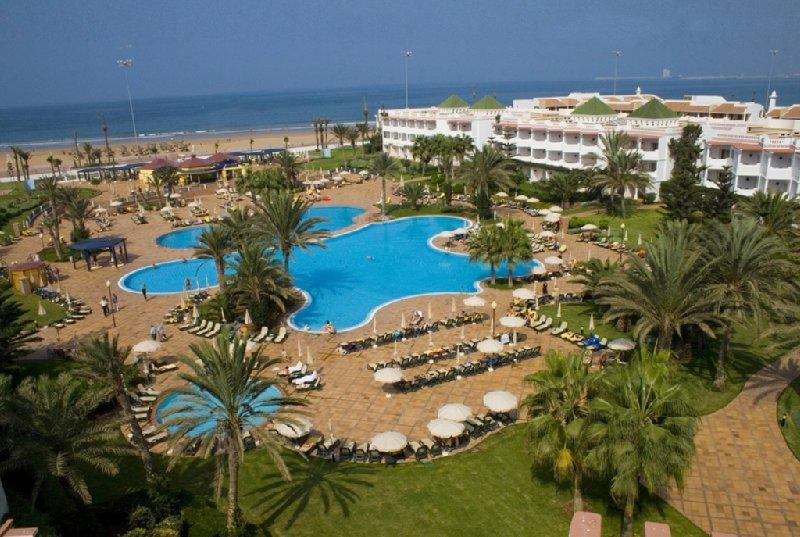 Are you looking for an excellent beach resort in Morocco where you can enjoy relaxing and carefree holidays? Iberostar Founty Beach is one of the best accommodation options to opt for. Located on the beautiful sandy beach of Agadir, Iberostar Founty Beach Hotel has close proximity to the city centre offering guests easy access to exploring some of the best attractions ashore at their own convenience and time.
Each room is spacious and comfortable with modern facilities such as air conditioning, refrigerator, shower, hairdryer and balcony or terrace with a panoramic view of the sea. The hotel's restaurant serves delectable meal richly prepared and served by skillful chefs.
Visit the bar and enjoy chilled bottle of drinks while taking in the splendours of the calm atmosphere. There is no better place to have a feel of traditional Moroccan hospitality and enjoy an ideal holiday experience than Iberostar Founty Beach Hotel. This incredible 4 star hotel plays host to several relaxing facilities for guests with 3 golf courses nearby.
Couples and families looking to get the most of their Moroccan vacation should make reservations with Iberostar Founty Beach Hotel. Due to its proximity to the city centre, guests can explore the shopping and entertainment streets filled with restaurants, bars, cafes and traditional boutique within the vicinity of the hotel. Facilities include fitness center, spa and wellness centre, playground, indoor pool, massage, Kids Club, beachfront and much more.
---
Dolce Vita Thalasso Center Hotel
Located in Temara (Harhoura) Rabat, Dolce Vita Thalasso is a 4 star hotel which treats guests to a wonderful experience. With an excellent position close to the coast and about 10 minutes from the city centre, Dolce Vita Thalasso Hotel is a fascinating accommodation option for travelers looking for a home away from home feeling. The hotel features amenities you'd equally find in world class accommodations to make your vacation or business trip a memorable one.
Check out the spa and wellness centres to realign your mind, body and spirit. Some of the amenties found here include fitness center, restaurants, reception desk, a piano bar and much more. Make yourself at home in one of the many beautifully decorated guestrooms with showers, sofa beds, minibars and refrigerator. Enjoy delectable breakfast, lunch and dinner at the hotel's dining establishments. Whatever your reason of visiting Rabat, do not miss out on the chance to enjoy the finer pleasures of life at the magnificent Dolce Vita Thalasso Hotel.
---
Hotel Club Val d'Anfa
Situated 150 feet from Casablanca beach, Hotel Club Val d'Anfa is magnificently set in well manicured gardens with stunning ocean views. Other entertainment venues are nearby including restaurants, bars and nightclubs. It is just five minutes drive to Morocco Mall, renowned for being the largest shopping center in Africa. Featuring 137 soundproof rooms with modern amenities such as mini bars, and free Wi-Fi, Hotel Club Val d'Anfa is one of the finest beach resorts in Morocco to spend remarkable vacation with friends and family.
---
The Casablanca Le Lido Thalasso
With a breathtaking decor and a super entertainment area, Le Lido is a 4-star hotel located on the beautiful coast of Morocco. It is considered one of the perfect accommodation options in Morocco that caters exclusively to the needs of clients. Enjoy great sea views, soft ocean breeze and professional service from the friendly and welcoming staff of Le Lido Thalasso hotel. The onsite restaurants offer great traditional Moroccan dishes and international cuisines for visitors of all kinds. Facilities include fitness center, spa and wellness center, swimming pool and lavishly designed gardens.