A
beautiful, vibrant city in northern Morocco, Tangier holds charm for travelers from all over the world. This port city is always bustling, and filled with unique and authentic Moroccan experiences for travelers.  For any visitor looking to experience Moroccan lifestyle and enjoy a vibrant Moroccan city,Tangier can't be missed on your trip to Morocco.
One of the largest cities in Morocco and a center for both industry and tourism, Tangier is a Mediterranean gem. With its mild climate, beautiful scenery, delicious cuisine, friendly people, ancient history, and rich culture, it is a wonderful place to visit. Stay in the center city near the Kasbah, and enjoy the laid-back atmosphere of Tangier as your stroll through the old city, sample tagines and fresh fruit, and take in the sea views.
Here is  Travel Guide to Tangier



What to Do
---
The city is divided into three main parts; Medina, Kasbah, and New City.  Each offers visitors their own unique take on Moroccan culture and gives you a chance to experience both new and old.
The winding streets of the whitewashed medina is among the top things to do and see in Tangier. The medina, or old city, is a labyrinth of lanes and alleys that make their way through interesting and unique alcoves dotted along the cliff's edge.
The Grand Socco is the main square within the medina.  For adventurous travellers that want to really soak up Moroccan culture, venture into the covered food market where fishermen and butchers display their products loudly.  The smell may be a bit powerful, but it is a unique experience for any visitor!
In the middle of the medina sits the other square, Petit Socco, where you can find backgammon games and Moroccan mint tea. Stay for hours, wandering around and watching people pass while sipping Morocco's favourite drink.
As an interesting tidbit among the Moroccan vibes, take a trip to see the American Legation Museum, the only historic American landmark located outside the United States.
Kasbah
Tangier has a great old city, with many narrow winding streets, uneven steps, stone walls, and tiny shops. Unlike the more famous medinas in the inland cities of Fez and Marrakech, Tangier's old city is situated on a hill overlooking the sea, with stunning views of the water, the surrounding city, and Spain across the Strait of Gibraltar. Make sure you walk through the Grand Socco, where dozens of vendors sell fruit, vegetables, spices, and more.
Stroll Along the Corniche
One of the loveliest areas of Tangier is Merkala, a long boulevard that begins in the port area below the Kasbah and stretches for 3km along the coast.
You'll have great views of the water, fisherman and small boats heading out to sea, old houses perched on the hillside, the new city curving around the bay in the opposite direction, and the steep, rocky coastline farther ahead.
The wide walkway is a popular destination for families and young people on weekends and evenings, and it's a great place to watch the sunset. In the springtime, there's the added beauty of pink, purple, and yellow wildflowers in full bloom on the nearby hills.
Fishing Port
If you're feeling adventurous, walk through the fishing port, located below the kasbah and adjacent to the tourism port. In the morning, you can watch boats come in and unload, and later on simple restaurants with paper-covered tables sell the catch of the day.
It's not for the faint of heart, but it offers one of the most authentic, unadulterated glances of everyday life in Tangier.
Kasbah Museum
The Musee du Kasbah explains the history of Tangier, a city dating back to pre-Roman times, with artifacts, short videos, and other displays. The museum is perfectly located in an ancient riad with a large garden at the top of the Kasbah.
Walk Down the Boulevard
Known by locals simply as 'the boulevard,' this long street including Avenue Belgique, Avenue Pasteur, and Avenue Mohamed V is the city's main artery. Starting next to the large Mohamed V mosque in the Iberia neighborhood, you can walk down this busy street for an hour, passing many cafes, restaurants, and shops. If you continue to the end, you will find yourself at the train station.
If you turn left once the boulevard flattens out, you will get to the beach area, which is always busy with sun bathers, families relaxing, and souvenir and snack vendors.
Rmilat (Parc Perdicaris)
If you need a change from the busy city scenery, take a taxi to Rmilat, an expansive park with towering trees, well-maintained walking paths, and lovely views of the sea and coastline. Bring snacks along for a picnic, or relax at one of the nearby cafes. It's not far from the city center, so you can take a small taxi to go there directly. Otherwise, take a shared taxi. They depart across from the large Mohamed V mosque near Place Koweit, and cost just 5 dirham each way (about 50 cents).
Spend a day at Tangier Beach, only fifteen minutes away from the city.  It is a fun place to relax, enjoy the ocean, or even take a ride on a camel for a cheap price.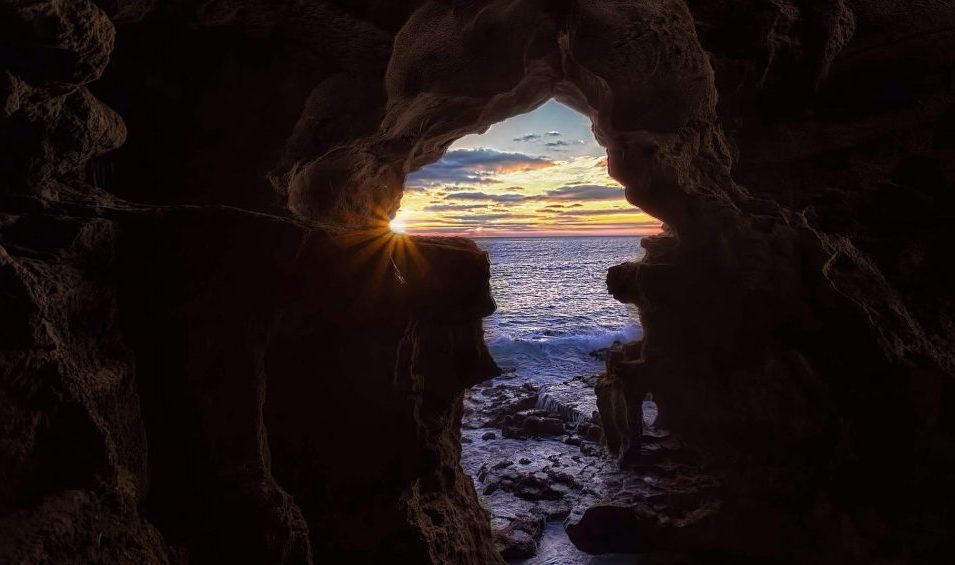 If you're looking for a fun day trip outside the city, Hercules Cave is a mythical spot along the sea's edge.  It is told that Hercules rested here after he completed the twelve feats that guaranteed his immortality, and to visit it is to see a parting of the earth where gorgeous colours of the sun break through the opening into the cave.
Read More : 5 Things to do in Tangier
Where to Stay
---
For the most authentic experience, riads are a great escape from the bustling city while still giving a feel of authentic Morocco.  There are budget hotels and hostels in the city, as well as luxurious resort properties.
Hotel Ville de France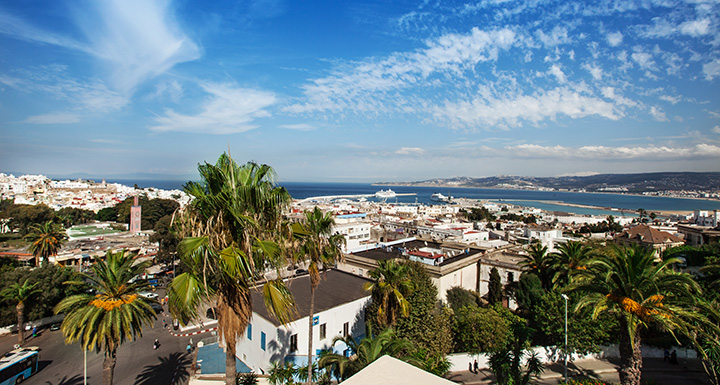 One of the highest-rated hotels in Tangier, the Hotel Ville de France is centrally located and offers a taste of old-world luxury. Fabulous views of the city, a large pool, a bar with a great wine selection, excellent service, and a French colonial style dining room make it our top choice. There is also a unique piece of history preserved in this hotel: the French painter Henri Matisse stayed in one of the rooms while visiting Tangier, and the hotel has kept it much like it was then, as a mini-museum.
Kasbah Rose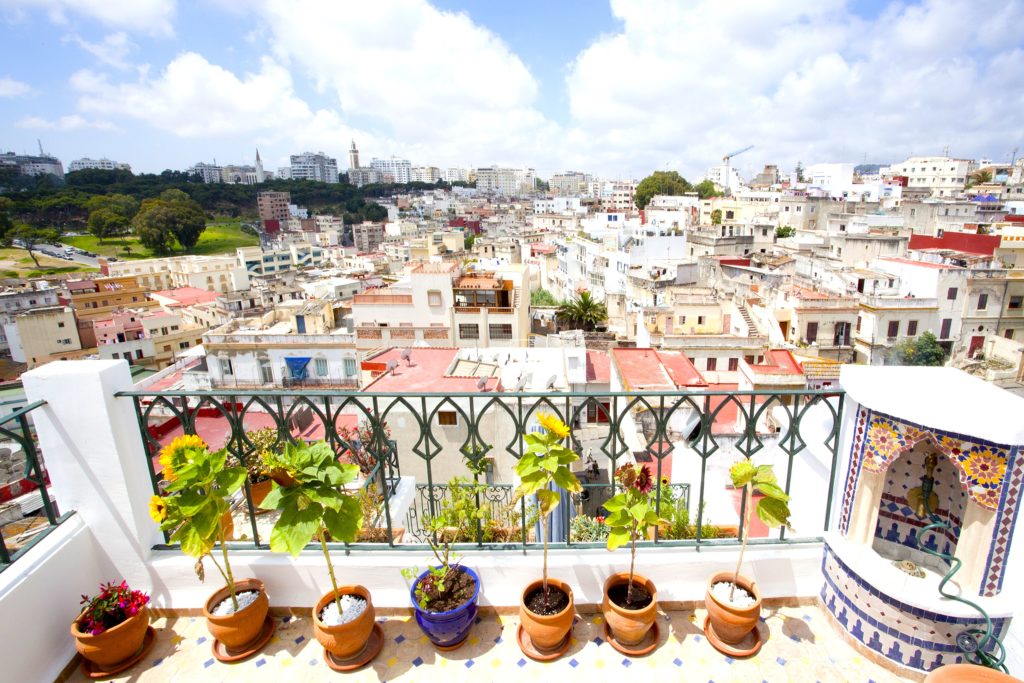 This 5-room riad is situated in the heart of the Kasbah and operated by a Dutch couple who have lived in Tangier for over 30 years. The charming interior decoration is a mixture of traditional Moroccan craftwork with African, French colonial, and Dutch touches.
Rooms are cozy and immaculately clean, and the terrace has nice views of the city. Two rooms have private balconies. Complimentary coffee and tea are available, and breakfast is complementary as well if you book directly through the Kasbah Rose website. The staff are happy to help you make arrangements for buses, taxis, airport pickup, and hammam and spa visits, making your stay here truly special and enjoyable.
Hotel El Minzah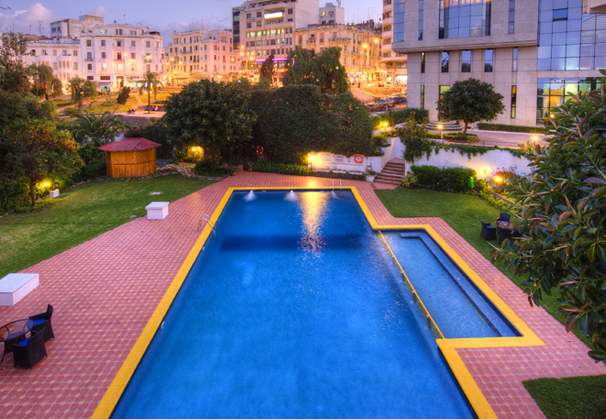 Perfectly located close to the Kasbah, Grand Socco, and the Boulevard, Hotel El Minzah offers an oasis right in the center of the city. This upscale hotel has clean, comfortable rooms, a rooftop terrace, a large pool surrounded by trees and flowers, and a restaurant and café. Ideal for a luxury traveler who wants to be close to the action.
Kenzi Solazur Hotel
For a European-style luxury hotel experience, the Kenzi Solazur is a good option. It offers above-and-beyond service, beautiful interiors, and a great location across from the beach, close to the boulevard, and within walking distance of the Kasbah.
Where to Eat
---
Tangier is one of the largest cities in Morocco and with that comes a fine selection of local Moroccan cuisine options along with international restaurants. You will find everything from Japanese and Italian to fast food and local street food in Tangier.
Eating in the medina is a truly beautiful experience, with many outdoor cafes lining the streets. Catch the most scenic views at the cafes along Terrasse des Paresseux, a balcony overlooking the Mediterranean Sea.  Try the tea at Cafe El-Hafa while enjoying a perfect view of the ocean below, or enjoy one of the many restaurants along the beachfront.
For breakfast, stop at the local cafes, rather than the tourist joints, for cheaper breakfasts and a quick coffee.  Snacking throughout the day is best done near the souks, where local street vendors sell great food at low prices.
Salon Bleu
This tiny, charming, upscale café-restaurant is located at the top of the Kasbah (right across from the Kasbah museum) in an old restored house, with a multi-level terrace offering views over the water. Salon Bleu offers a few traditional dishes including tagines, as well as delicious cakes, cookies, tea, and homemade juice. It's the perfect place for a break after exploring the Kasbah.
Restaurant Al Bashir
Restaurant Al Bashir is about as local as it gets. It's almost always full of people stopping for a quick snack or sitting down for a huge platter of seafood or roasted chicken.
They offer a wide range of traditional specialties – the creamy fava bean soup bisara, a light tomato soup known as harira, white bean stew, Moroccan lentils, tagines, fried shrimp and calamari, fresh fish, skewers of grilled beef and chicken, and eggs poached in spiced tomato sauce (shakshuka).
Despite the sometimes hectic atmosphere, the wait staff are always friendly and helpful. Located on Rue Zyriabe, two blocks off Avenue Pasteur.
Café de Paris
This Tangier landmark is located at the intersection of some of the busiest streets in Tangier (Avenue Pasteur, Rue de la Liberte, Avenue Belgique, and Rue Fes), so it's a great place for people watching. The menu is very limited – mint tea, coffee, juice, some simple snacks – but you are welcome to bring your own food. Conveniently, there is a great bakery next door – Patisserie Andalous – where you can buy croissants, traditional cookies, bread, and savory pastries.
Gelateria Rimini
Tanjawis love their sweets, and ice cream is no exception. You'll see many cafes and shops around the city selling it, but the best is from Gelateria Rimini. With unique seasonal flavors like dragon fruit, cactus fruit, fresh fig, and rose-spice, as well as classics like chocolate, vanilla, and coffee, everyone is sure to be satisfied.
Located one block off Avenue Pasteur at the intersection of Rue Mexique and Rue Al Moutanabbi.
Getting to and around Tangier
---
It is easy to reach Tangier from any large European city, either by direct flight from Paris, Brussels, London, Madrid, Lisbon, or Barcelona, or with a connection. There are some direct flights available to other parts of Africa and the Middle East as well. From North or South America, you will need to fly first to Casablanca, Rabat, Marrakech, or Europe and connect from there.
Ferries run multiple times daily between Tarifa (Spain) and Tangier, as well as Malaga, Algeciras, and some Italian and French port cities. You can also take long bus rides from many large European cities, with the ferry crossing included.
If you are coming from another city in Morocco, you can take the bus or train, both of which are inexpensive and generally comfortable. Casablanca, Rabat, Marrakech, Fez, and Agadir are all well-connected. Buses tend to be on time; trains are often late to the final destination by an hour or more but offer the option of a sleeper car for overnight trips.
Once in Tangier, getting around is easy. Most tourist attractions and hotels and many cafes, restaurants, and shops are within walking distance. You can also flag down a teal blue petit taxi for trips within the city, or find a grand taxi route to take you to Ashakar beach, Rmilat park, Casabarata flea market, or the mountain village of Chefchaoen. Grand taxis are shared taxis that operate along fixed routes, with different departure points around the city. Ask your hotel manager, a police officer, or a waiter for directions to the one you need.
Best Time to Visit
---
Along the coast, Tangier is beautiful year round.  The most popular months for travellers are May through July, when the wind blows warm off the sea.
Tangier has a typical Mediterranean climate, with hot, dry summers and cool, rainy winters. The summer months from May to September are hot and humid (though not rainy), but not unbearable thanks to the moderating effect of the Mediterranean Sea.
Tangier is full of tourists during much of this time, but usually doesn't get overly crowded. Spring and fall are usually pleasant, with moderate temperatures and varying amounts of rain.  April, October, and early November are less busy, not too hot, and have less rain than the winter, so they are good times to visit if you don't plan to go to the beach. From late November to early April, Tangier is chilly, damp, and rainy. If you don't mind the weather, you'll find the city much less busy, and you can take the chill off with a piping hot tea in a cozy café.



Also take note of the major religious holidays of Ramadan and Eid al Kabir. Ramadan can be a fun time to visit since the city is full of life from just before sunset to 3am, but you may find many shops closed during the day. Ramadan lasted from May 26 to June 24 in 2017, and will be from May 15 to June 14 in 2018. Unless you are staying with family or friends, we would recommend avoiding traveling around the holiday of Eid al Kabir.
Domestic travel is extremely difficult in the days just before and after, as most people return home, and most business, restaurants, and even some hotels will be closed for 2-3 days. Eid al Kabir is from August 31 to September 2 in 2017 and from August 21 to 23 in 2018.
Whenever you choose to visit Tangier, expect a vibrant and thrilling experience of authentic Morocco.  It is a beautiful blend of cultures along the sea, a port town with many stories and secrets to discover.