Taghazout: Surfing in Morocco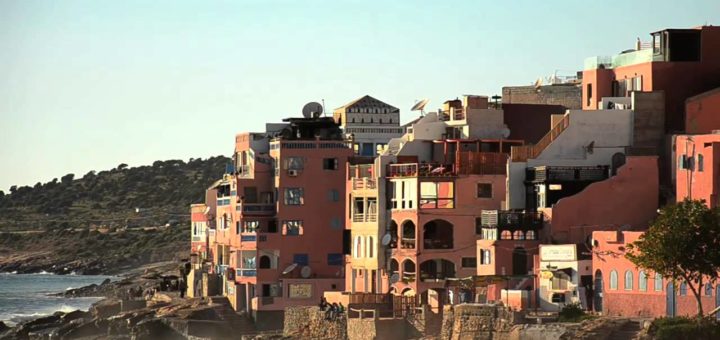 I
f you seek adventure or an authentic local experience, this idyllic town is akin to a Mecca for surfing in Morocco and a genuine highlight for Morocco travel in general. Fine food, stunning scenery and a warm atmosphere.
Taghazout is ideal for both couples and independent travelers seeking an escape from the busy city and easy access to adventure,diverse, scenic and charming.Taghazout is a quaint village in the north of Agadir, a bustling city in the south-west of Morocco.
Although oil and fishing contribute the main source of income to the town, tourism is still central to its prosperity and the unique attractions in Taghazout will never leave the visitor in any wonder, as to the reasons why.
Originating in the foothills of nearby mountains, the Beber people are the most common in Taghazout and interestingly, they established the town for the initial purpose of housing their fishing equipment. However, the 19th century witnessed this unassuming village becomes a Spanish strong hold and as development ensued, what was once a quiet village grew into a much larger community.
In this sense, the town makes for a unique experience; for the colorful facades tell a story of rich heritage and then these outside influences have also infused themselves within what was already a fascinating culture.
Another highlight is the local cuisine, for it is here you will find authentic Moroccan cuisine in such places as Café Mouga or L'Auberge, two delightful restaurants on the mainstreet that also offer a sublime mix of alternative foods, whether they be European based or indigenous to the Mediterranean coast. And then there are the beaches, where locals and tourists alike join surfers on some of the most attractive stretches of sands with incredible panoramas to match.
Rugged, majestic and unspoiled, the ocean views are magnificent and often provide a backdrop to the  immense mountains on all sides.
Every beach is equipped with the most necessary facilities and when you experience a sunny afternoon on Taghazout Beach Morocco, you will understand why visitors return to this intriguing destination, time and time again.
Surfing in Taghazout
---
Renowned for some of the most incredible waves anywhere in the world, Taghazout holds a distinct appeal for those in search of surfing in Morocco and this awe inspiring coastline is home to a number of villages which offer easy access to all the adventure. While the surf is more challenging and suited to advanced surfers between September to April, the rest of the year is ideal for both  intermediate and beginners.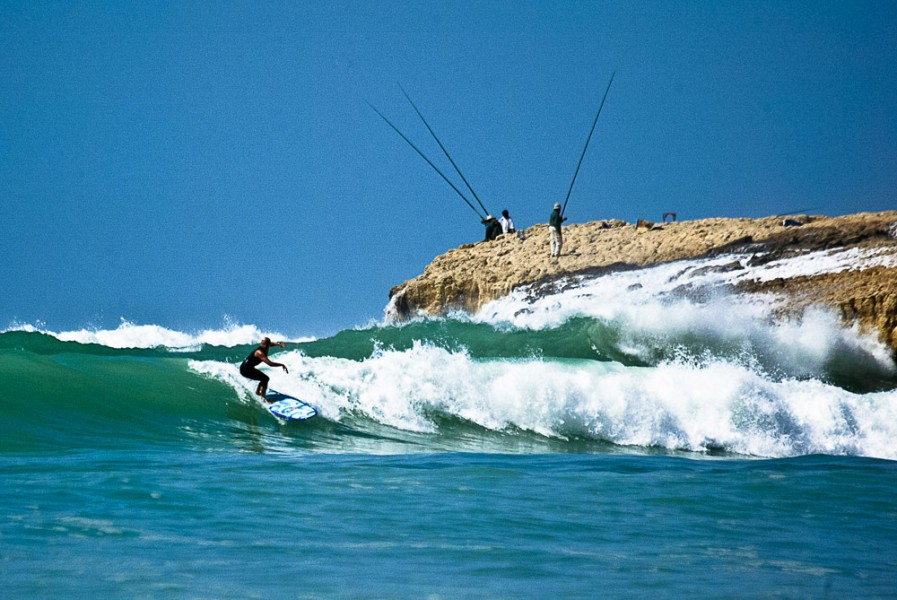 Surf Berbere Morocco Surf Camp is perfect for an organized surf vacation or a place to learn how to ride the waves, while Panoramas is a suitable beach for intermediate level. However, for advanced surfers and those with a vast amount of experience, the ultimate waves can be found at Anchor or Killer Point, neither of which are for the faint of heart. Also Surfmaroc offers great surfing holidays, very friendly staff, great food and of course sunset yoga classes are extra bonus
It must be pointed out that there are also many other exciting beaches along the coast including Aitswal Beach, Tamawanza, Aghroud, Imiouadar and Bouyirdn, all of which are ideal for surfing in Morocco.
Best time to visit Taghazout
---
Right now, honestly, when it comes to Morocco travel, these villages along the coastline and the town of Taghazout in particular are the perfect destination year round. If you wish to avoid the crowds and have a little more space at the many attractions, then in Taghazout you have found the perfect opportunity for a local experience and authentic adventure, at any given time.
---
With such an incredibly beautiful coastline accompanying what is a very charming town and warm atmosphere, you can be sure to come away from Taghazout with unforgettable memories of a truly authentic and unique adventure.
If you wish to go surfing in Morocco, this will be the ultimate trip, but if you are even just interested in uncovering the cultural identity of a small peaceful town in this stunning nation, then Taghazout will be the right choice. The question now is not whether you should visit this region on your next visit to Morocco, but rather for how long you can afford to stay.