Morocco: A Golfer's Paradise
F
or some of us, there are few things quite as enjoyable, relaxing, or stimulating as a good game of golf. Whether alone, with family members, or friends old and new, a round of golf on a beautifully made and maintained course is the ideal way to take in the landscape and climate of a country.
The undulating fairways, the waterways and greens are, for many people, the ideal place to unwind on a holiday, and the spirit of competition which this game brings is the ideal way for players to come together before socializing off the course.
As such, it comes as little surprise that Morocco is racing ahead of its neighbors and competitors as a world-standard golfing location, with many of Morocco's finest golf courses and resorts being the best found anywhere on the Mediterranean and North African coasts.
As Morocco grows and modernizes as both a country and a tourist destination, golf and other leisure activities are becoming central to the country's identity. Millions upon millions of dollars have been poured into the stunning coastal resorts, creating idyllic golf courses for tourists, who now flock from across the globe in order to experience this unique golfing location. It's fair to say that the golfing scene in Morocco is positively thriving – more golf courses are being developed here than in any other country we can think of.
Whether you're a seasoned golf expert with a handicap to match, or are completely new to the sport and want to give it a try for the first time, there's no doubt that Morocco has the golf experience which is perfect for you. Morocco is undoubtedly on its way up, and will continue improving as the world continues to discover all the treasures it has to offer. Luxury golf resorts are simply the latest jewel in this stunning, naturally magnificent North African crown
Why choose Morocco for your golf holiday?
There aren't many places you can go in the world for a top class golfing holiday, which also have so much more to offer than just world class fairways and putting greens. Morocco is – as any ardent traveler will tell you – a veritable feast for the senses. It's a country which truly has it all; UNESCO world heritage sites by the bucket load, long stretches of impeccable sandy beaches, historic cities with looming citadels and bustling medinas, modern, cosmopolitan metropolises, mountains, deserts and more. Imagine, if you will, sinking a golf ball into the 18th hole of an exquisite course… and then having all of that to explore for the rest of the day.
One of the best things about going golfing in Morocco is that most of the resorts which specialise in golf (and even a few which don't) will only be too happy to equip you with everything you need, from golf buggies to a range of clubs. As such, you don't need to travel with all your kit in tow, and you can be sure you'll be playing with top quality equipment, on some of the best golf courses on the continent.
The fun doesn't start and stop on the fairway, either. If you're looking for a touch of bliss to go alongside your golfing holiday, Morocco is home to some of the most artful centres of relaxation in the world. The golfing resorts you'll find in Morocco are full of pools and spas, massage centres and fine dining restaurants, where you'll be able to truly unwind at the end of a day out on the course.




Top golf resorts in Morocco
Marrakesh
Marrakesh is home to some truly stunning golf courses, many of which have a fascinating history behind them which pre-dates the regeneration of Morocco. Being so close to this bustling, buzzing city also has its advantages, as after the game, there is no end of wonderful and exotic locations to explore.
The most famous golf course in Marrakesh is the Royal Golf Club – a wonderfully decadent affair, opened by the Pasha in 1933, and which has seen the likes of Churchill and Eisenhower drive balls across it. With 27 holes, towering trees, and wonderful cafes, this is a must for any lover of golf to visit.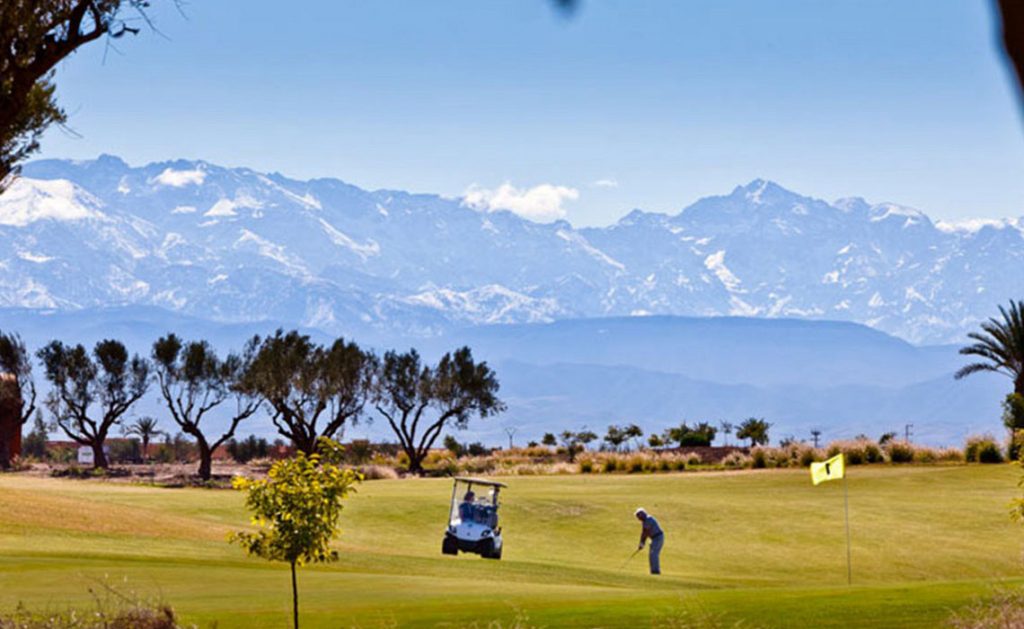 For something a little more modern, and yet wonderfully eccentric, Marrakesh is also home to the Al Maaden Club. Just a few minutes' walk from the Royal Golf Club, the Al Maaden is both a golf course and a sculpture park in one, filled with bizarre and beautiful works of art which make this a truly memorable golfing experience.
El Jadida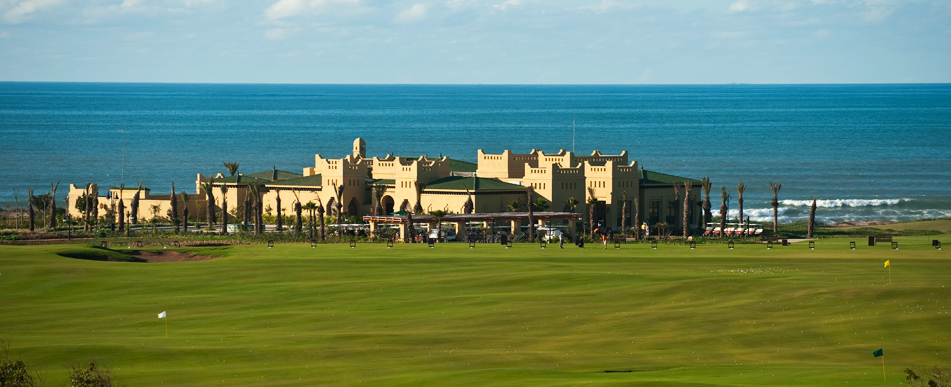 To get a taste of the old Morocco, and to see how it is changing with the times, many golfers are heading to the resort of El Jadida. South of Casablanca, this coastal region was a Portuguese fishing port, but is now racing into the twenty-first century and gaining a reputation of being a major golfing destination.
In this region, we find Mazagan. This is a golfing resort which is squarely aimed at the more luxury end of the market, with several high end 'all inclusive' style hotels, restaurants and bars which mean you never really have to venture out. The golf here is of very high quality, and thanks to the ocean breezes, golf holidays are even possible in the height of summer, as temperatures rarely exceed thirty degrees.
In the same region, we also find the French colonial charm of another golf resort and course, the Royal El Jadida. Older, more connected to the fishing town, and attracting a slightly different clientele, it nonetheless offers superb golf with similar conditions to the Mazagan.
Agadir
Whether you're looking to get away for some golf during a family beach holiday to this famous resort, or want to go on a luxury golfing holiday during the beautifully warm winters, Agadir has something to offer you. Stunning courses, amazing climatic conditions, and endless stretches of golden sands to relax on after you've putted your 18 holes for the day.
Agadir benefits from several different golf resorts, which have more golf courses between them than you are likely to get through in a single holiday. All are superb, but the best is arguably Tazegzout. This course runs along the dramatic cliffs of Agadir, and has stunning ocean views all around it. Windy, wild, full of cacti and rocky dips and peaks, this is Moroccan golfing at its most fun and dynamic.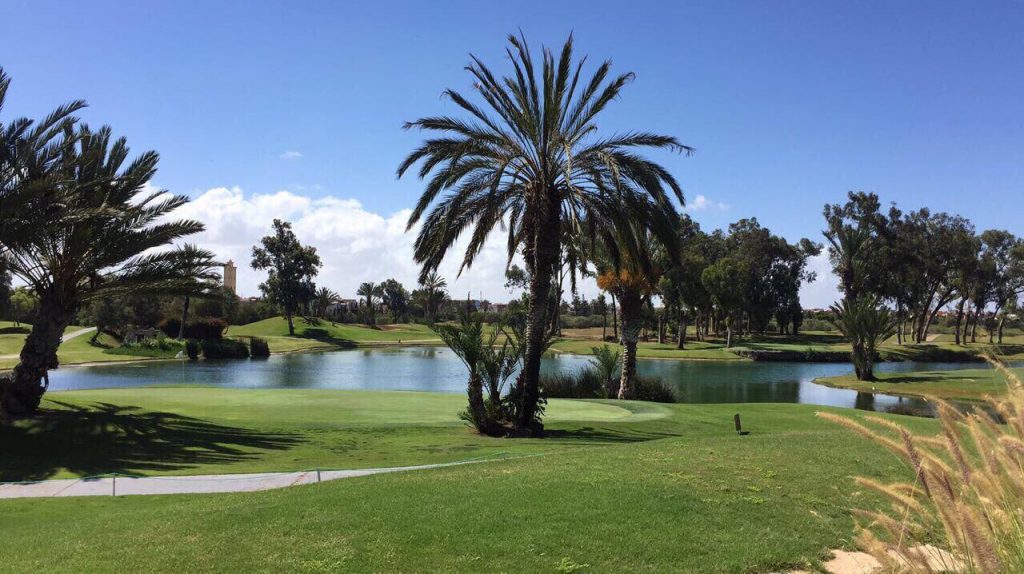 Also in Agadir is the stunning Golf du Soleil golf club, which offers two beautiful courses – Tikida and Challenge. Beautifully designed and maintained, both of these golf courses offers gentle, undulating parkland to play on, with a wealth of fascinating water features and plenty of gorgeous north African flora to feast your eyes upon.
Essaouira
West of Marrakesh, we find the Moroccan jewel of Essaouira. Golf is relatively new in this part of the country, which is more famous and known for water sports like windsurfing and scuba diving. However, the Mogador golf resort is a firm favorite for those looking for high quality, year-round golfing. With 27 well designed holes, and proximity to the charming whitewashed town, there's little wonder Essaouira is becoming increasingly more popular as a golf hotspot.