Moroccan Kaftans
A Wearable Work of Art
Kaftans(Caftans) are the most stunning item from the Moroccan wardrobe. Originating in the Ottoman Empire, they became popular in Morocco around 1500. Since then, they have become an important part of the culture, and myriad variations have evolved. Traditionally worn by women on special occasions such as engagements and marriages (by both the bride and guests), they are long dresses made of richly colored fabrics, decorated with embroidery, pearls, and jewels, and accented with an ornamental belt. Kaftans range from elegant and simple, with minimal decoration and subtle colors, to brilliant hues with decadent accents fit for royalty.
In the past, the complexity of a woman's kaftan was an indicator of her status, with the most sumptuous garments worn by wealthy women of high social standing. They are still worn by royalty – the queen of Morocco and other members of the royal family often wear stunningly intricate kaftans when attending special events. The wonderful thing is, anyone can try out a kaftan and feel like a princess for a night.



Kaftan Styles
There are two basic styles, kaftans and takchitas. Kaftans are usually a single item, a long, loose-fitting dress with long sleeves. A wide belt is added so that the kaftan fits the wearer's body well and accentuates her figure. Takchitas have two pieces, with an underpiece consisting of simple short-sleeved dress, and a more heavily decorated long-sleeved part that goes over it and is then belted like a kaftan. The outer dress stays partially open to reveal the contrasting color or designs of the under layer.
Kaftans and takchitas can be made of silk, cotton, or modern synthetic fabrics, and can be a single color, multiple solid colors or hues, or even bold patterns like flowers or paisley. Embroidery is often done with silver or gold thread for fancy styles, or with plain colored thread for simpler models. It may consist of borders at the edges of the fabric, decorative circular or linear designs, or more complicated patterns. Sequins, rhinestones, pearls, and even real jewels may be added for sparkle. Finally, the kaftan is paired with a belt of equal beauty – usually gold or silver in color, they can be made from braided cords or flexible metal bands. The belt is important for ensuring a proper fit and accenting the colors and detail of the kaftan.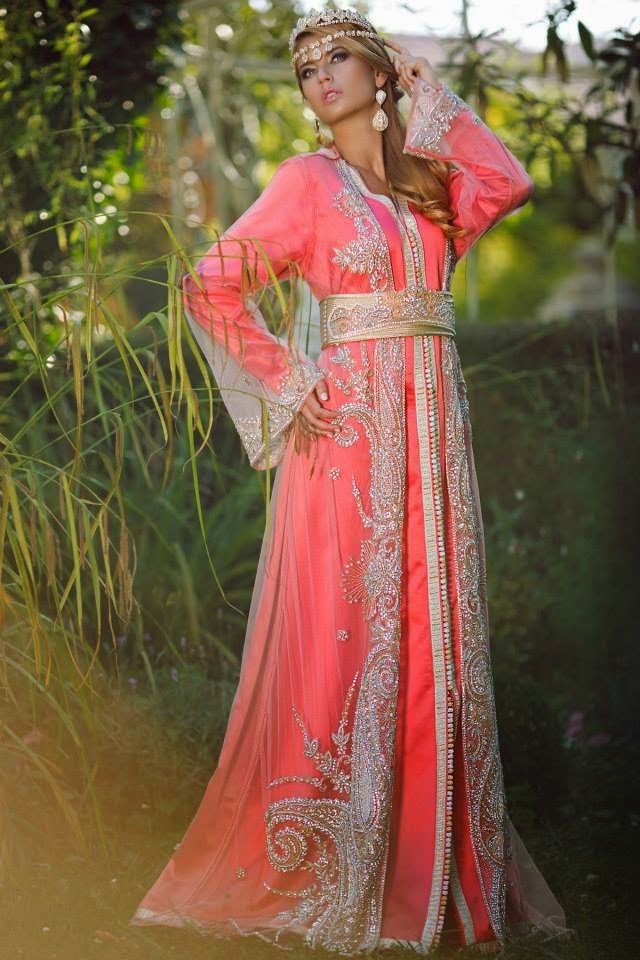 The styles of kaftan differ throughout Morocco, with several distinct styles from Fez, Rabat, and Meknes. The key distinguishing feature is the type of embroidery used for decoration. Rbati kaftans have a unique style of embroidery known as tarz rbati, which includes floral designs, leaves, and swirls stitched with lots of colorful thread. Meknassi and Fasi embroidery, known as tarz meknassi and tarz fasi, is more geometric, with squares, triangles, and straight lines combined to form intricate patterns along the edges of the fabric.
Kaftans en vogue
Kaftans have been a traditional garment for centuries, but in the past several decades they have become popular with celebrities and internationally known fashion designers including Yves Saint Laurent, Oscar de la Renta, and Christian Dior. Many kaftans, from pearly, jeweled ones to blocky, bold patterns were featured in 1967 issues of Vogue, and designs with brightly colored prints made a 1973 issue of Vogue Italia. More recently, Oprah, Kim Kardashian, Uma Thurman, Alicia Keys, Beyonce, and Paris Hilton have all made appearances with Moroccan kaftans, including at red carpet events.
As kaftans have become an haute couture item, there are more designers creating modern takes on this classic style. Moroccan designers such as Dahab ben Aboud, Fadilah Berrada, and Mohamed Lakhdar have created new takes on the ancient creativity and artistry perfected by traditional designers over the years, and haute couture kaftan shows now occur regularly in Morocco and Europe.
Where to Buy Kaftans
Kaftans take a long time to create and require a skilled tailor with the patience for lots of detailed work. As a result, fancier styles can be quite expensive. It is common for women to rent a kaftan instead of buy it when they need it just for one event. This is much cheaper, and they can enjoy choosing from a huge range of kaftans from the many small stores that specialize in kaftan rental. If you are in Morocco and want a kaftan for just a day or two, ask your hotel manager or another local for the best place to find kaftan rentals. You won't pay much – just $5-40 per day depending on the style, with a belt included.



While renting is cheaper, a real Moroccan kaftan is a wonderful souvenir, and can be worn many times at special events. For the best prices and a wide range of traditional designs, buy your kaftan from a souk (market) in Morocco. Most large and mid-size cities have garment districts where you will find dozens of shops that make, rent, and sell kaftans. Ask a local for the best places to go, or better yet, find a friend to go with you who can help you bargain for the best price. If you have something specific in mind, you can even order a custom kaftan with any color, style, and decoration that you can imagine. Another good option for buying kaftans is stores such as Diamantine, which specialize in kaftans. You'll find it in most large cities in Morocco.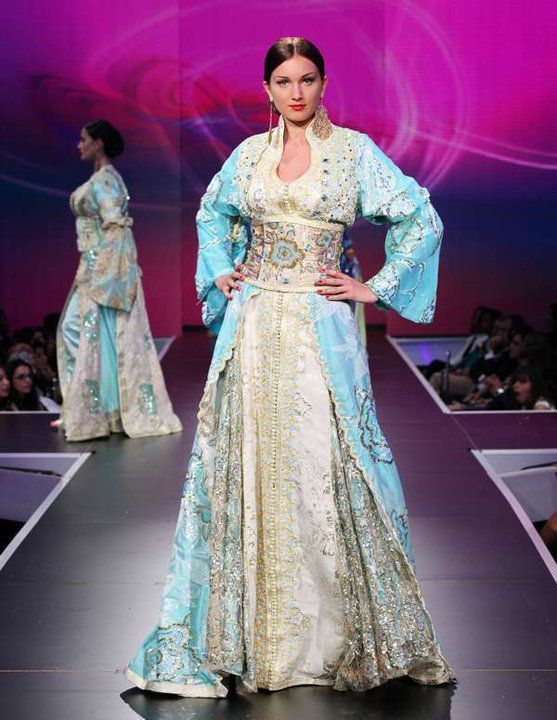 You can also buy a kaftan or custom order one from a range of high-quality online retailers. Jabador.com offers affordable kaftans and takchitas, as well as djellabas and jabadors in a wide range of styles. Caftancity.com also offers a good selection of kaftans, kandoras, djellabas, and jabadors, with a focus on haute couture models and the option to custom order. You can also look at boutique-caftan.net and caftandiva.fr for more styles.
Once you have your kaftan, complete your look with a pair of gold or silver heels, big sparkly earrings and a necklace, and a stylish hairdo. Feel free to wear more make-up than usual – these bright, bold dresses can be overwhelming otherwise, so do eye shadow, lipstick, and mascara to match. Whether you're getting ready for a wedding, red carpet event, or a romantic night in, you can savor the incomparable experience of wearing a Moroccan kaftan.