Finding Calm in Essaouira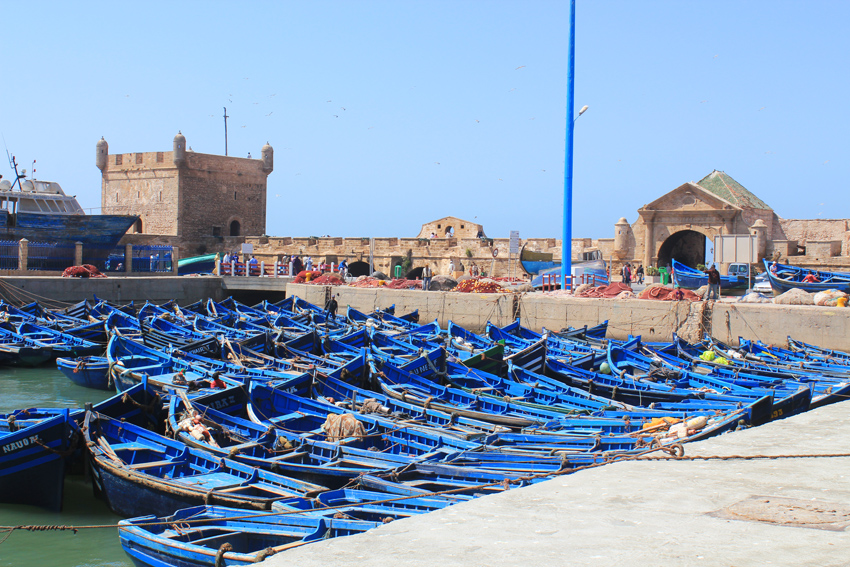 *
I stepped off the bus and smiled as the crisp sea breeze filled my lungs.   After all the chaos, madness  of city life in Marrakech, I had been craving a new destination full of fresh air and a slowed-down pace of life. Essaouira Morocco,  was already looking like it could be that place.
After checking in to my hotel, my first port of call was the beach. As I wandered past the crumbling cream walls of the medina and down towards the ocean, I quickly discovered why Essaouira has the reputation of being the windiest city in Northern Africa. Sand whipped around me before I even reached the beach, the tiny grains like sandpaper against my skin. With such powerful gusts, this wasn't a place for sunbathing – no, this was a place for watersports.
Windsurfers and kiteboarders skimmed across the scudding waves while surfers patiently waited for the next perfect swell. Children raced up and down the beach attempting to keep their kites afloat and under control.
It took just a few minutes for me to realize that I wouldn't be able to get much sunbathing in regardless of the what the wind was doing — everybody on this beach was covered up. With not a single person revealing any skin, I respectfully followed suit and spent a few peaceful hours reading while fully clothed.
With beach-time firmly crossed off my agenda for the next week, I strolled back to the medina in search of refreshments. Mint tea is ubiquitous in Morocco and it's delicious – in fact, within an hour of arriving in the country I had declared it my favourite drink in the world. A glass of this sweet beverage therefore seemed like the perfect tool for rinsing the sand from my teeth. Sitting in a small café on the waterfront, I chatted with locals who helpfully offered me some travel tips for the remainder of my time in Essaouira.
The first of these tips was the fish market. Despite it being mid-afternoon, I followed my nose to the bustling market hall and set about finding some dinner. Vendors called out to me from every direction as I spun in circles, overwhelmed by the options. I eventually decided on a manta ray and a couple of sardines, taking them to a small hole-in-the-wall restaurant to be cooked. Sitting down to eat, I couldn't help but marvel at how fresh the seafood was – the fish was grilled to perfection, crumbling to flakes the instant it was touched. Moist and full of flavor, each bite melted to nothing in my mouth.
As the sky reddened and the sun began to drop below the water's edge, I made my way to the medina walls, camera in hand. I spent a few minutes taking photos before looking away from the viewfinder and soaking up the scene. Small azure fishing boats knocked against each other in the harbor's gentle waves; seagulls screeched and circled overhead; couples on benches held hands.
I remained motionless on the walls for an hour or so, reflecting on the day's events and what I had planned for the rest of my time in Essaouira. In that moment, I felt happier than I had for a long time, at peace with the world and myself. I knew then that I wanted to spend the rest of my time in this town repeating what I had done today. I would spend my time resting, getting lost within the medina, eating delicious fresh fish and drinking as much mint tea as I could.
It was going to be a good week.