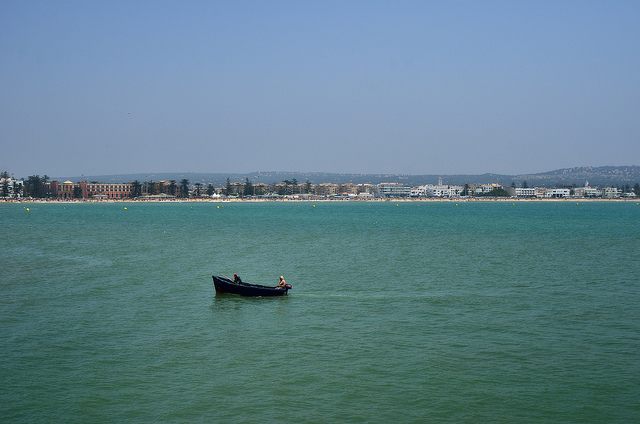 The town of El Jadida is not like other Moroccan beach resorts. This destination has a real Portuguese influence and is a delight to visit. With a beach and a historic centre El Jadida has a lot for visitors to enjoy and does not have the crowds of other resorts. It is especially popular with photographers for the architecture in the Portuguese area.
In the sixteenth century the town of Mazagan grew up around a fortress built by the Portuguese. Today this is part of the city of El Jadida and is also a UNESCO World Heritage Site. This is a remarkable example of a combined Moorish and Portuguese architectural style and the fortress is a very interesting part of town to explore. Another historic site is the gothic Portuguese reservoir which was built at the same time as the fortress. There are some great shops in town too but without the hassle of Casablanca and Marrakech.
El Jadida has a lovely beach which is popular with locals, and increasingly with overseas visitors. This is also just a short distance from Casablanca and attracts the weekend crowds. The seafront is long and can take an hour to walk the distance along the shoreline. El Jadida also has some great restaurants and cafes, many serving seafood, and is a peaceful place to stay.
Mazagan Beach Resort is one of the popular places to stay with 7km of sandy beach to enjoy. There is windsurfing and sailing here as well as swimming and relaxing in the sun. El Jadida has some great hotels and campsites for those wanting to spend time on this part of the Atlantic coast.
Where to Stay
---
The hotels within El Jadida are mostly average accommodations that travelers expect from budget accommodations. For a true Moroccan experience, choose to stay in a traditional riad–a Moroccan-style bed and breakfast that gives explorers a taste of Moroccan home life.  The riads usually have enchanting terraces, perfect for eating your daily complimentary breakfast.  Our favourites are Riad Soleil d'Orient, and the unique L'Iglesia that's been converted from a 16th century church.
The biggest and newest hotel in the area is just down the beach at Mazagan Resort.  This lavish accommodation gives travelers a comfortable, inclusive-style resort property to choose from.  Right on the beach, this one takes you away from the buzz of the town's center, but is great for travelers with cash to splurge.
What to Do
---
The town itself is a UNESCO World Heritage Site, boasting well-preserved ramparts and magnificent winding alleys with strong ties to history still visible today.  As it is a much more laidback experience here than in other cities and towns, you won't expect to be hassled or confronted by shopkeepers or people on the street.  Less chaotic, but it still holds true to the Moroccan feel of liveliness and togetherness.
The ramparts of El Jadida are some of the best preserved in the world, see four out of five original bastions, and wander into the Church of the Assumption.  The Angle Bastion offers picturesque views, so don't miss it.
Discover Cité Portugaise, the beautiful old 16th century town.  It is perfect for a romantic evening stroll, and a favourite spot for photographers.   Just off the ramparts along the main street you can discover a Portuguese cistern built in 1514–lit only by a single shaft of light from outside.  Once forgotten, La Cisterne was rediscovered in the 20th century and has since been used in films such as Othello.
Mazagan Resort has a golf course, casino, spa, and of course a large and well-supplied hotel.  You can spend a day here as an escape from the city and take some well-needed relaxation in their facilities.
A favourite activity for many visitors to El Jadida is to go to the beach.  The waters are pristine and the sand is soft, making it perfect for relaxation and swimming.  The beaches at Mazagan are excellent and great for all water sports, and only three kilometers down from the town is the beach at Sidi-Bouzid, the perfect surf spot.  Visitors also enjoy booking a sailing trip, going golfing, or relaxing on a wine tour.  The opportunities for discovery are endless in El Jadida.
What to Eat
---
Plenty of Moroccan fare highlighted with the freshest seafood can be found here, and there are more fusion and Western restaurant popping up as well as it slowly climbs in popularity in the international travel scene.
When in Morocco, you can never pass up mint tea. As in most Moroccan cities, it can be found in plenty in every cafe or restaurant.  Enjoy the experience by wandering, and finding your own favorite cafe where you can enjoy a daily brew.  Many travelers like to sip their mint tea drink at the relaxed cafes in the town's centre.  La Portugaise can get you a classic version of Morocco's national dish–tagine–or try the inexpensive Ali Baba for kebabs and Moroccan variety dishes.
Getting Around
---
The town is quite spread out, and may take an hour to walk from one end to the other.  So it is certainly doable to get around only on foot–this is certainly the preferred method for getting around the ramparts and the medina as well.
Best Time To Visit
---
The best time to visit El Jadida is in the summer.  June and July are wonderfully warm without being too hot, thanks to the mild Ocean Atlaantic temperatures it experiences.  A sometimes sleepy city also comes more alive in the summer, and the beaches turn lively with locals and travelers enjoying the almost constant sun.  Winter and the beginning of the year does see some rain, and lower temperatures sometimes dissuade visitors from traveling in these months.
Become mesmerized by the old stone walls, the relaxed atmosphere, and the pristine beaches.  El Jadida is an excellent travel destination year round that awaits your arrival.