Day Trip From Marrakech
N
estled beneath the high mountain range of the High Atlas is
Marrakech
, widely referred to as the Red city. With a unique culture and tradition, Marrakech is a top tourist attraction for visitors from different parts of the world. As a first timer, you'll be bound by its magical spell with the friendly nature of its people and a wide variety of attractions. If you'd like to make the most out of your trip to this exotic travel destination in Morocco, you should consider a day trip to these places.
THE OURIKA VALLEY
---
Renowned for being a perfect getaway spot from the scorching summer heat of Morocco, the Ourika Valley is a must see destination for visitors touring Morocco. A day trip to this amazing destination promises to be remarkable. Here you will find the Setti Fatma village, which houses a weekend resorts for both locals and tourists alike seeking to relax and picnic beside the streams and waterfalls.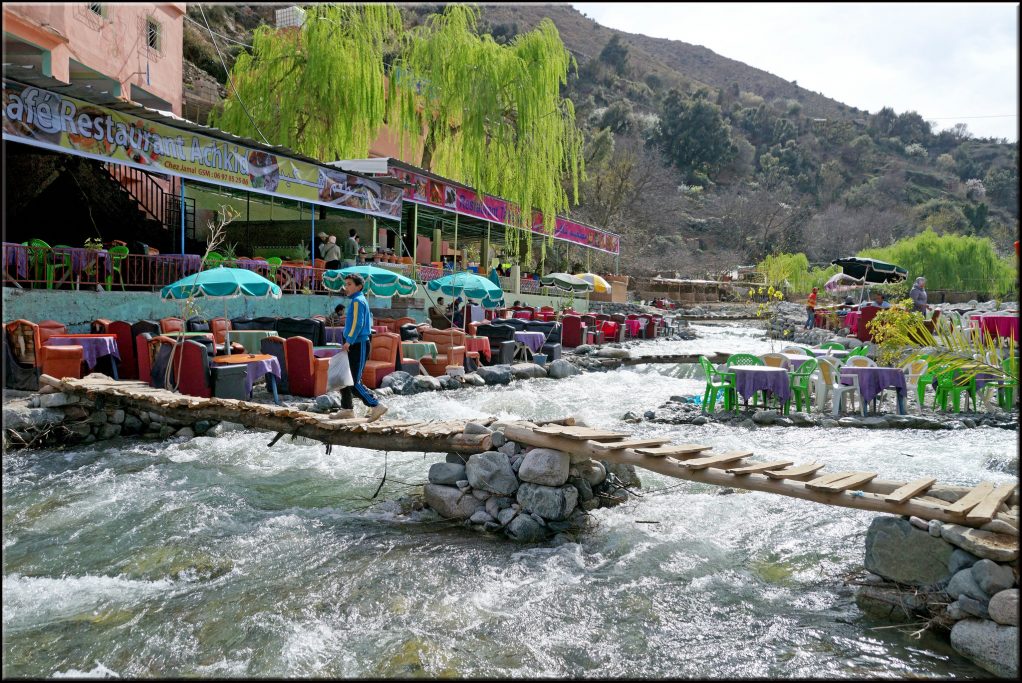 Photo Credit:@mhobl
The oukaimeden is known for being the best skiing destination in the country and a place to see interesting prehistoric rock carvings from Ourika Valley. You can take a mule track which takes you through to Imlil and Jbel Toubkal.
IMLIL VALLEY
---
Located about 40 miles south of Marrakech in the High Atlas Mountains of Morocco is the Imlil Valley. Tourists on a day hiking trip starts their trekking adventure from the village of Imlil. From here, you can ascend Mount Toubkal, renowned for being North Africa's highest mountain. Imlil is home to a lot of great culinary delights, stores and very affordable hotel accommodation. Access to this small village is via a road which leads through the High Atlas foothills. If you are looking for ancient scenery with breathtaking beauty and charm, then you should visit the Imlil Valley.
It is one of the most visited places for adventure travelers and outdoor enthusiasts, who wants to experience remarkable moment forged from effort and sweat. The Imlil valley offers easy access to the High Atlas Mountains, considered to be the most easily reached section of the mountain range.
Catch stunning views of stunning mountain scenery from eye level with Imlil as a base. Your trip to this incredible place will be incomplete without trekking. Visitors can also find small shops selling items such as headscarves, jewelry and the Moroccan djellaba, a special kind of cloth worn by both men and women. The Imlil Valley is a good starting point for climbing Jbel Toubkal.
JBEL TOUBKAL
---
With close proximity to Marrakech, Toubkal often called Jbel Toubkal, is the highest peak in the Atlas Mountains standing at 4,167m. This beautiful place offers great trekking trails, spectacular mountain scenery, lovely villages and lush valleys. With determination and a reasonable degree of fitness, exploring the Jbel Toubka will be fun and adventurous.
This high altitude mountain is climbable all year round, but spring months is, without a doubt, the best time of the year to visit. During the winter season, the mountain is covered in snow and an experienced guide is a must.
With a skilled guide and mule to carry the load, trekking the Jbel Toubkal is fun and exciting. There are some amazing trails that offers great mountain views. Remember to come with comfortable hiking shoes.
TICHKA PASS
---
There is a particular road trip from Marrakech that does not only leads to where you're headed but offers amazing views and natural wonders. The road linking travelers from Marrakech to Ouarzazate was built by the French in 1936. Your trip along this road offers an avenue to experience the spectacular and historical part of Morocco, while enjoying breathtaking views.
This popular road that takes travelers on a journey of adventure is known as Tizi n' Tichka Pass. It is considered by many as the safest and most exciting way of exploring the country.
@Jeroen Pots
The highest point of the road is at 2,200 meters above sea level and offers exceptional views of the Atlas Mountains. While traveling along the road, you will see several villages including Taddert and Tamhuememt. For those seeking to satisfy their taste bud, there are lots of quaint restaurants offering traditional meals and refreshment to visitors.
One of the must see places along the Tizi n' Tichka Pass is the ruins of Kasbah Telouet. Your time spent on this journey of wonder and natural beauty is truly a unique experience.
Ouzoud Falls
---
Perfect for those tired of the city bustle, the Ouzoud Falls are a fantastic way to experience the nature that lies just beyond Marrakech. Falling 360 feet, the falls are quite impressive and definitely steal the show despite the gorgeous landscape around them.
In fact, the area is surrounded by lush green olive trees that grow in the thousands around this naturally gorgeous site.
There are numerous angles and vantage points from which you can get a look at the falls which are a truly interesting change from the desert landscape around the city. Visitors can make it to the bottom of the falls for incredible views and can choose to take more difficult hikes or hire a guide to take them to more secluded spots. Ouzoud Falls is one of the most visited sites in the area and is protected by many environmental groups.
Essaouria
---
Essaouria is a town full of narrow alleyways, fortified walls and a fishing harbor. A perfect mix of traditional Morocco with a European flare, this city is best seen by foot while experiencing all of the sights and sounds. Visitors can hang out on the beach or get into some kite surfing or wind surfing on the calm waters. Horse trekking is another popular activity in this city and Zouina-cheval is a popular place to go to get in on the action.
Guests can ride along the beaches, through the narrow streets or along the countryside. Ecotourism is also rising in popularity and more tourists are joining on the walking tours that help promote a stable tourism environment. Guests will walk along the countryside, through the Thuya Forests, Argan Woods and along the dunes. Most of these tours include a traditional Moroccan meal as well as a break for mint tea.