Surfing in Morocco
M
orocco is a haven for surfers of all levels and is blessed with year round swells and great beaches.Generally, the wildest surfing in Morocco can be found in October to March, when waves come to life and world class surfers come out to test their endurance. Surfing in Morocco in an experience not to be missed.
The summertime (April – September) always sees crowded beaches with small to medium swells where surfers of every level can find the perfect wave.  With a northwest and southwest facing coastline there are always options year round.
Take a look at a few of our favorite surfing locales in sunny Morocco and make sure you also check out some of these exotic beaches
Surfing in Taghazout
---
The region, 22km(14 miles) North of Agadir, is the perfect surfing spot for everyone from beginner to advanced surfers.  The coastline is diverse and there are spots that offer a variety of tide, swell, and wind variations.  There is lots to choose from in Taghazout for surf spots – Devils Rock, La Source, Killer Point, or Draculars, to name a few.  Surf instructors and schools are very common here, so if you're new to surfing this is a great place to start.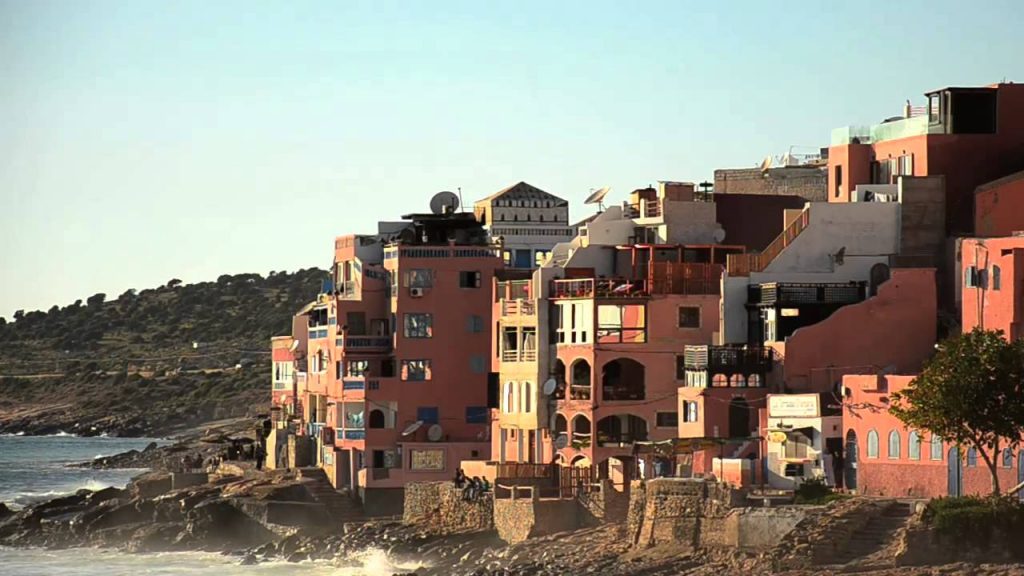 if you are intereted in finding a surfing school, you may want to checkout  Moroccan Surf Adventures: Situated just south of Taghazout, this academy is both affordable and effective, and their program goes much further than just getting on surfboards. They also offer fantastic meals with the team, and even cookery and yoga classes, if that's also your thing.
Read More: Taghazout: A highlight for surfing and Morocco travel
Surfing in Agadir
---
A crescent beach outlines this easygoing city, and with it come great waves.  The Agadir region is blessed with excellent swells no matter the time of year.  The perfect spot for someone who is looking for one place to settle down and enjoy Morocco while surfing great waves.  Stay in a hotel right on the beachfront, stroll the beach boulevard after a day of surfing, or take in some of the nightlife.
Surfing in Mirleft
---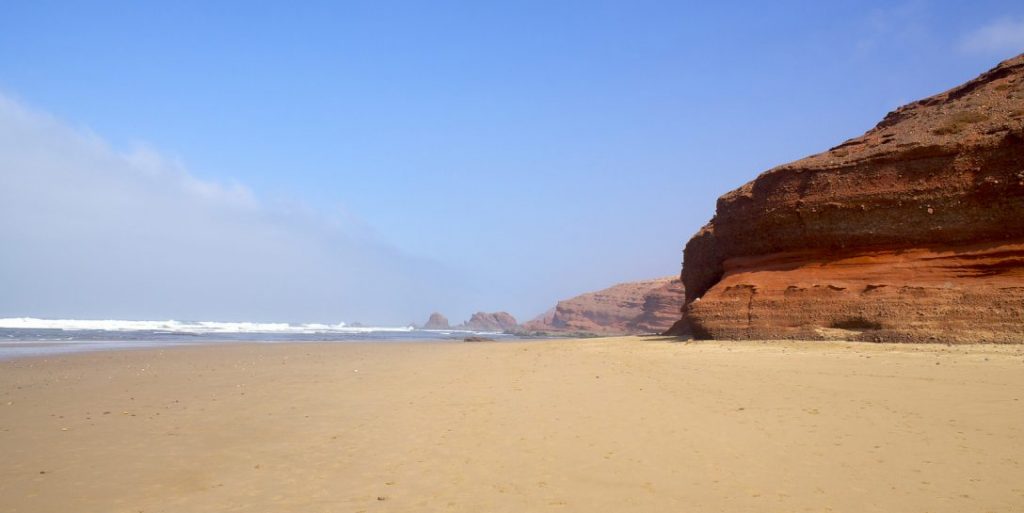 A more secluded spot, you'll need a car to reach Mirleft.  You will be rewarded with less crowded beaches and more room to surf the waves here.  The beaches around Mirleft are ideal for surfing, with sandy beaches, medium swells, and warm water.
Surfing in Essaouira
---
Located on the Atlantic coast, Essaouira has always been a Moroccan favorite. Its medina is an 18th century fortified town whose astonishing beauty and historical value have earned it UNESCO World Heritage Site status. Attracting surfers of all levels, this coastline is always busy.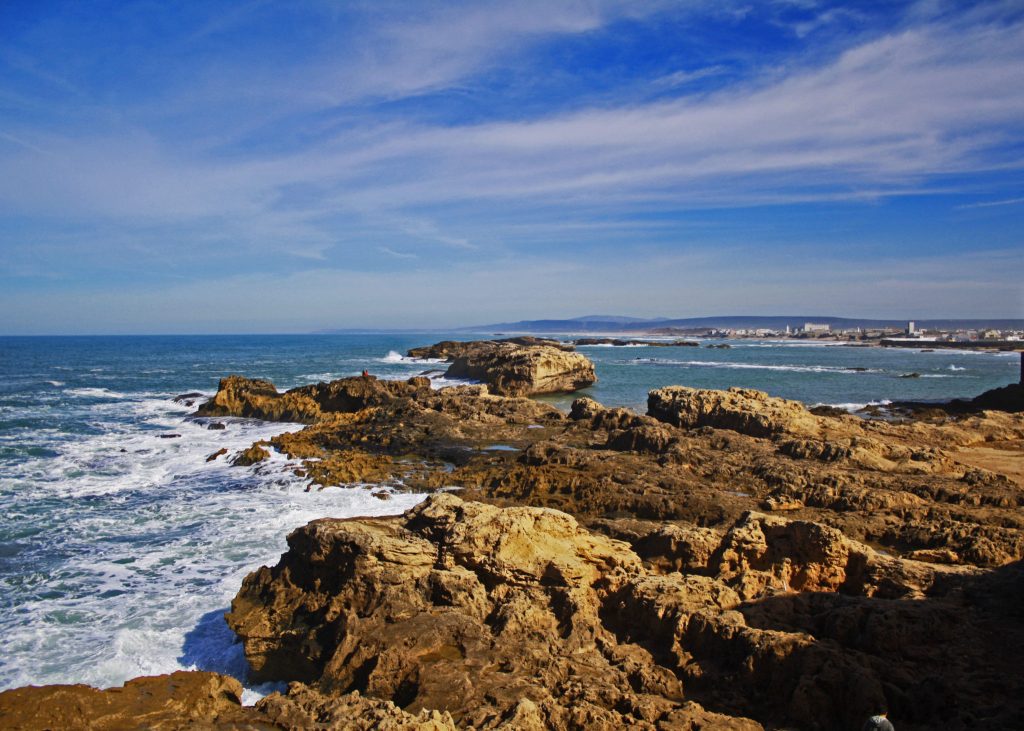 A number of surfing schools and surf shops are available to give lessons and rent out equipment, and there is also a nice surfing community that welcomes enthusiasts with open arms. Essaouira is one of Morocco's most popular surf spots. Wave amplitude varies throughout the year, but generally winter and fall are the best times for surfing.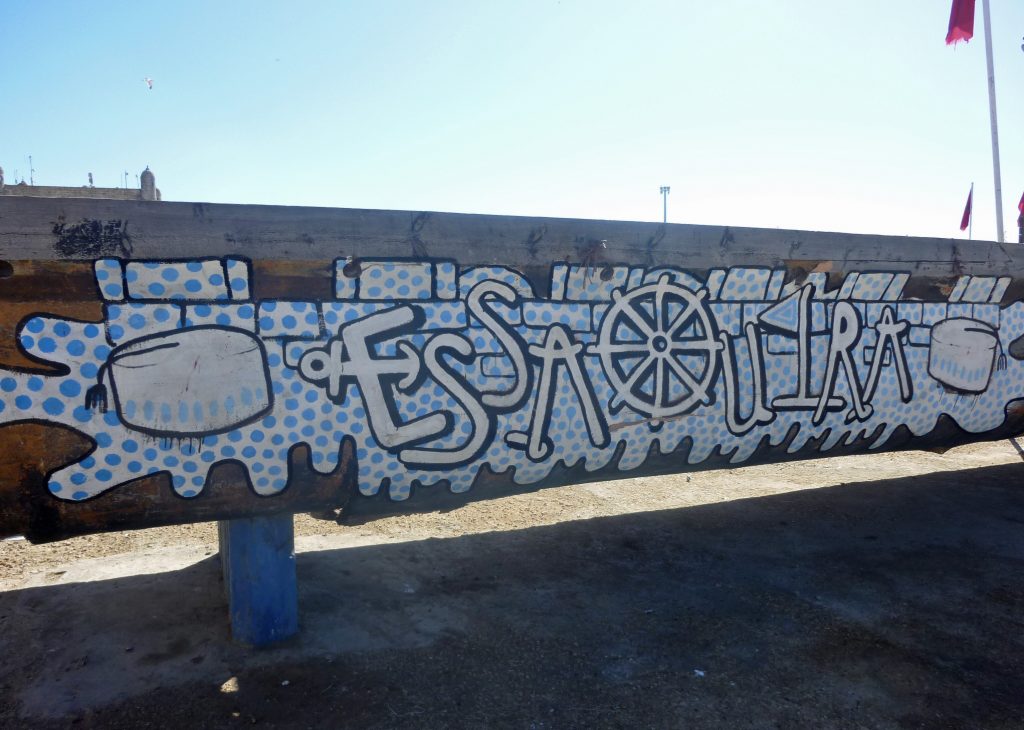 Also  you can check out this surfing camp:  The Spot offers a full surfing program on the coast next to the UNESCO World Heritage sites of Essaouira, meaning you'll pack plenty of culture in alongside your sea-based adventures. Run by surfers, this surf holiday will help you improve your technique while falling in love with the sport.
Surfing in Sidi Kaouki
---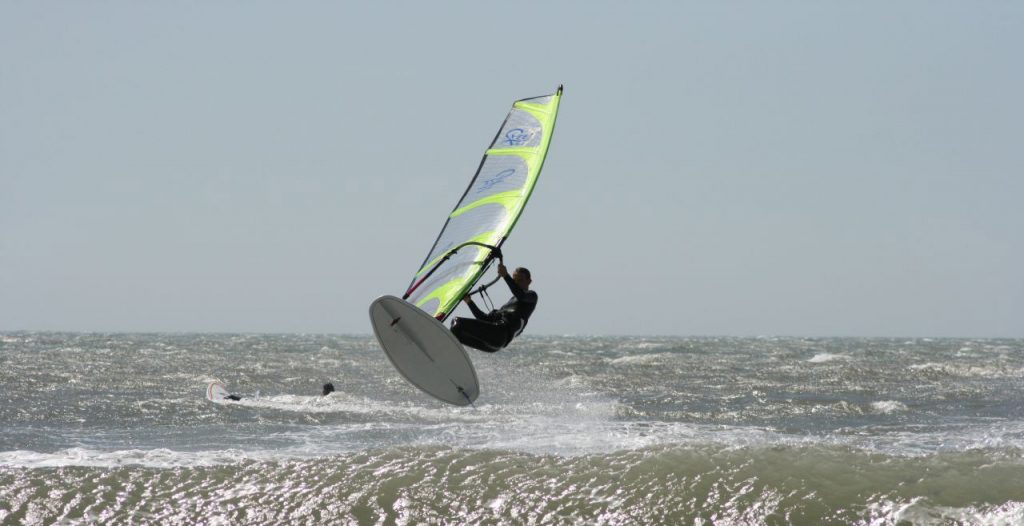 If you're looking for a quiet place suited for advanced surfers only, Sidi Kaouki is where you want to be. Located less than 30km from Essaouira, this village attracts surfers from around the world. Nice slabs, cracks, and glassy waves are some of the perks that this region offers to those looking for a challenge.
Its surfing conditions may not be safe for beginners, but advanced surfers will find opportunities to learn and improve. After a long session, wave aficionados enjoy a golden sunset or hang out at Station Sidi Kaouki- the village's popular surfer cafe.
Surfing in Oualdia
---
This beautiful beach resort boast natural beauty, good waves year-round, and a relaxed atmosphere. Its lagoon is surrounded by golden sand, and provides one of the safest surfing conditions in the country. Because of this, it is one of the most popular options for beginner surfers, who feel comfortable with its easy waves.
As a favorite weekend and summer escapade for surrounding cities, Oualidia can get pretty busy. Knowing this, surfers usually try to take advantage of weekends and off-season months to ride the waves away from the crowd. Winter sees larger swells than summer, and sunbathers are replaced with wetsuit-wearing enthusiasts.
Surfing in Sidi Ifni
---
Near Mirleft, Sidi Ifni is a wide open beach with long shorelines and big waves.  Some say the best surfing in Morocco can be found here, and surf schools are also popular for beginners and those wanting to hone their skills.  Surf the waves here, all while the city above the cliffs dominates the skyline and overlook the beach.
Before you go, remember to check swell rating and wind online as this gives you a good forecast of what the surf day is going to look like.  Wherever you go along the shoreline of Morocco, you are sure to find excellent waves and a love of surfing.