Best Spas and Hammams in Morocco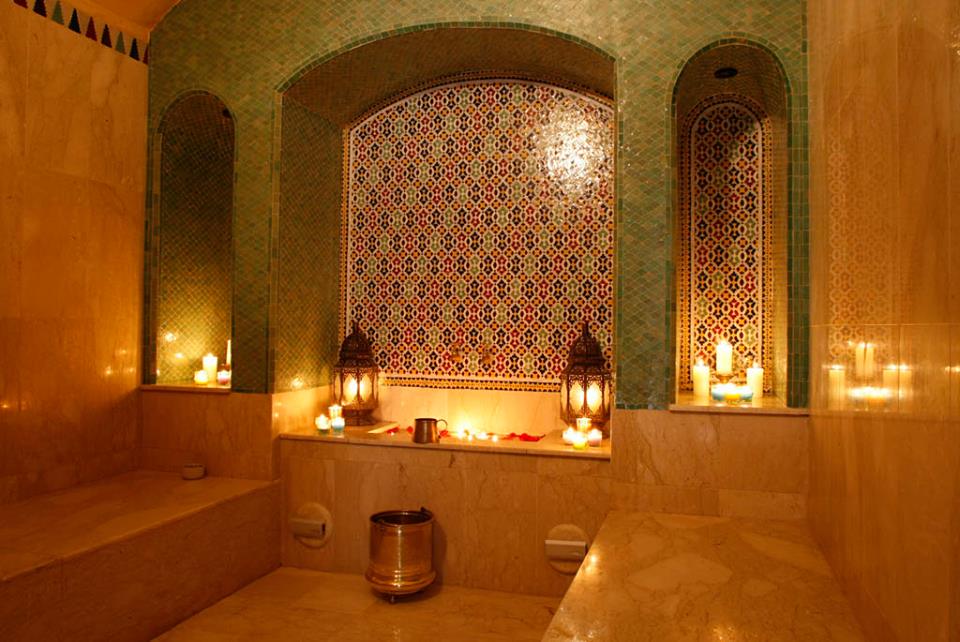 M
orocco is a popular holiday destination in North Africa, known for its striking architecture, sense of history, Islamic culture, delicious gastronomy, colorful souks, arid deserts, and long stretches of coastline with golden sandy beaches along both the Atlantic Ocean and Mediterranean Sea. Morocco is also a great destination for anyone seeking some blissful relaxation in an opulent spa and an authentic experience in a hammam.
What is a Hammam?
Hammams are traditional bath houses and steam rooms, and they form a regular part of everyday life for many locals. The hammam traditions stretch back hundreds of years, with people visiting a hammam for a deep cleanse and a social encounter.




A traditional experience involves scrubbing yourself from head to toe whilst in a steam room, with black soap and an exfoliating glove used to remove all dirt and grime and leave your skin feeling soft and smooth. Some hammams include a massage and / or treatments with the locally produced argan oil.
Hammams have separate areas, or different admission times, for men and women, though some high-class hotels have started to offer treatments for couples, as well as private experiences if you don't feel comfortable about getting almost naked in a room full of strangers.
Whether you're looking for a public hamam frequented by locals, a luxury hammam within a tourist-oriented resort, hotel, or Moroccan spa, or a western-style spa with an extensive menu of treatments and techniques, Morocco is sure to not disappoint.
Here are some of the best spas and hamams around Morocco, split into areas of the country:
Best Hammams and Spas in Marrakech
A magnet for tourists and one of the country's imperial cities, it is easy to enjoy some pampering along with sightseeing and excursions on a holiday in Marrakech.
Hammam Dar El Bacha
This is a top place to visit in Marrakech if you are looking for a taste of a traditional hammam experience. Popular with both locals and tourists, it is located in what was once the public bathhouse. As with any public hammam you should take along a few essentials, such as soap, shampoo, exfoliating gloves, a brush for your hair, plastic flip flops, a towel, and clean underwear (you will bathe in your underwear, so you need a clean and dry set for afterwards).
There's a communal changing room where you should strip don to your underwear, and you can leave your bag with an attendant. You'll then go into the steam room, where you can take buckets of water to your chosen spot to relax in the heat while your pores open before scrubbing yourself. If you don't have a friend with you to scrub your back, you can ask another bather and do theirs in return, or give a small tip to an attendant to clean your back for you. You can also pay an attendant to scrub your entire body if you're feeling lazy! With a domed ceiling, ornate doors, and sweeping arches, it's rather a pretty public hammam.
La Mamounia
On the opposite end of the scale, La Mamounia is a luxury hammam and spa within an opulent five-star hotel of the same name. One of the top hotels in Marrakech, La Mamounia is steeped in history and you cannot help but feel special from the moment you walk through the doors. The spa and wellness facilities are open to non-guests, though advance bookings are recommended. The spa has a large and luxurious hammam where you can unwind and cleanse in the most stunning surroundings. Alternatively, the spa offers a range of pampering treatments, including various types of massages, body scrubs, body wraps, and facials. There's also a Jacuzzi, a swimming pool, and a fitness centre.
If you're feeling particularly flush, you can even hire an entire mini spa all to yourself, complete with a private changing room, a treatment room with two tables, a shower, a private Jacuzzi, and an intimate hammam, all surrounded by warm hues of orange and red and exquisite mosaics. Don't leave without also visiting the hair and beauty salon for the ultimate in looking and feeling great.
Hammam de la Rose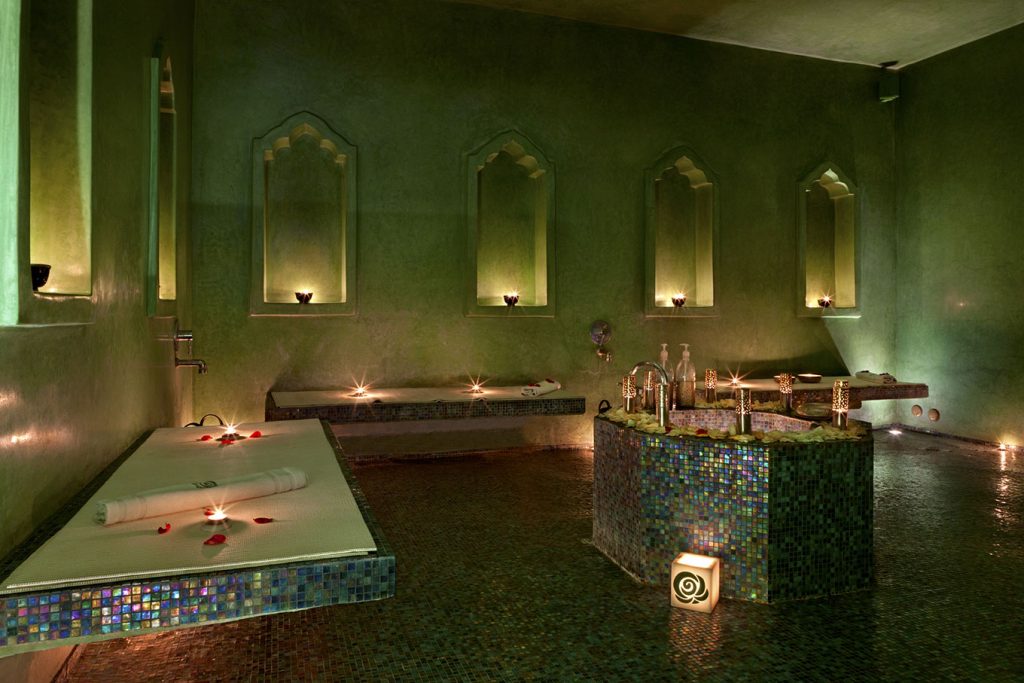 Within the old part of the city, you'll find the lovely Hammam de la Rose within the medina's high walls. Escape the chaos outside and retreat to a place of peace that offers a range of treatments as well as an elegant hammam. Experts will pour warm water over your body and slough away dead skin, to give you a glowing complexion and great circulation.
A choice of packages are available at Hammam de la Rose day spa, including a basic scrub, a scrub and henna treatment, a scrub with a hair treatment, and a scrub with black soap, application of clay, a foot massage, and a hydration treatment with argan oil. Various massages, such as foot massages, scalp massages, back massages, stress-relieving massages, Ayurvedic massages, hot stone massages, and massages for pregnant ladies, are available, as well as facials, manicures, pedicures, waxing, and more.
Check out their website
Le Spa Namaskar
The award-winning Le Spa Namaskar is within the high-class Palais Namaskar in the exclusive area of the Palmeraies, the prestigious resort itself having received many accolades. Open to non-residents as well as hotel guests, the spa uses natural and organic products in its varied treatments, which include aromatherapy sessions, diverse massages, beauty treatments, and a marble hammam complete with soft mood lighting.
The sensory practices were created using the ancient principles of Feng Shui, seeking to combine energy, balance, and purity for a holistic experience that enhances overall wellbeing. You'll also find a yoga studio and fitness centre onsite.




Other top spas and hammams in and around Marrakech include the fairly new, modern, and ultra-high-class Royal Mansour, Amanjena, the hammam at Road Farnatchi, Heritage Spa, Mythic Oriental Spa, Hammam Rosa Bonheur, and Isis Spa.
Best Hammams and Spas in Casablanca
The biggest city in Morocco, the country's economic and industrial centre, and made famous by the well-known romantic movie of the same name from the 1940s, Casa may be rather short on tourist attractions, but it certainly has some great spas and here are some suggestions for best hammams in Casabalanca!
Hotel Casablanca Le Lido Thalasso and Spa
Located on the coast and close to the splendid Hassan II Mosque, the four-star Hotel Casablanca Le Lido Thalasso and Spa boasts gorgeous serene gardens, a huge outdoor swimming pool, a fitness centre, and many fine details. The spa is open to non-residents.
Cleanse in the hammam and sauna, enjoy a massage, luxuriate with a facial, or treat yourself to a manicure or pedicure. Other pacakages include anti-stress techniques and detox therapies, and you'll also find an onsite hairdresser.
Gaia Spa
A day spa in Quartier Palmier, Gaia Spa combines ancient traditions from around the globe to offer arrange of relaxing treatments that are great for mind, body, and soul. A favourite for those seeking some romantic relaxation, Gaia Spa offers treatments for couples. Indulge in a 50-minute hammam experience, have a body scrub using Nepalese tea, have a hydration treatment, or indulge in an anti-aging facial. The massage menu includes Thai, Singaporean, Oriental, couples, reflexology, head, and back, and you can also have a pedicure or manicure.
Hammam Ziani
If you want an authentic local hammam experience in Casablanca but with modern facilities and a special vibe, head to Hammam Ziani. Services include massages, scrubs, and seaweed therapy.
Other great spas in Casablanca include Wang Thai, Sensation Spa, and Esthetique Spa, which also offers medical therapies.
El Jadida
A favorite summer holiday destination for Moroccans, the coastal city of El Jadida is home to an old Portuguese fortress and interesting water cisterns, as well as one of Morocco's most prestigious resorts
Mazagan Beach & Golf Resort
In addition to a private stretch of beach, an 18-hole golf course, a large pool, varied restaurants, a karting track, a casino, boutique stores, a nightclub, and, of course, luxury accommodation, the five-star Mazagan Beach & Golf Resort is home to a blissful spa, complete with a hammam, beauty centre, and gym. Only people aged 16 and over can access the spa. Unwind as you soak up the splendid vistas of the Atlantic Ocean, and stimulate all of your senses with an array of beauty and wellness treatments.
There are 17 private treatment rooms, and two double rooms for couples or close friends. Relax inside and outside, feel the waters of the Jacuzzi work their magic, enjoy the mosaic and marble hammam, and be spoilt with massages, scrubs, facials, and more.




Oualidia
A little farther south from El Jadida along the Atlantic coast, Oualidia also attracts many Moroccans during the summer.
The Spa at La Sultana
Enjoying a serene setting on an attractive lagoon with views of nearby cliffs, marshes, and agricultural land, The Spa at La Sultana has hammams, Jacuzzis, an indoor pool and an outdoor pool, a sauna, relaxation zones, and al fresco massage huts. Feel the ocean breeze as an experienced masseuse kneads away any stresses and strains, and enjoy beauty treatments, facials, and other services. The impressive stone spa is a feast for the eyes.
Asni
Nestled in the foothills of the High Atlas Mountains, Asni enjoys a picturesque setting surrounded by soaring mountains and gaping valleys. It also has one of Morocco's most exclusive spas.
Asounfou Spa at Kasbah Tamadot
Owned by entreupreuneur Sir Richard Branson, Asounfou Spa at the high-class Kasbah Tamadot offers the ultimate in pampering and bliss. The fairly remote location does mean, however, that the majority of guests at the spa are those who are staying within the resort. Offering a range of exclusive signature treatments, you can also enjoy a traditional hammam ritual, complete with a black soap cleanse, scrub, and a hair wash and head massage. The outside infinity-edge pool is a prime place to soak up some sunshine, and there's also a hot tub in the gardens.
Agadir
A modern coastal city that attracts many international travellers, Agadir is known for its somewhat European vibe, nightlife, sandy beach, and tourist amenities. There are plenty of spas and hammams in which you can de-stress and take it easy.
O Massage
A day spa and salon, O Massage boasts a lovely hammam and offers a range of soothing massages and beauty treatments. Acupuncture, hypnotherapy, kinetic therapy, and reflexology are amongst other services available. After your treatment, slip into a fluffy robe and relax in the lush gardens ith a glass of mint tea.
Sofitel Agadir Thalassa Sea & Spa
Sofitel is a well-known luxury global brand, and the resort in Agadir lives up to the strong reputation. A sophisticated ambience, gorgeous art, and a tranquil air merge effortlessly to help you feel at ease. Enjoy the peaceful atmosphere of the beautiful gardens, take a dip in the pool, and unwind with a massage.
Spa Villa Blanche
Water features prominently at Spa Villa Blanche, blending ancient eastern practices with western knowledge. Numerous treatments and techniques are available, all designed to make you feel great. The ambient lighting throughout the spa is also sure to soothe you. There are five treatment rooms as well as a double suite with a private steam room and sauna. Other facilities include a Jacuzzi and an indoor pool, and there are beauty services as well as wellness treatments.
If you plan to visit the Musee de l'Argan you'll find a hammam there along with varied treatments; go prepared if you want to indulge! Other top spas and hammams in Agadir include the Hotel Timoulay and Spa Agadir, the Royal Atlas and Spa, Zen Hammam and Massage, and the Thalassotherapy and Spa centre of the five-star Atlantic Palace.
Of course, there are plenty more excellent spas and hammams in other parts of Morocco too. Enjoy bliss in Essaouira at Hammam Lalla Mira, Azur Spa, and Jardin by Villa Maroc, relax in Rabat at the five-star Sofitel Rabat Jardins Des Roses, Riad Kalaa, and the public Hammam Lalou, and feel great in Fes at The Nausikaa Wellness Centre, Maison Bleue Spa and Hammam, Sahrai Hotel, and Spa Laaroussa at Riad Laaroussa.
Recommendations in Meknes include Hotel Belle Vue, the Sherazade Centre and Spa, and Riad Yacout, whilst a top choice in Ifrane is the spa at Michlifen. Others include Paradis Plage Surf Yoga & Spa Resort in Imi Ouaddar, close to Taghazout, and Dar Ahlam near Ouarzazate.
Treat yourself to some TLC on your next vacation in Morocco!