Azrou and Imouzzer du Kandar – Gems of the Middle Atlas
The Towns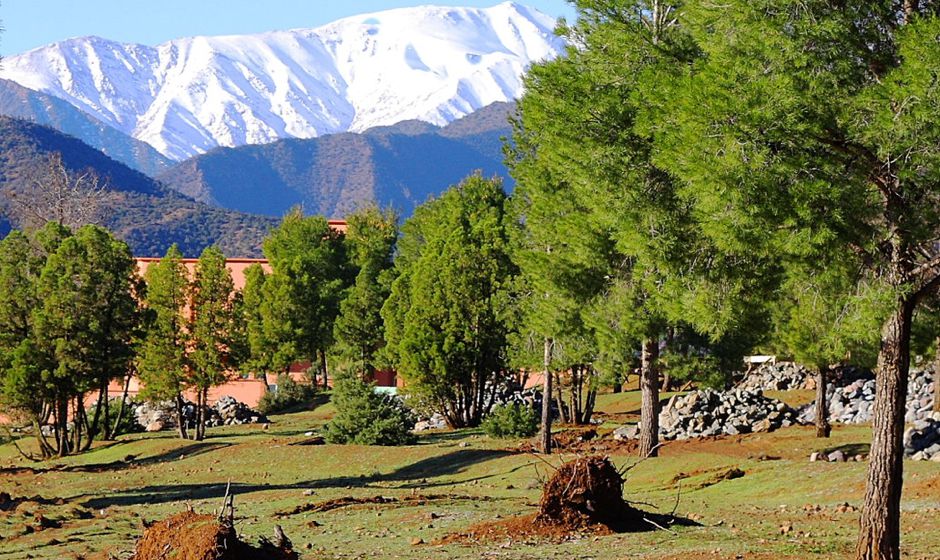 Azrou is a small mountain town located 89km/54 miles south of Fez. It is known for its lush cedar forests, which are home to a large population of Barbary macaque monkeys and unique species of butterfly. Azrou is also part of a rich agricultural region, replete with apple and cherry trees. It's a great place to go to enjoy the natural beauty of Morocco.
Imouzzer du Kandar is a town in the Sefrou province of Morocco that is home to the Ait Seghrouchen Berber tribe. It is located midway between Fez and Ifrane – about 35km/21 miles from each – in a mostly rural, agricultural area, and the town's biggest export is apples. The area is famous for its natural beauty – situated in the Middle Atlas Mountains; Imouzzer du Kandar is surrounded by forests.
Note that there are several towns in Morocco with Imouzzer in their names – don't confuse Imouzzer du Kandar with Imouzzer Ida Ou Tanane, a small town near Agadir in the south of Morocco (which is also beautiful and worth visiting!).




What to Do
Ifrane National Park
Ifrane National Park is one of Morocco's greatest ecological treasures. It encompasses a variety of habitats, from wetlands to lakes to high altitude forests, and it's home to Atlas cedar trees and endangered Barbary macaque monkeys.
Other residents include over 1,000 plant species, Barbary wild boars, several species of wild canine, and many birds, making this park a great destination for nature enthusiasts of all kinds. The National Park Office is located in the center of Azrou, and offers maps of the park.
Cèdre Gouraud Forest
This stunning forest is one of the primary reasons to visit the Azrou/Ifrane area. Beginning near the junction of National Routes 8 and 13 in Azrou, the protected area stretches northeast towards Ifrane. It is home to a large population of the Barbary macaque monkeys for which the region is famous.
You can easily spend a day here walking among the giant cedar trees, observing the wildlife, and enjoying a picnic lunch.
Hiking
The best way to enjoy the forests and mountains around Azrou and Imouzzer du Kandar is on foot. We recommend hiking in Ifrane National Park and the Cèdre Gouraud Forest, if you decide to visit, but you may also be able to hike near your hotel if you are staying these towns, in Ifrane, or in another nearby small town. Several good hiking routes start just outside of Azrou. Ask your hotel manager for suggestions.
Horseback Riding,
Small local companies may offer day-long or short horseback riding trips – check with your hotel manager for suggestions. This region also offers some incredible multiple day horseback trips. More on a 10-day Atlas Mountains ride here: (www.hiddentrails.com/tour/morocco_atlas_mountains.aspx).
Azrou Town
Azrou provides an authentic taste of Morocco in a much more relaxed style than larger tourist cities. Wander around and stop for a coffee and a pastry, see the shops and narrow streets in the old city, and admire the large Ennour mosque, built with local cedar. It's an important regional trading center for the Berber community in the surrounding area, and it's full of rich history and culture.
Ifrane Town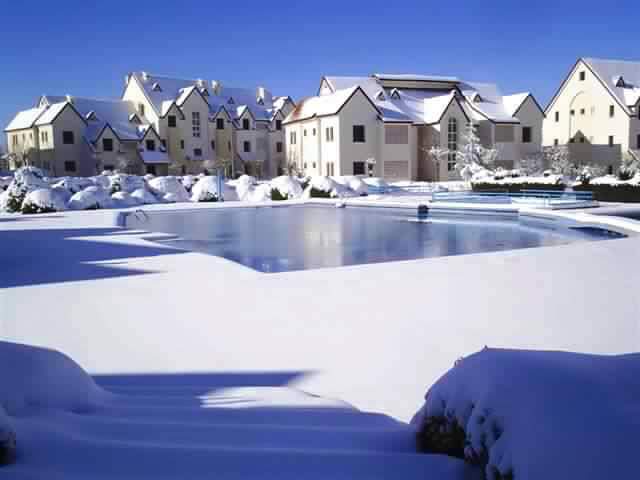 Ifrane is a charming mountain town that draws tourists from all over the country, and is especially popular in the summer since its Alpine climate offers respite from the oppressive heat of lower elevations. It is located mid-way between Imouzzer du Kandar and Azrou – 32km/20 miles from Imouzzer and just 18km/11 miles from Azrou.
It's fun to see the European-style buildings, which are more reminiscent of a French or Swiss ski town than North Africa. You'll find plenty of restaurants, cafes, and hotels here, and you can easily spend an afternoon strolling through its wide streets, parks, and gardens.




Where to Eat
Since this region is quite rural, nearly all hotels outside of a city center will have on-site restaurants serving breakfast, lunch, and dinner for your convenience. All of the hotels we recommend (see below) have restaurants that serve traditional Moroccan dishes.
Since Azrou is a larger town, you will have no trouble finding cafes and restaurants, especially in the town square near the bus station. A recommended option is Café Restaurant Bilal in Place Mohammed V, which offers meals as well as coffee and pastries. Popular with the locals, it is usually busy and the street-level patio offers great people watching.
Imouzzer du Kandar is smaller and does not have as many choices, but several restaurants and cafes are located along National Route 8, which runs through the center of town.
Where to Stay
Imouzzer – Gite Karine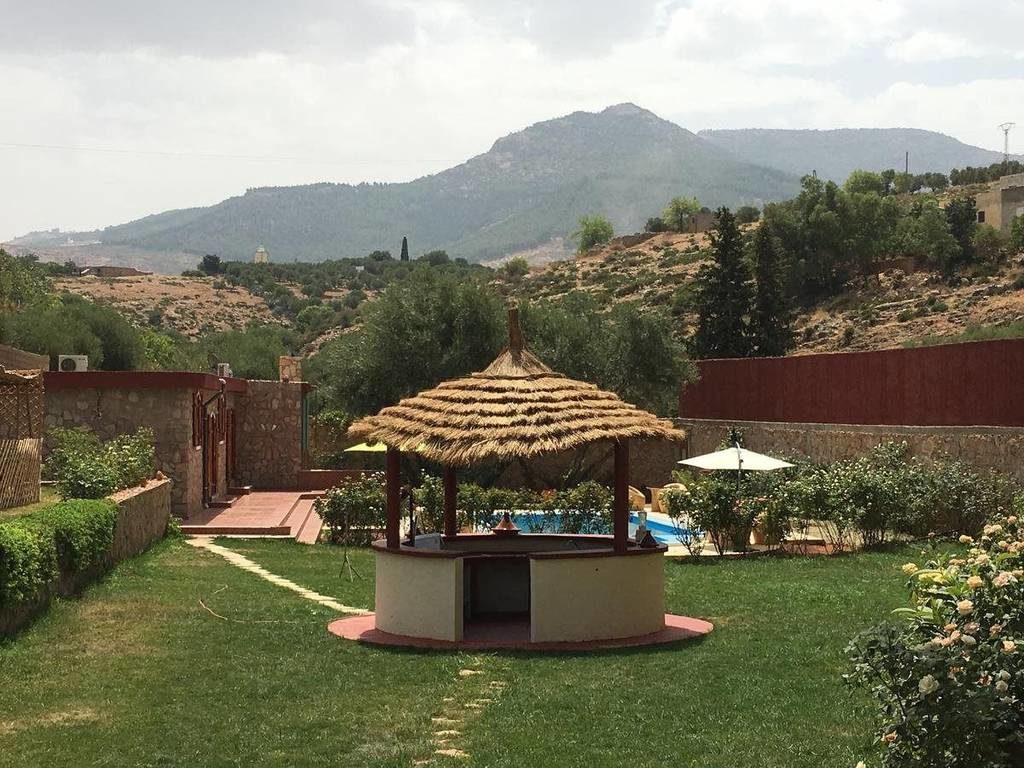 Gite Karine guest house is clean and comfortable, with the additional conveniences of a pool, free parking, and on-site restaurant. It is calm and quiet, and ideally located for hiking and horseback riding. Bookings can be made on Booking.com. Located at Douar Ait Oued fel Ait Sebaa Lajrouf, 31250 Imouzzer du Kandar.
http://gite-karine-ma.book.direct/en-gb/
Azrou – Le Palais des Cerisiers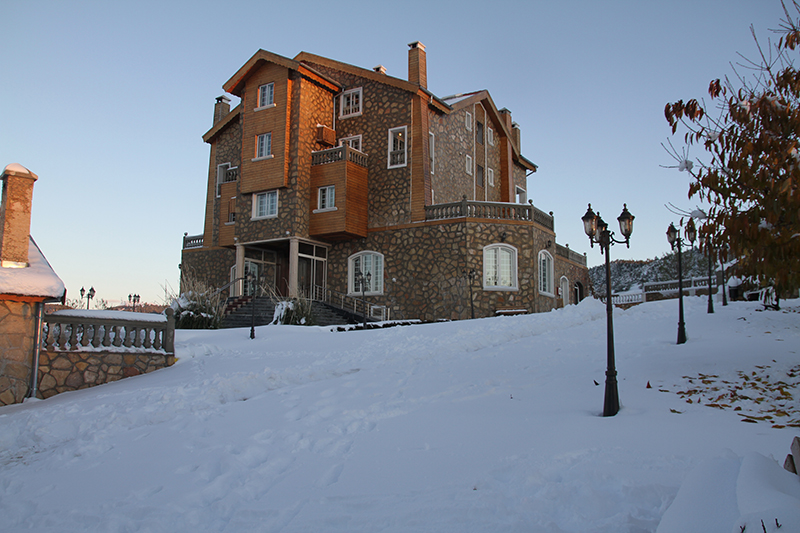 Just outside the city center of Azrou, this hotel has clean, cozy rooms with amenities like fireplaces, leather armchairs, free wifi, a spa with a sauna and massage service, and a pool. Breakfast is included, and lunch and dinner are available at the hotel's restaurant. Management is high quality and many of the staff members speak English. Website here (http://www.lepalaisdescerisiers.com) in French.
Bookings can also be made through Booking.com. Located at Route du Cèdre Gouraud, 53100 Azrou.
Azrou – Riad Azrou
This cozy riad is decorated in traditional Moroccan style, with tiled walls, carved wooden accents, Berber rugs, and colorful curtains. Rooms are clean, spacious, and comfortable, and have patios and free wifi. Breakfast is included and the restaurant also serves lunch and dinner. Place Moulay Hachem Ben Saleh, on the small plaza in the medina. Access by Ruelle des Bazaristes, 53100 Azrou. http://www.riadazrou.com/en-GB/
Azrou – Hotel School Ersat Azrou
A unique option for staying in Azrou is the Hotel School. Azrou is home to a small hospitality and tourism school, and as part of the students' education, they run a hotel and restaurant. Both are highly rated by guests – rooms are simple but very clean, the food is tasty, and the service is excellent.
The hotel has just three rooms, so if you are looking for a quiet stay, this is a good choice. Quartier Michelifen Ahadaf Azrou 183, 53100. Book at www.bedandbreakfast.eu/bed-and-breakfast/azrou/hotel-school-ersat-azrou/1670210/
Other Options
While hotels are somewhat scarce outside of the larger towns in this region, vacation rentals are gaining in popularity. Do a quick search on Airbnb and you are likely to find several options in both towns. Another option for visiting Imouzzer du Kandar is to stay in the large city of Fez and drive the ½ that it takes to reach the town, as you will have many more hotel options including luxury riads.
For visiting either Imouzzer or Azrou, you can find good hotel options in the larger nearby town of Ifrane, which is still close to Ifrane National Park.




Getting There
In this rural, sparsely populated region on Morocco, renting a car and driving yourself may be the best option. It is the only option for getting to certain parks and out of the way areas, or in some cases, to get to small towns in a timely fashion. You can rent cars in Fez, which is closest, or any other large city like Marrakech, Rabat, Casablanca, or Tangier. Imouzzer du Kandar is located south of Fez directly on National Auto Route 8. Azrou is located farther south, past Ifrane along the same road, at the junction with Route 13 (coming from Meknes).
There are public transportation options as well.
Azrou – It is cheap and easy to get to Azrou from Fez and Meknes. Buses and grand taxis take between 1½ to 2 hours, and cost between 20 and 50dh ($2-5). You can also take buses south to Marrakech. The city is small enough that you should be able to walk anywhere you need to go, but you can take a petit taxi if need be.
Imouzzer du Kandar – Imouzzer is a much smaller town than Azrou and can be a little harder to get to. You can reach it by bus and grand taxi from Fez, Ifrane, and Sefrou – check with the bus station or a hotel manager in those cities for more information on where and when taxis and buses depart.
When to Go
Since this region it located at a relatively high elevation, it experiences an Alpine climate with warm to cool summers and cold winters, often with snow. If you are interested in skiing, you may enjoy visiting Ifrane during this season, but for enjoying hiking, cycling, or wildlife around Azrou and Imouzzer du Kandar, the best times to go are definitely late spring, summer, and early autumn.
From June to September, you can expect dry weather, with highs from 23-28C/72-84F and nighttime lows around 10C/50F.
May and October are slightly cooler but still pleasant. From November to April, there are significantly colder temperatures, including overnight lows below freezing, and more frequent precipitation in the form of rain and snow.