Agadir Travel Guide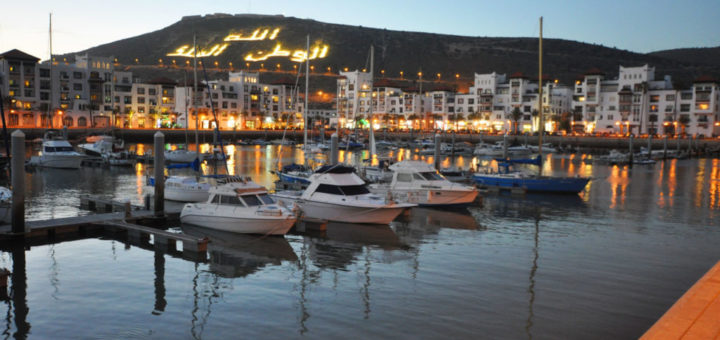 Warm sand stretches in a lazy curve along the beach and in gently rolling dunes beyond the city. Bright sunlight shimmers on the water and bounces off the whitewashed buildings. Gardens overflow with flowers and tall palms line wide boulevards. The fishing port, the largest in the country, buzzes with activity. This is Agadir, a city where sea meets sand, mountains meet Sahara, and modern luxury meets vibrant tradition and the ideal place for a vacation.
Agadir is a city of 600,000 in Morocco, situated between the Atlantic Ocean and the foothills of the Atlas Mountains. A majority of the residents speak the Berber language Tashelhit as their first language, and the culture is primarily Berber with French and Arab influences. Due to its year-round mild climate, this fishing village has become the country's most popular resort town.
What to Do
Beach and Seafront Promenade
One of the main attractions of Agadir is its fabulous beach, stretching six miles along the Atlantic coast. You can swim year-round, as the water stays relatively warm even in winter. You can rent lounge chairs and umbrellas and relax, or stroll along the walkway. You can also kayak, surf, paddleboard, and windsurf.
The seafront promenade offers many restaurant options, including cafés, traditional Moroccan food, pizza, and burgers. It is clean and safe, and is one of the highlights of the city in any season. This makes Agadir the perfect place for a year around vacation.
Souk El Had d'Agadir
The Agadir Souk offers everything you might want to buy, from fruits, vegetables, and spices to clothing, jewelry, and home goods to traditional products like argan oil and leather. It is located approximately 15 minutes from the seafront by taxi, which should cost 20 dirham (about $2). Don't hesitate to bargain for a better price as you stroll by the thousands (yes, really) of tiny stalls in the market.
Ouled Dahhou, Agadir 80010
Musée du Patrimoine Amazigh (Amazigh Heritage Museum)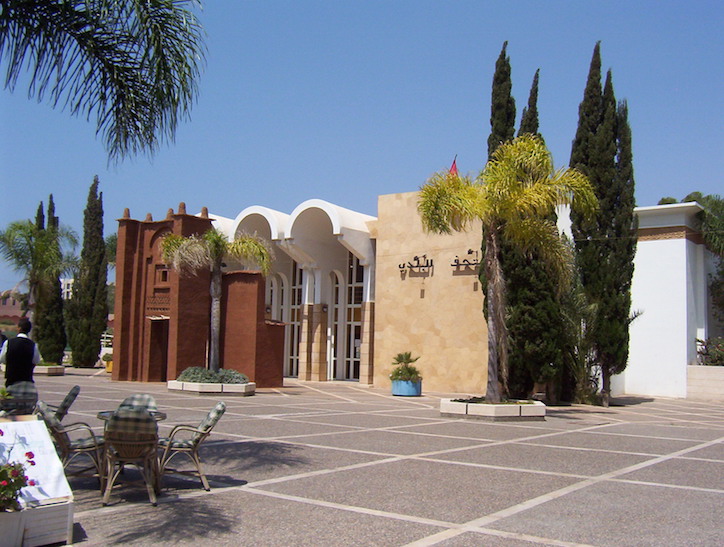 This small museum houses an interesting collection of jewelry, rugs, carved wooden objects, cooking utensils, and other traditional and decorative objects. It's a great way to learn about the culture and history of the local community. Open 9:30am-12:30pm and 2pm-5:30pm Monday to Saturday.
Agadir Kasbah
On February 29, 1960, a massive earthquake destroyed the city of Agadir and killed over a third of its population of 40,000. The ancient kasbah fortress did not survive, but the ruins are still there today. It takes about 20 minutes to hike up the hill, which offers a beautiful view of the rebuilt city, the ocean, and hundreds of fishing boats.
Agadir Medina (La Medina d'Agadir)
A few miles outside of the center city of Agadir is a beautifully reconstructed version of the ancient medina, with brick and earthen walls, patios, arches, and gardens. Inside, there are vendors selling traditional products and crafts, and restaurants offering Moroccan cuisine. The Medina is rarely crowded and is a nice place to relax and take pictures. Entry is 40 dirham ($4).
Marina d'Agadir
Along the Seafront Promenade is the Marina d'Agadir, a small recreational area with shopping, restaurants, and cafés. It is more expensive than other areas in the city, but it's a pleasant place for a stroll.
Night Life
Agadir stays awake late into the night, as its discotheques, casinos, night clubs, and restaurants light up. You can also hear fabulous music, from jazz to piano bars to traditional Berber. If music is your thing, plan to visit during the Timitar Music Festival, held each summer.
Active
Agadir has dozens of choices for an active vacation. World-class golf courses, including the Agadir Royal Golf Club, the Soleil Golf Club, the Ocean Golf Club, and the Dunes Club are reason enough to visit if you are an avid golfer.
Other activities, such tennis, desert trekking, horse and camel riding, archery, and fishing are all easily accessible.  Afterwards, relax at a spa or in a traditional Moroccan bath, known as a hammam, and enjoy luxurious traditional beauty treatments with argan oil and henna.
Day Trip to Paradise Valley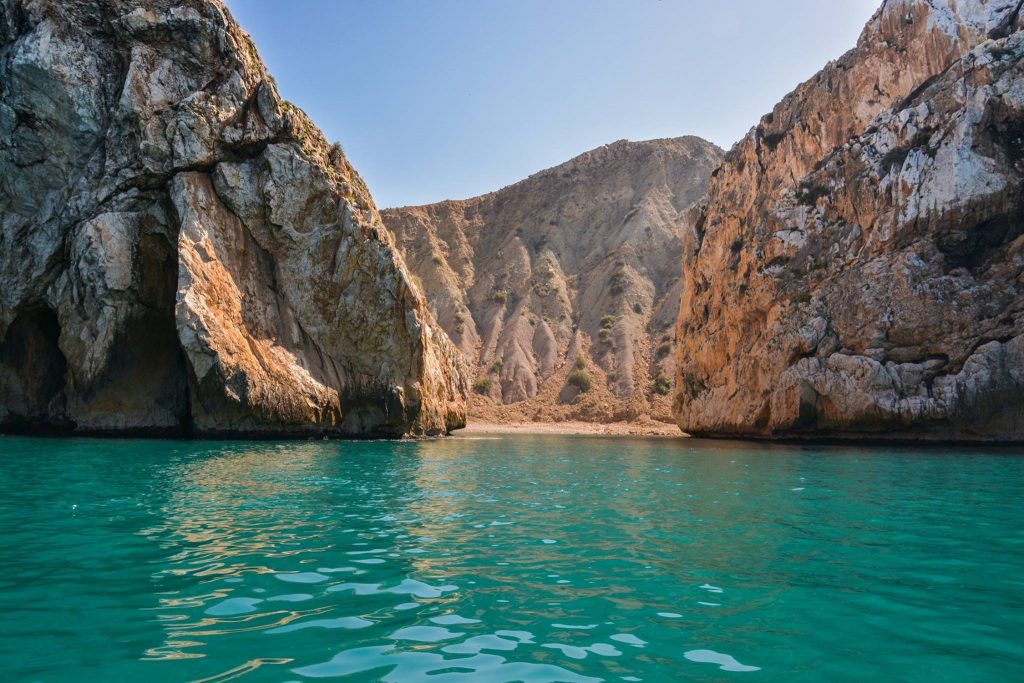 Paradise Valley is a beautiful oasis in the mountains, with emerald green pools surrounded by palm trees and cliffs. You can relax, swim, sunbathe, and even do some cliff jumping! Organized day trips start at as low as $35 per person, often including lunch as well as transportation to and from Paradise Valley with stops at interesting shops along the way.
There are many other interesting day or multi-day trips you can take from Agadir, including the cities of Taghazout, Taroudant, Essaouira, and Marrakech, as well as desert excursions, Sous Massa National Park, La Gezira Beach, Aït Mansour Gorges, and Imouzzer Mountain. You may be able to find local tour operators upon your arrival or book through your hotel. You can also book trips through Viator.com, which allows you to book with local operators ahead of time.
Where to Stay
Hotel Riu Palace Tikida Agadir
For a luxurious stay with every need perfectly and professionally met, Riu Palace Tikida is the top choice. Located right on the beach, this all-inclusive resort offers excellent service, beautiful surroundings, and every amenity.
Chemin des Dunes B.P. 901, Agadir 80000
www.riu.com/es/Paises/marruecos/agadir/hotel-riu-palace-tikida-agadir/index.jsp
Sofitel Agadir Thalassa Sea & Spa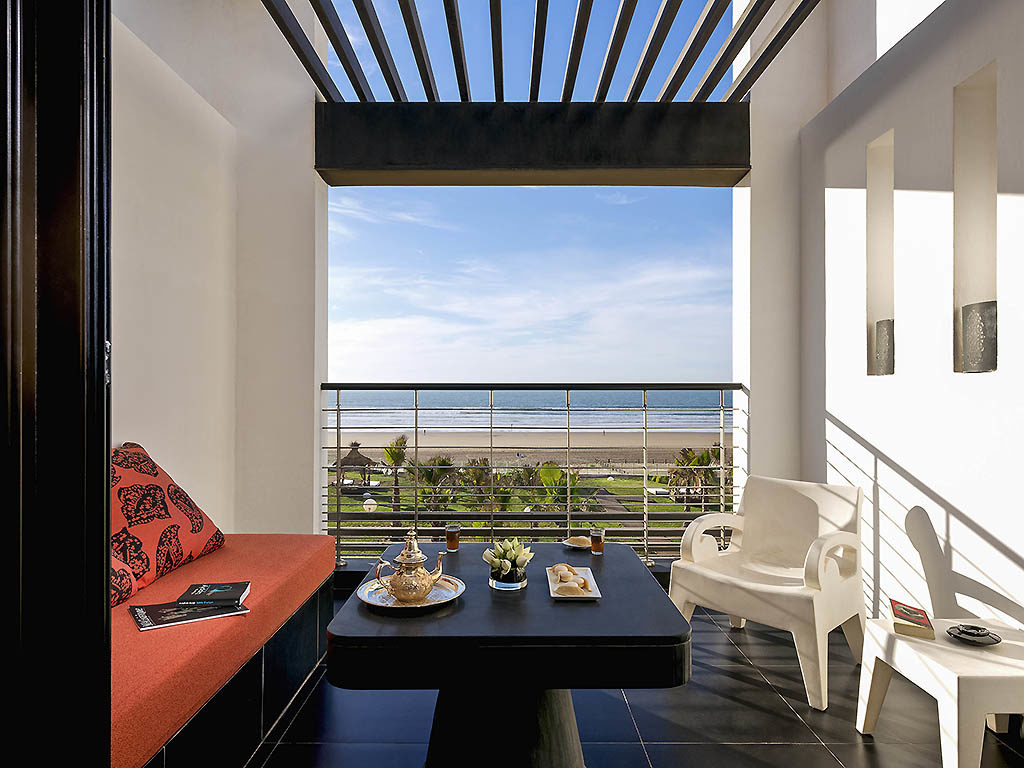 Another option for luxury, all-inclusive accommodation is the Sofitel Agadir Thalassa Sea & Spa. This 5-star hotel offers amenities like a pool, spa, restaurants, and bars, and top-notch service with a personal touch. Check out the hotel website
Hotel Timoulay
For comfort and good service at an affordable price that still includes beautiful, luxurious surroundings, reserve a room at Hotel Timoulay. This 4-star hotel offers a spa, pool, breakfast buffet, restaurant, and bar. It's conveniently located close to the beach and within walking distance of a supermarket; the location a bit outside the center city makes for a calm atmosphere.
Cité Founty F6 Baie des Palmiers Agadir 80000
www.timoulayhotel.com/en/
Hotel Sindibad
Hotel Sindibad is a great budget hotel option that still offers the friendly, professional service and comfort you would expect from luxury hotel. It is located a 20-minute walk from the beach, past shops and restaurants. Rooms are clean, comfortable, and equipped with air conditioning and wifi. They also offer a delicious breakfast buffet.
Place Lahcen Ou Brahim Tamri, Talborjt, Agadir
http://hotel-sindibad.hotels-agadir.com/en/
Atlantic Palm Beach Hotel Agadir
Four star yet reasonably priced, the Atlantic Palm Beach Hotel is situated a 20-minute walk from the beach in the main hotel district. It offers clean, spacious rooms with balconies, a pool, a restaurant, a breakfast buffet, a convenience store, and professional, efficient service.
1 Cite Founty A | Secteur A, Agadir 80000
http://atlanticpalmbeach.com/en/
Where to Eat
Pure Passion Restaurant
Pure Passion Restaurant is one of the most highly regarded fine dining establishments in Agadir. On the menu, you'll find excellent wines, steaks, seafood, and starters. The service and ambiance are very good as well.
1 Residence No. 2 m | Complexe Marina Agadir, Agadir 80010, Morocco
+212 5288-40120
Patisserie Tafarnout
Patisserie Tafarnout is a great place for a sweet treat, lunch, fresh juices, tea, or coffee. Very popular with tourists and locals alike, this bakery café has friendly, helpful service and a good selection of reasonably priced menu options. Patisserie Tafarnout has been awarded a Certificate of Excellence on Trip Advisor.
Boulevard Hassan II, Agadir 80000
www.facebook.com/tafarnout
Au Parasol Bleu
Located in the marina near many other restaurants and shops, Au Parasol Bleu serves French cuisine and good wines. The service is great and the owner is friendly and helpful. The menu changes daily and incorporates fresh local seafood, vegetables, and meats – and delectable desserts! On the pricier side for Morocco, but reasonable for the high quality food and upscale atmosphere.
Marina d'Agadir | Place Tawada, Agadir 80000
www.facebook.com/auparasolbleu/
Restaurant Daffy
For large, cheap portions of delicious traditional food, try Restaurant Daffy, offering cous cous, vegetable and meat tagines, salads, soups, grilled meats and fish and a range of desserts. Very popular.
2 Rue des Orangers, Agadir 80000
http://www.restaurant-specialites-marocaines-agadir.com/
Fishing Port
Agadir is the biggest fishing port in Morocco and handles thousands of tons of fish each day. Some of the freshest seafood in the world can be found at the simple restaurants in the port. Choose fresh fish and have it cooked to order for excellent prices, then enjoy an authentic eating experience right in the middle of the action. Keep in mind that this is a working port, so the restaurants there are quite simple. If you arrive early in the morning, you can watch the day's catch being auctioned off!
Avenue du Port, Agadir
When to Go
Agadir has a warm, pleasant climate year-round due to its coastal location. During the summer months (May-October), temperatures usually range from lows of 60˚F/16˚C to highs of 86˚F/30˚C, but temperatures can spike to 105˚F/40˚C if there are strong winds from the Sahara. Temperatures are cooler from November to April, usually 70˚F/21˚F during the day and 50˚F/10˚F at night.
The average sea temperature peaks at 70˚F/21˚C between July and October but can be 64˚F/18˚C or lower in the winter. Agadir gets 340 sunny days per day, so rain is rarely an issue. Most rainfall is concentrated to a few days scattered from October to February.
Since there are so many activities to do in Agadir, it's a great destination at any time of the year. February to April and October to November are some of the best times to go, since they're warm, but not too hot, and you'll avoid the late summer fog. The ocean will be cool in Spring, but is still warm in October – a great beach month.
Getting to and Around Agadir
The easiest way to get to Agadir is by air. Many European cities offer direct or connecting flights – check Easyjet, Ryanair, Royal Air Maroc, TUI, British Airways, Thomas Cook, and Transavia. You can also fly to Marrakech and drive or bus the remaining 2 hours on the new highway, or fly domestically from Casablanca on Royal Air Maroc. A taxi from the airport to the city center should cost about 200 dirhams; be sure to agree on a price beforehand. If you have booked a hotel ahead of time, check if they have an airport pick-up service – many do.
The main attractions of Agadir are located in a relatively small area, and you'll be able to reach many destinations on foot. For longer distances, get a petit (small) taxi. They are orange and can take you anywhere within city limits. Agree on a fare beforehand or ensure that the meter is running.
For trips outside of the city, you can take a bus or a grand (large) taxi. Buses connect the city center with suburbs and beautiful northern beaches. Grand taxis travel to many locations including nearby small towns, ask at your hotel for information on where to catch different taxis. The main taxi hub is Place Assalam. Some hotels and golf courses also offer free shuttles.